By Pia Oberhauser, RBI |
Even as we enter the third decade of the 21st century, the gender wealth gap is still serious in many countries. The most recent figure for Austria dates back to 2017*, when it was 23 per cent. Now, this figure may have improved somewhat in recent years. But large differences cannot be assumed, as it also correlates very strongly with the income differences (gender pay gap) between the two sexes. And there has been little movement in the direction of women in recent times.
Gender Wealth Gap – Women lag behind
But what is the gender wealth gap anyway? While the gender pay gap focuses on salary differences between men and women, the gender wealth gap reveals a more differentiated picture. It refers to the difference in total net wealth between men and women, which depends not only on income but also very much on how profitably the available capital is invested. And here, too, there are clear differences between men and women. We now need to make active use of this leeway. After all, it also determines what funds will be available once people stop working.
State pension is not enough
The importance of this is shown by a Spectra study commissioned by Valida Vorsorge Management in 2019. It reveals that almost 80 per cent of women assume that they will not be able to live on their state pension later on. Beate Wolf, a member of the Executive Board at Valida Holding AG, also knows that this is precisely when the dilemma begins for many women.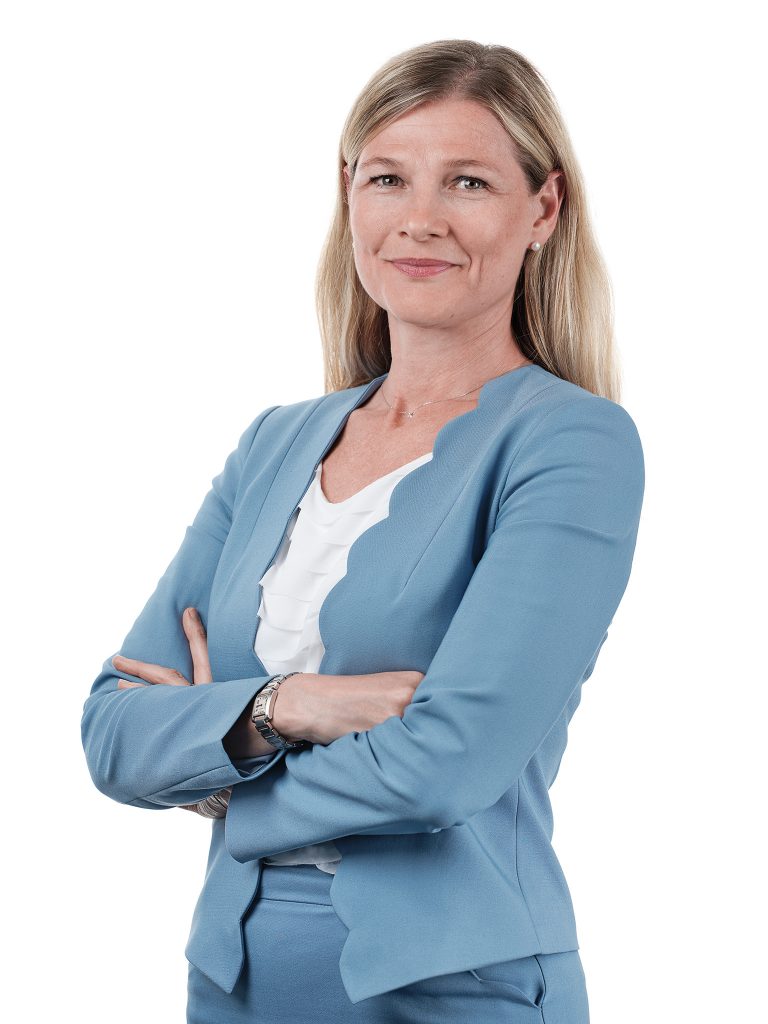 "Many women worry legitimately about how they will be able to make ends meet in old age. Our study reflects this. On average, women estimate the amount available for their state pension at 935 euros per month, men at 1,334 euros. A difference of 43 per cent. Only 7 per cent of the women surveyed assume that they can live well on their state pension. For men, the figure is 13 per cent. 79 per cent of women do not expect to be able to live on it," says Wolf.
Take action!
It is undisputed that the second and third pillars of pension provision, i.e. occupational and private pension provision, must play an even greater role for women. However, the result is all the more astonishing: 41 per cent of women do not even know whether their employer offers a form of occupational pension provision. Among men, the figure is 34 per cent. What's more, at 61 per cent, far fewer women than men (88 per cent) say that their employer has taken out a form of company pension plan. "We need to change this," says Wolf. "We need to provide more information and transparency here so that women become active themselves."
Women play it safe
Another factor contributing to the gender wealth gap is that women play it much safer than men when it comes to their private retirement planning. At the top of the list are savings accounts, life insurance and home savings as the preferred retirement planning tools.
In contrast, there is an even more pronounced difference in investment behavior when it comes to near-capital market pension options: While 11 per cent of the women surveyed say they use mutual fund savings, 18 per cent of the men do so. 15 per cent of the men say they are invested in stocks (5 per cent of the women). The same picture emerges for mutual funds: 14 per cent of men use them for retirement planning, but only 4 per cent of women do so. Bonds play a largely subordinate role, but here, too, men are more heavily invested than women (7 per cent compared to 2 per cent). What keeps women from making private provision?
At more than 60 per cent, significantly more women than men said they do not have any money available. 28 per cent cited their excessively high fixed monthly costs as a reason for not being able to make provisions. At 20 per cent, twice as many women as men said they mistrusted the pension options on offer. 9 per cent cited a lack of knowledge about the provision on offer as a reason for not making private provision.
Don't wait "for better times"
As far as asset accumulation is concerned, women can become active themselves. And with a little more courage when investing, they can significantly improve their chances of higher returns.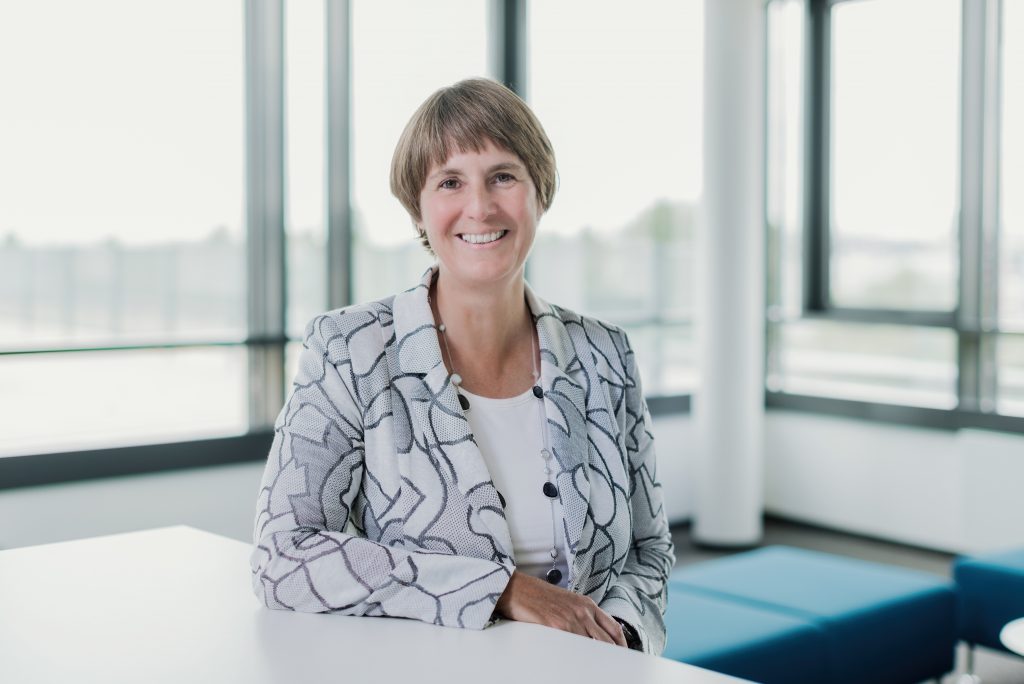 Ingrid Szeiler, Chief Investment Officer at Raiffeisen Capital Management**, agrees: "Our aim is to make women aware that they can actively manage their wealth accumulation. It is important to get going financially as well and not wait for the proverbial 'better times'." Many women, she said, traditionally invest in products that are fundamentally safe but have not yielded returns for years.
"Many men know how to use the opportunities on the capital markets for themselves. Women still have some catching up to do here," Szeiler said. It is true that capital market investments also entail risks and that capital losses cannot be ruled out. But Szeiler is convinced that those who have the opportunity to stay with an investment for longer can often achieve much higher returns.
What about the willingness to take risks?
"Respect for capital market investments is particularly pronounced among women. They often accept security at the expense of returns," says Szeiler. Long-term considerations show, however, that with good diversification into different security classes, capital market investments have a good chance of developing positively.
A look at the performance of the returns of the different asset classes over the last 22 years shows that the 16 most common asset classes have performed positively by more than 75 per cent on average. And even in 2020, which saw the biggest economic slump since World War II due to Covid-19, more than two-thirds of the various investment instruments were able to generate positive returns. Provided one kept one's nerve. "For long-term investors, downward outliers are usually not a major problem if you stick with it. But of course capital market investments are not a one-way street, either up or down," says Szeiler. And past performance is not a reliable indicator of the future development of an investment.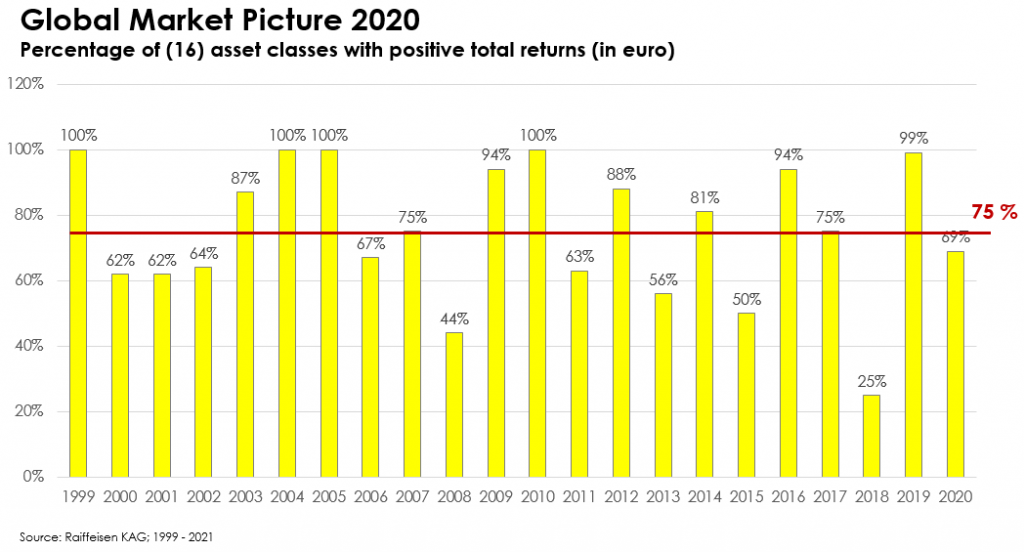 Broad diversification contributes to the success of the investment – shares increase earnings opportunities
"Broad diversification is an extremely important issue in capital market investments," says the fund expert. In a first step women (and naturally also men) should evaluate the yield chances of the already existing investments. Szeiler: "Does this (still) meet my own requirements at all? What risks am I willing to take? Perhaps you can continue to invest part of the assets as safely as possible. And another part in such a way that a higher performance is possible, even if the risks are correspondingly higher."
Fund investments include a form of diversification in the product itself already. This is because they invest not only in one security, but in several at once. Those who want an even broader diversification – for example, in different asset classes such as stocks and bonds and different industries and regions – should buy a mixed fund. This is because these invest globally in different equity and bond funds, which in turn are often invested in different sectors and markets, according to Szeiler.
Entry into capital market investments: with a fund savings plan starting at 50 euros per month
One way to test capital market investments without investing a large sum right away is to start with a fund savings plan. You can start saving with a fund plan for as little as 50 euros a month. An important feature of fund savings, in addition to the low initial amount, is that you can control the payment mode according to your current personal life situation. In concrete terms, this means that you can increase, reduce or interrupt the monthly deposit at any time. A larger additional payment is also possible at any time. For more information, visit www.rcm.at or www.rcm-international.com.
An investment fund is not a savings book and is not subject to deposit protection.
Investments in funds are associated with higher risks, up to and including capital losses.
The published prospectuses and the information for investors pursuant to § 21 AIFMG as well as the customer information documents (Wesentliche Anlegerinformationen) of the funds of Raiffeisen Kapitalanlage-Gesellschaft m.b.H. are available at www.rcm.at in German (for some funds, the customer information documents are also available in English) or, in the case of the distribution of units abroad, at www.rcm-international.com in English (if applicable, in German) or in their national language.
This is a marketing communication. All data and information have been compiled and checked with the utmost care; the sources used are to be regarded as reliable. The information is valid at the time of updating. No liability or guarantee can be assumed for the accuracy and completeness of the information.
Status: March 2021
---
* Source: Materialien zu Wirtschaft und Gesellschaft Nr. 168, Working-Paper-Series, Chamber of Labour, Vienna; September 2017.
** Raiffeisen Capital Management stands for Raiffeisen Kapitalanlage-Gesellschaft m.b.H.