by Andrea Sihn-Weber, RBI |
In recent decades, the diversity of society has changed noticeably. And this trend will continue. These processes of change have far-reaching implications for our society, the economy, companies and the labor market, for politics and social systems. In addition, the various aspects in the context of diversity and inclusion in working life are becoming increasingly important to people. Women, for example, expect equal opportunities and possibilities. Employees expect improved framework conditions in terms of work-life balance. Older employees and people with disabilities want to be perceived in the working world based on their abilities and potential. Representatives of the younger generation want appreciation for their specific approaches and creativity. Many people are concerned about being able to speak openly about their sexual orientation in the professional environment as well.
Participation and non-discrimination ensure equal opportunities
Participation in the sense of a comprehensive right to participation has meanwhile become a guiding concept. Non-discrimination requirements, the basic principle of inclusion and the principle of equality are essential for social cohesion. They intend to ensure equal opportunities for realization, inclusion in society and protection against arbitrary unequal treatment. These concepts and the associated human rights principles coexist and complement each other. All correspond to the right of all people to participate in society equally and comprehensively by sharing and being involved.
Proactive use of diversity and inclusion in business
For business – also against the backdrop of globalization and digital transformation – it is important not only to meet legal requirements in connection with anti-discrimination. It is also necessary to proactively use diversity and inclusion. And in doing so, to make a significant contribution to improving corporate performance. Numerous studies also demonstrate this – for example "Delivering through Diversity" (McKinsey & Company 2018). In addition to increasing the attractiveness of the company as an employer, the generated benefits include higher employee motivation and productivity, access to a new or larger workforce potential, but also an increase in innovative capacity and associated competitive advantages.
When dealing with diversity and inclusion, it is important to address the questions in which way different people can work together so that their strengths are used in the best possible manner. And what it means when employees can live their 'personal selves' and be effective as a result. Ultimately, all diversity and inclusion-related measures and efforts in companies also pay dividends for society. Thus, they make a positive contribution in terms of social responsibility.
Increasing interest from external stakeholders
In addition to employees, also external stakeholders – such as investors, customers or suppliers – show increasing interest in how companies implement corporate social responsibility and how diversity is practiced. And sustainability rating agencies are also asking how companies deal with environmental protection, social and employee issues. They want to know whether women are represented on decision-making bodies, or what concrete measures are taken to promote equal opportunities and non-discrimination. 
If you would like to gain a practical insight – based on current scientific findings – into how diversity and inclusion can be best lived in organizations, then I recommend this book and this article from the Raiffeisenzeitung (both only available in German). In it, you will receive an introduction to diversity and inclusion issues, as well as recommendations from academia and diversity consulting, and learn about the business models of social enterprises to promote inclusion, best practice examples from business and education, and activities of advocacy groups, associations, societies, and NGOs.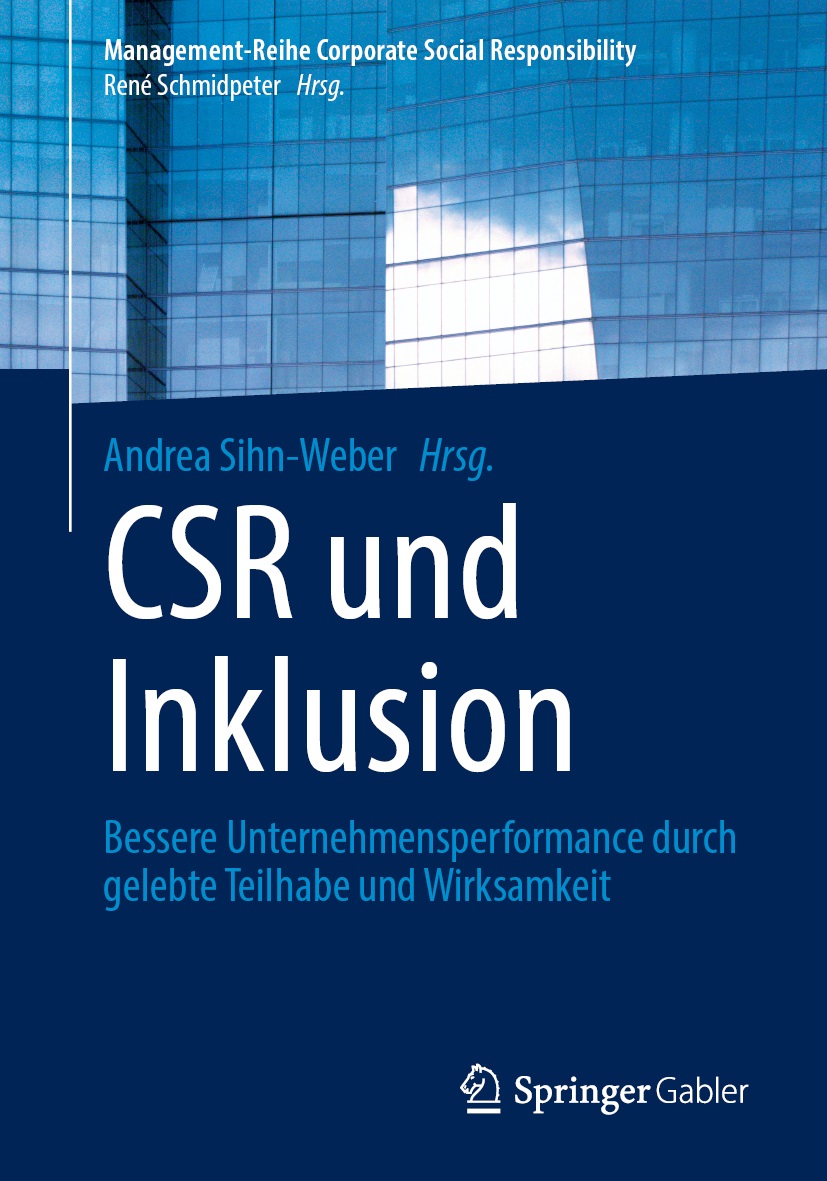 Quotes from authors of the book:
Kurt Essler, AfB Managing Director
"We can prove that for certain jobs, disabled people are better suited than non-disabled people. They have incredible accuracy and pay attention to the quality of their work. And it gives the affected people a boost to be part of the economy."  
Michael Aumann, CEO of myAbility
"Disability still stands for not being as capable. For us, it's about breaking down that image. If the managers join in and understand that it makes a long-lasting difference to the corporate culture and business success, then they will live and breathe inclusion."
Ina Pfneiszl, sustainability manager at Simacek
"Participation is not possible without language skills. Education is the key to inclusion."