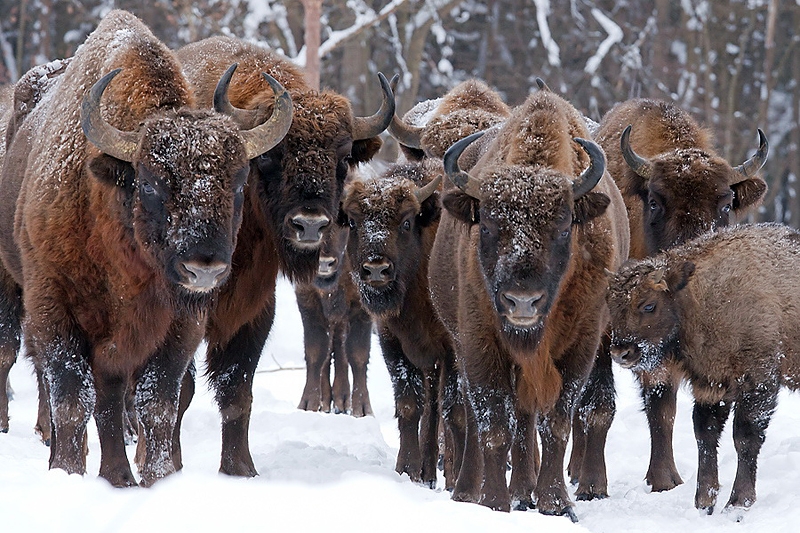 In the days of the industrial society, the thinly populated and inaccessible forests of Belarus were felt to be the epitome of backwardness. In today's post-industrial economy, opinions have been turned on their head. Nothing is rarer – and therefore more valuable – than a piece of nature, especially if it is real nature (unlike the many things that are called "natural" nowadays but aren't). Take for instance a huge area of forest that has to date resisted human influence. Or its most distinguished and oldest inhabitant, namely the bison. People in Belarus call it Zubr. And they love it, even if it looks rather gloomy and more like a tank than a soft toy with its ton of weight, length of over three meters, top speed of 40 mph and horns at the front as weapons.
When this primeval buffalo does its favorite thing – rolling on his back in the sand – nobody can resist it. The bison and the aurochs already lived in the forests of the European continent during the last lce Age. Today, this last representative of the wild cattle breed is almost a heraldic animal in Belarus. It embodies the essence of a nation that was almost extinct, but has risen again; a people that is easygoing and docile but can develop bullish strength and archaic ferocity when angry. That is why the woolly giant can be found not only in nature reserves but also in numerous statues, book covers, trademarks and sweet wrappers. More than five hundred bison are now living in the wild again, and the spirit of the Zubr is alive.
A growing number of "eco tourists" are roaming the land answering the call of the wilderness. Researchers and more and more scientific institutions are also coming to Belarus to carry out studies in this last preserve of untouched nature, something which would be impossible elsewhere. The youth of Belarus already know what a treasure they have. In the rainforest of the north there is a lot of wisdom slumbering for an ecologically sound future.
Go visit the Zubr:
National Park "Belovezhskaya Pushcha"
https://npbp.by/eng/
Republic of Belarus, Brest region,
Kamenets district, agrotown Kamenyuki
Working hours: 8:00-12:00 and 13:00-17:00 (Mondays-Fridays) –
closed on Saturdays and Sundays
Information for individuals:
+375 (1631) 56267,
+375 (1631) 56398.
Excursion reservation:
+375 (1631) 56398.
E-mail: admin@npbp.by, npbpby@rambler.ru
[divider style="none"]
[/divider]
Maybe you are interested in…
[custom_posts template="one_third" effect="none" hide="summary" entry_ids="1563,1622,1592″]
[/custom_posts]