By Ilya Schirov, Raiffeisenbank in Russia
Raiffeisenbank Russia has a long tradition of communicating digitally with its customers and has identified the chat as one of the preferred customer channels. Ilya Schirov, responsible for remote customer interaction at Raiffeisenbank ZAO in Russia, describes how banks and customers both can benefit from this form of communication.
Many people think that chats are only associated with mobile apps or online banking. In fact, this is just the tip of the iceberg. A chat can be developed on a variety of platforms.
Raiffeisenbank in Russia launched the first chat on the website at the end of 2017. Later, chats were added to the desktop version of online banking and Viber. Now there are eleven channels that are united by a common platform, each of which comes with financial rewards, among other things.
The following are the key incoming requests:
Mobile application. Mobile first – this phrase definitely describes chats. This channel is the one that bank customers usually choose.
Desktop version of the website and online banking. Despite the growth of the mobile channel, the share of online banking in the desktop version is still significant.
Social networks (Vkontakte and Facebook). Bank's transparency in communication is one of the key requirements of customers. Social networks are a great platform not only for attracting new customers, but also for solving the issues of existing customers.
Messengers (WhatsApp, Viber, Telegram). At first glance, their benefits may not be obvious. It seems that it is more convenient for customers to solve all their issues via an in-app chat. However, new customers do not have it. For them, messengers turn out to be the most convenient communication channel. When we contact the customer for the first time, we send them a link to the official WhatsApp account via SMS. In 2019, the service was used by more than 40 thousand customers.
In addition to these channels, the chat is available on the Yandex.Dialogs platform, in mobile and online banking for small businesses.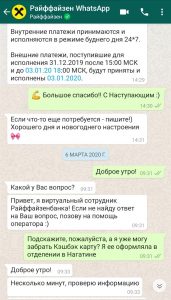 Why customers choose chats
In 2019, the number of customer requests via chat rooms increased from 38,000 to 165,000, and the trend for migration of customers to them significantly increased in 2019. A year ago, only every twelfth request sent to the Raiffeisenbank's contact center was received via chat, and meanwhile – it is every third.
Customers like to communicate with the bank via chat, and there are at least three reasons for this:
It is very convenient. Chats are a channel of asynchronous communication, which by definition is more convenient than its synchronous counterpart – a call or face-to-face appointment in one of the branches. Customers can communicate at a much more convenient pace, take a pause to think things over and not be distracted by anything else. Customers can get their issues resolved in a subway, at a meeting, and even when it is noisy around them.
Chat also provides some additional features. Customers can send files and multimedia – photos or scans of documents – to the bank which saves time and simplifies the explanation process. Plus, they can use a chatbot that provides instant answers to the most common questions.
You can choose a convenient chat channel. It is available on the website, in the mobile app, in online banking, in social networks and in messengers.
Why chats work great for banks
Chats are a digital product, and user interaction with any digital product can be described in three steps:
To come – a person must "come over": download and install the app;
To stay – the person must like the product and therefore choose to stay there;
To pay – in the end, the product must be effective and profitable for the bank. We track the effectiveness of chats at each of these stages.
Current attraction (To come) is measured by the number of new users of the chat channel – over the past year, the number has increased four-fold. We individually analyze the share of each channel, type of devices that users come through, and the customer profile.
Retention (To stay).
Do those who use the chat like it? Do customers return to this channel and do they use only this channel? Or do they alternate it with classic communication channels (calls, visit to a branch)?
Several metrics answer this question.
The key metric is syndicated NPS (Net Promoter Score). The NPS method was proposed in 2003 by a well-known American marketer to measure the level of customer loyalty. It is based on one loyalty indicator – customer willingness to recommend a product, service, or brand to their friends and family. Companies all over the world have adopted the new methodology and started conducting syndicated research, that is, research not of one company or product, but of many competing companies or products. We first started measuring the syndicated NPS for our chat channel in the second half of 2018. In less than a year, the indicator has grown by 1.7 times.
In addition, we pay great attention to the Retention indicator. This is a metric that shows how actively the customer returns to the chat channel after the first-use experience. We also track how often the customer interacts with the bank via chat. And here it is important to note that requests that are too frequent, as well as the ones that are too rare, are not the norm.
The fourth metric allows us to understand how the customer combines chat with other communication channels: the branch and the contact center. We actively monitor the migration of customers from voice traffic to chat rooms. We try to transfer customers who actively call the contact center to the chat channel using various tools: Push notifications, WhatsApp and SMS mailouts.
The next metric is FCR (First Call Resolution), which reflects the ability of a contact center to resolve a customer's issue the first time the customer contacts the center. Chats inherited the metrics from the contact center, and we are now actively studying the specifics of resolving customer issues in chats in order to correctly measure the degree of success for this indicator.
Of course, like any service, communication with customers in chat channels is evaluated using the SLA (Service Level Agreement) indicator, which measures the percentage of customers whom bank employees started responding to within the target time.
The future of chats
Chats are a live, dynamic channel that is currently at its peak. The chat channel may become the main remote human channel already in two years. We expect chatbots to undergo significant development: they will take care of all routine and service requests, leaving people to solve complex issues and tasks related to the design of new products. This is in line with our plans to increase channel efficiency and reduce costs.
An important direction for the development of chat channels will be the introduction of the best UX (user experience) practices. We conducted a number of qualitative and quantitative studies among our customers and customers of other banks, and we found out what they like or dislike in the chat interface of the mobile app, and also identified the best practice for communicating with a chatbot. For example, when it is better to transfer the conversation to an operator, what style of communication the bot should adhere to, and when and how it is acceptable to ask the customer to repeat what their issue is in different words if the message is not clear for the chatbot. We used the study results to create a roadmap for development.
Chatbots are also widely used with voice assistants: Alexa, Siri and Alice are already very popular. We assume that in the future, such assistants and their physical avatars (for example speakers) may become a separate channel. One of its most striking embodiments should become a voice assistant on the 1st call line in the contact center. Not a "wooden" IVR that requires pressing buttons, but a seamless and "customer-oriented" one with advanced speech recognition and maximum variability in dialog development scenarios.
We already should start moving in this direction. For all this to happen, in my opinion, we must pay particular attention to the four aspects below:
Ability to quickly respond to user feedback and make changes to the product. We can achieve this by means of a flexible approach to development.
Understanding how each solution works, rather than interacting with a black box. To do this, we need to improve our expertise internally, conduct experiments, and constantly improve the models.
Constant contact with the team of chat operators, since the bot should be based on the expertise of the best contact center employees. It is people who can validate complex cases and provide valuable feedback. For example, at the time of a sharp jump in exchange rates in early March 2020, the contact center faced numerous questions about the limits for withdrawing currency from ATMs, and we promptly added this information to the chatbot. This way, customers can get an instant response, and subsequently, the customer experience improves.
A person should not be left alone with a bot. If desired, a user should be able to switch to an operator. Also, if the bot is not sure about the answer, it should redirect the conversation to an operator.
Ilya Schirov is Leading Project Manager of Remote Customers Interaction Department at Raiffeisenbank ZAO in Russia. He is responsible for interaction with customers in digital service channels.