By Olga Zhegulo, Priorbank, Ruslan Gadeev and Andreas Schwabe, RBI |
Ongoing political protests in the aftermath of presidential elections on 9th August 2020 put a global spotlight on the Republic of Belarus, the country sandwiched between Russia, Ukraine and the eastern flank of the European Union. Ruled by President Aleksander Lukashenko since 1994, the small export-oriented country has followed its own, very specific political and economic model in the post-soviet space. As of now it is uncertain and difficult to predict what changes may come out from current political events.
In this text, we focus on the underlying economics of Belarus, its macroeconomic situation, the strengths and weaknesses as well as the challenges of the current economic model and situation. We think that economic factors play an important role in shaping the country going forward and thus may resurface rather sooner than later independent of the exact outcome of the current political situation.
Current Economic situation and short-term outlook
Belarus had been a surprisingly fast-growing economy until the financial crisis in 2008. Between 2000 and 2008, average GDP growth amounted to 8% per year on average. The size of the economy in EUR terms quadrupled from a GDP of EUR 11 bn in 2000 to 41 bn in 2008. This changed substantially in the period from 2010 to 2019, when average real growth was just 1.8% per year (GDP reaching EUR 56 bn in 2019). This shift has often been linked to the slowdown of the Russian economy, but also to the reduction of subsidies from Russia. Belarus managed to receive a substantial discount on energy imports from Russia not only for its domestic use, but also for exporting of in Belarus processed oil products. The IMF estimates that the economic rent received from Russia by subsidies and financial support exceeded 20% of GDP per year before 2008, falling to around 10% of GDP by 2015. More recently, in 2015-2016, Belarus had a recession of cumulated 6.4% of GDP followed by a weak rebound from 2017 onwards.
In 2020, the economy suffered another blow due to the global COVID-19 crisis, recessions of key trading partners and another slump in oil prices. However, as Belarus authorities did not implement a lockdown like most other countries, the officially reported slump in GDP of 1.7% in the first half of 2020 was modest compared to other countries. Both, the slowdown of economic growth in recent years, as well as the weak reaction to the COVID-19 pandemic may have added to popular discontent. Ahead of the current political events, we had estimated a decline in GDP of 4-5% in 2020, which was rather on the conservative side. Now, with strikes of workers announced at many state-owned companies, the decline in output will also depend on the scope and length of these strikes, which is currently still unknown.
Belarus periodically went through phases of economic instability characterized by high inflation and currency devaluation. After a self-inflicted balance of payments and currency crisis in 2010-2011, inflation stayed in double digits until the recession in 2015-2016. However, since then, inflation has been brought under control and the depreciation of the Belarusian rouble has slowed down significantly. Latest inflation data as of July 2020 showed a rate at 5.2% yoy, close to the target of 5% per year. This has also allowed the National Bank of Belarus to cut key interest rates to single digit numbers at 7.75%.
Belarus is a country with a moderate public debt stock in comparison to other emerging markets with public debt officially at 33% of GDP and surpluses of the state budget. However, given its large share of state-owned enterprises (SOE) of estimated over 30% of GDP there is a substantial amount of contingent liabilities and guarantees by the state. Thus, the IMF estimates the wider public debt level in excess of 50% of GDP. Given the announced plans by Russia to further reduce energy subsidies (the so called "[Russian energy] tax manoeuvre") until 2024, the budget balance was expected to plunge to a deficit in 2020 even before the corona crisis and the current political situation.
Belarus has usually shown a substantial deficit of the current account. This has however improved and the deficit diminished to on average 2% of GDP in recent years, given the low growth environment. Like the budget balance, the current account is set to suffer from the tax manoeuvre and the fall in demand for exports triggered by COVID-19. At the same time Belarus has a total foreign debt stock of around 60% of GDP, of which the state accounts for almost a half (40% of external debt or 25% of GDP). International reserves are small in comparison at around USD 9 bn or three months of imports. Moreover, only USD 4.2 bn of the total are held as foreign exchange reserves, as 3 bn consist of monetary gold.
We have seen only a moderate impact of the political events on the exchange rate so far. Even before the elections, we had pencilled in a depreciation of the Belarusian rouble to the USD in Q3 and a rebound in Q4. Therefore, we have yet not revised our exchange rate outlook. Obviously, also the uncertainty regarding the currency outlook has risen in the current political environment.
To sum up: Until late, monetary developments were favourable with low inflation and falling interest rates. The government sector shows a deterioration with expected budget deficits beginning this year, however coming from a favourable position budget surpluses and moderate public debt levels (though a substantial part is foreign hard currency debt). Finally, the external sector is the traditional weak point of Belarus, and was already hit negatively by the COVID-19 pandemic consequences and the Russian tax manoeuvre.
It must be seen, if the additional shock of the political crisis worsens the ability of the Belarus state to roll over external debt, this could add depreciation pressure on the exchange rate given limited FX reserves. It will also be important that monetary policy makers succeed to maintain the confidence of market participants and the population in in this challenging situation.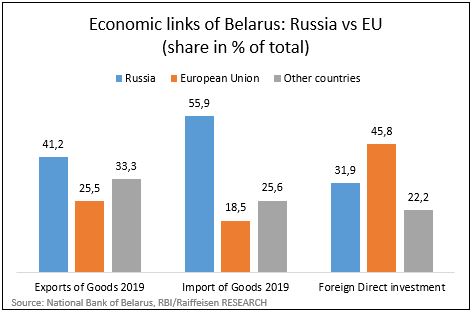 Structural issues and long-term challenges
Regarding structural factors, we want to highlight, that the Belarusian economic model includes also a costly, soviet-style welfare state. This traditionally provides moderate but steady wages and pensions as well as virtually full employment. However, this welfare state has become increasingly unsustainable. This puts the Belarusian authorities to the difficult choice between reducing social expenditures and cutting the support for unprofitable state-owned enterprises (SOE), potentially leading to higher unemployment or further increasing government deficits and ultimately allow external public debt to balloon.
As mentioned above, Belarus structurally depends on Russian energy subsidies: The soviet-style welfare state, inefficient SOE and agricultural sector have been only possible due to Russian support (cheap energy imports, refineries in Belarus selling for market price abroad). However, with the announced tax manoeuvre, Russia is already reducing the subsidies and wants to have them mostly abolished by 2024 – so this yet unsolved economic challenge exists even without the recent political events!
Moreover, the Belarusian state borrowed heavily from Russia in bilateral government loans (USD 7.6 bn as of 2019), adding to the dependency from Russia. Russia has in the past been willing to financially support its small western ally, given its substantial security and geopolitical interests in Belarus. Russia has also been pushing for stronger economic and implicitly political integration over recent years, which was not met by the same enthusiasm in Minsk. Given the dependence on Russia on so many levels, the manoeuvring space of Belarus in its relations towards Russia is and will remain rather limited.
One underlying challenge is the fact that, Belarus is – to a certain degree – still a soviet-style economy, having avoided large scale structural reforms until now. Belarus has a small private sector and a high share of the state in the economy of around 70% of GDP. The manufacturing sector has never been privatised like in neighbouring countries resulting in an over 30% share of SOE. Of these SOE, many have shown low productivity gains over recent years, requiring financing by soft loans from state banks and cross-subsidisation from several thriving exporters also owned by the state. As a result, these companies have increasingly become a drag on economic growth. The long-term challenge is what to do with these SOE, how to reform and/or privatise them without repeating the mistakes of the privatisation phase in the 90s in Russia/Ukraine, e.g. leading to impoverishment of substantial parts of the population and high inequality. At the same time, it looks unavoidable, that economic reforms initially lead to a certain decline in output and require lay-offs. In case Belarus opts at some point for structural reforms, support from the international community, the IMF and other international financial organisations would be required to soften the blow.
The Belarusian banking market features some 27 players and should be also seen through the lens of the general government dominance in the economy, as around 60% of the sector's assets belong to state-controlled lenders. Moreover, the corporate loan portfolio (nearly 80% of total loans) is naturally skewed to government-related borrowers, which further tethers the system's fundamental standing to the state of government finances. This concerns especially FX liquidity risks given still high dollarization of loans (around 45%) and deposits (56%). Speaking of a potential stress scenario, any significant volatility on that front would be compounded by the risk costs likely exceeding the recent 2-3% levels hence burning the earnings buffer propped by a stable 5-6% NIM. Although giving credit to the balance sheet clean-up efforts lately, we note that banks' impaired loans still represent a sizable amount (around 12%) with rather modest specific provision accrued (<40%). As a positive factor however, in general the private sector financial leverage remains moderate by international standards, with household and corporate debt-to-GDP at 11% and 27%, respectively.
Finally, we see certain weaknesses in the institutional framework of Belarus: With the very centralized personal rule over a long period of time it is difficult to have strong, independent institutions, which is a critical factor for the investment climate.
On the other hand, Belarus possesses several strengths, which should help to develop its economy going forward:
There is a certain class of well-educated and well trained (economic) technocrats: Monetary policy and partly also fiscal policy management has improved over recent years, which to a certain degree reflects the availability of decently educated and capable government officials. Moreover, the general educational level of the population is relatively high, so there is still a partly untapped human resource potential. This partly became visible over recent years in a thriving Tech- and IT-Sector. This fast-growing sector is globally competitive and export oriented. As of now the IT sector already accounts for 8.6% of Belarus' GDP. There is no oligarch class in Belarus given the lack of large-scale privatisations. Thus, the problems of state captured by vested private interests of politically influential businessmen is not an issue. While highly bureaucratic, slow and not always guided by rule-of-law principles the state administration is working relatively predictable and free from corruption. There is a high level of red tape, but the environment is much less chaotic than in other countries like Ukraine. Finally, while Belarus is a medium-sized country of 9.5 mn inhabitants with a modest GDP of around EUR 50 bn, it is strategically well located between Russia and the European Union and may still be big enough to raise interest of investors and trading partners.
For the immediate economic future much will depend on how the ongoing political upheaval will be solved. However, we argue that for the medium- and longer-term development of the country, it will be important to see how Belarus copes with its economic challenges and if the country can succeed to make best use of its strengths. However, given its small open economy, external key players like Russia and the European Union (and their interaction) will also play an important role.
Ruslan Gadeev is Credit Company Research Expert at Raiffeisen Bank International in Vienna.
Andreas Schwabe, MBA, CFA is Senior Economist for Central and Eastern Europe in the Economics Department at Raiffeisen Bank International in Vienna.
Olga Zhegulo is Head of Economic and Financial Research at Priorbank in Minsk.