Amra Tabaković and Vesna Topić, Raiffeisen Bank in Bosnia and Herzegovina
The Sarajevo Film Festival is an international film festival with a special focus on the region of Southeastern Europe. It is held in August and showcases an extensive variety of feature and short films from around the world.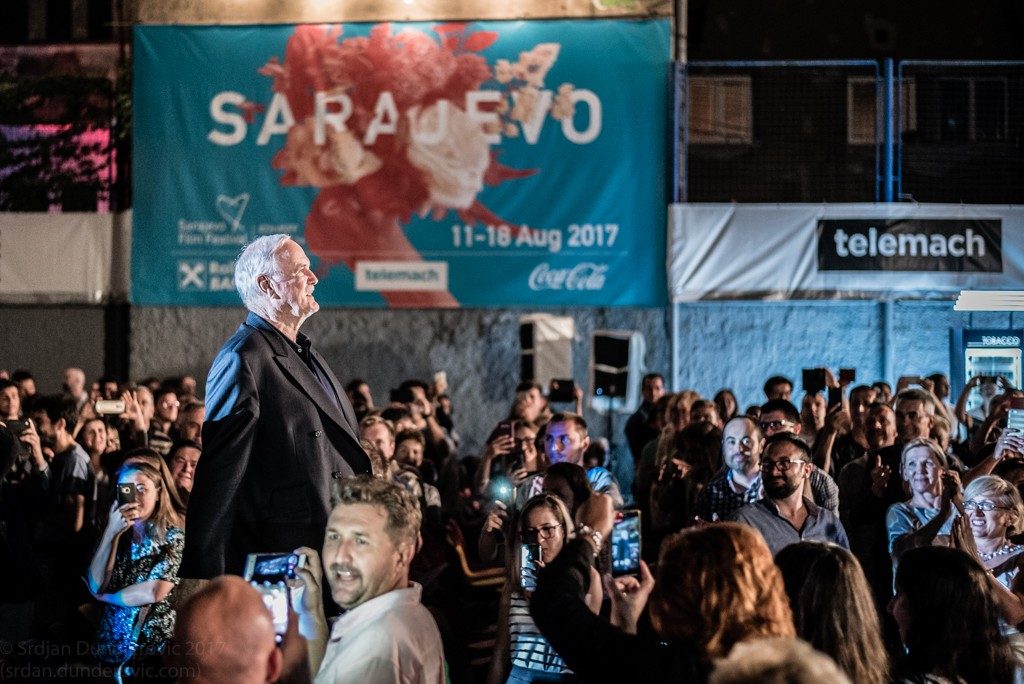 Sarajevo Film Festival was born 25 years ago
The first Sarajevo Film Festival was held 1995, during the siege of Sarajevo in the war in Bosnia and Herzegovina when a surprising 15,000 people came to see the films. The festival grew at a remarkable pace and today, more than two decades later, it is the leading film festival in the region, recognized by both film professionals and the wider audience, attracting more than 100,000 people annually.
This year's festival was held under the patronage of the United Nations Educational, Scientific and Cultural Organization (UNESCO), from 16-23 August. This year, the Sarajevo Film Festival celebrated 25 years of its existence.
A place to be seen
It has been attended by celebrities such as Robert De Niro, Angelina Jolie, Brad Pitt, Emile Hirsch, Orlando Bloom, Daniel Craig, Danny Glover, John Malkovich, Morgan Freeman, Oliver Stone, John Cleese, Steve Buscemi, Michael Fassbender, Jeremy Irons, Bono Vox, Nick Cave, Coolio, Stephen Frears, Mickey Rourke, Michael Moore, Gérard Depardieu, Darren Aronofsky, Sophie Okonedo, Gillian Anderson, Kevin Spacey, Eric Cantona, Benicio del Toro and many others.
This year's special guests
Celebrated Mexican actor-director Gael Garcia Bernal was a special guest of the Festival's 25th edition. Bernal presented his directorial film "Chicuarotes", which premiered at Cannes earlier this year. Pawel Pawlikowski, a Polish director, received the highest prize to individuals "The Honorary Heart of Sarajevo", for outstanding contribution to the art of film and his lasting friendship with the city of Sarajevo and Bosnia and Herzegovina.
Mexican director, producer, and screenwriter Alejandro González Iñárritu also received the award Honorary Heart of Sarajevo to recognize his exceptional contribution to the art of film. During the festival he held a Masterclass and in a relaxed atmosphere, Iñárritu shared his rich experience and broad knowledge with festivalgoers and media representatives. During the 25th Sarajevo Film Festival the Honorary Heart of Sarajevo was given out to legendary French actress Isabelle Huppert and to British actor Tim Roth, in recognition of their exceptional contribution to the art of film.
Sarajevo Film Festival is all over the town
The festival is hosted at the National Theatre in Sarajevo, in front of which there is a handmade Bosnian carpet set. Screenings are held at the Open-air cinema Raiffeisen, Meeting point Cinema and and ten other cinemas and other projection locations around the city. During the Festival, many parties and events are organized – music on the rooftops of the buildings, a party tram, the dancing bridge and many more.
Talents Sarajevo
Talents Sarajevo has been launched 13 years ago in cooperation with the Berlin International Film Festival and Berlinale Talents initiative. It is an educational and creative platform for up and coming young film professionals and offer them a rich program of masterclasses, panel discussions, workshops and networking events along with a chance to meet and learn from some of the best living filmmakers and professionals.
The 13th edition of Talents Sarajevo was opened by Mexican production designer Eugenio Caballero and this year's Talents Sarajevo theme was "Innocence Un/Protected". Talents Sarajevo welcomed 64 directors, producers, screenwriters, actors, cinematographers, editors and film critics from Southeast Europe and the Southern Caucasus.
25th SFF in numbers
This year, a total of 270 films were screened in 18 programs, from 56 countries. As many as 68 films had a world premiere, and 12 had an international premiere. There were 53 films in the competition for the Heart of Sarajevo Awards.
[divider style="none"]
[/divider]
Maybe you're interested in …
[custom_posts template="one_third" effect="none" hide="summary" entry_ids="2329,1992,2248″]
[/custom_posts]