By Andreas Schwabe, CFA, RBI, and Silvia Rosca, Raiffeisen Bank Romania |
Romania's economy has been the top growth-performer in CEE over the last five years. Since 2013, Gross Domestic Product (GDP) has increased by 25 percent, which is five percent more than the export-oriented power-houses of Central Europe, including Poland. Especially private consumption has been booming, growing by almost 40 percent since 2013. But also Romanian exports rose very strongly, cumulatively by over 50 percent over five years. The growth pattern has been rather balanced in the sense that no large current account deficit (i.e. roughly the amount of imports exceeding exports) emerged until more recently. Moreover, the budget deficit was rather contained until 2016. Between 2013 and 2015 the public deficit amounted on average to only 1.4 percent of GDP. The so called "twin deficit" of the combined public and current account balance remained inconspicuously for many years, soothing most concerns about the fast-growing Romanian economy.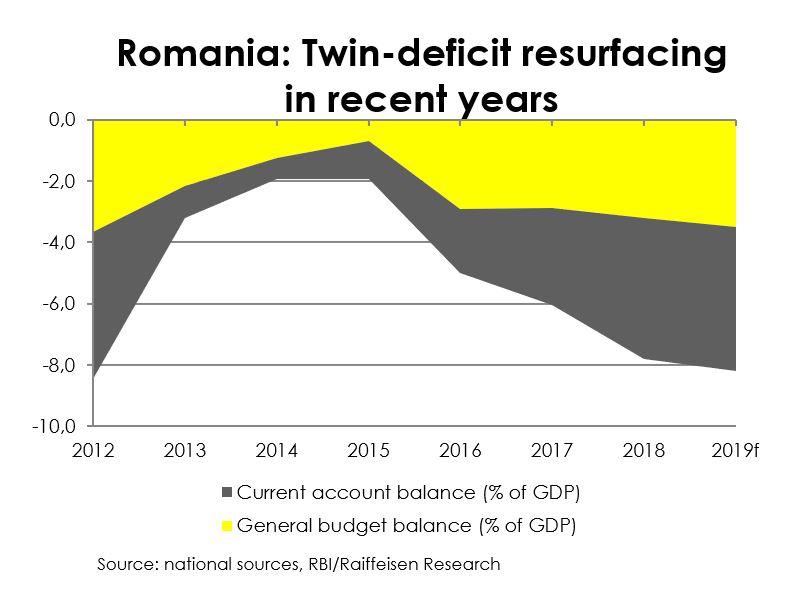 This view changed substantially in 2016 and 2017, when both the current account and the budget deficit plunged further into negative territory, while the economy became closer to a state of overheating. In 2017, GDP growth amounted to 7 percent, domestic consumer demand rose by 10 percent, and the twin deficit tripled from its low in 2014/15. To a substantial extent the strong growth had been caused by a continued fiscal stimulus by the government, hiking public wages and cutting taxes over several years. Some observers began to see rising risks of an upcoming sharp slowdown, if the boom continued for too long.
Luckily, in 2018, Romania's economy managed to decelerate. Economic growth came in at a more moderate growth rate of 4.1 percent, slightly above half the value of the previous year. However, there are still economic risks: The twin deficit has grown further to 7-8 percent of GDP in 2018, as especially the current account deficit widened further. Also, despite strong growth, Romania struggled for the last two years to meet the fiscal deficit threshold of 3 percent of GDP, which is required by the European Union. In 2017 and 2018 the government had to restrain public investment spending or rely on one-off inflows like special dividends to meet the deficit target. For 2018 it is currently still not clear if the target of maximum 3 percent of GDP has been fully reached according to EU accounting rules.
Another worrying sign is that the expansionary fiscal policy stance continues: The rapid increase of income (wages and pensions) – taking place in recent years and expected to continue also in 2019 – will likely further fuel the population's propensity to consume. Additional hikes of wages in the public sector (likely in double digits territory) as well as pensions (by 15 percent in September 2019) and an increase of the minimum wage in the economy would support certain segments of consumption. To finance these outlays and keep the budget deficit in check, the government surprised in late December 2018 with a highly controversial bank levy and other fiscal measures (see our Blogpost "Romania: Latecomer in bank taxation at an alien time").
In our opinion, the fiscal mix including the new taxes and measures (which are still contested) should have a net negative impact on growth, especially as battered banks may reduce their appetite for lending. Given the magnitude of these measures, we are significantly lowering our economic growth outlook for 2019 and 2020. Now we expect only economic growth of 2.5 percent in both years, instead of 3.5 percent and 3.0 percent, respectively. In addition, we expect the domestic currency to trade on the weaker side towards the euro. Thus, to some degree, Romania has still to pay with fiscal headaches for a growth binge.
Andreas Schwabe is an analyst for Central and Eastern Europe in the Economics Department at Raiffeisen Bank International in Vienna.
Silvia Rosca is Financial Analyst at Raiffeisen Bank S.A. in Bucharest.
[divider style="none"]
[/divider]
Maybe you are interested in…
[custom_posts template="one_third" effect="none" hide="summary" entry_ids="1823,1729,1616″]
[/custom_posts]