By Jörg Bayer, RBI |
Romania is certainly something of a diamond in the rough in terms of ESG bonds / finance within the EU. This means that there is still a lot of work to be done. But we also see a lot of potential for improvement and many positive signs on the horizon that a turnaround in the medium term is possible.
1. The Romanian green capital market shows first fragile seeds
While other CEE countries have already discovered green bonds (e.g. Hungary, Poland) for quite some time, this is still untouched territory for Romanian government bonds (more on this under point 5). Until the second half of last year, there were no ESG bonds outstanding with direct reference to Romania.
In the meantime, at least four issuers have issued Green Bonds with Romania as the country of risk. The two real estate companies Globalworth Real Estate (EUR 400 mn) and NE Property (EUR 500 mn) made a start in July 2020. They issued green bonds, both of which have ratings in the IG (BBB) range and maturities of between six and seven years. 
After these issues, the Romanian ESG primary market was quiet again for almost a year, before MAS Securities followed in May this year with another real estate company with a EUR Green Bond. Shortly before the MAS issue, Raiffeisen Bank SA issued the first RON denominated Green Bond. This represented a RON ESG bond debut and it was the first Romanian ESG bond of an issuer that could not be assigned to the real estate segment. Therefore, there is at least a basis for green bonds in the private sector. At the same time, there is still a lot of growth potential as the usually strongest sectors in terms of volume, utilities and banks, do not yet play any or only a minor role in Romania as far as green capital market financing is concerned.
2. Indirect green funding will play an important role in the private sector
For Romania, not only direct green funding in the private sector, as described in the examples above, will play a decisive role, but also indirect green funding (for subsidiaries, e.g. Dacia) via parent companies whose headquarters are located in countries where green funding is more or less the "new" normal. Examples for this are Renault (Dacia), OMV, Ford, Lidl and Carrefour, all of which have large subsidiaries in Romania and are still in the early stages of exploiting green funding opportunities. Thus, this indirect source should also contain some potential. Especially in the automotive industry, if one thinks of the electric car technology and the associated battery technology.
The oil & gas industry also plays an important role in Romania. This is partly through the participation of international companies (OMV, Lukoil), but also through national companies. This segment is of course not the first segment that comes to mind when thinking about green change. Nevertheless, sustainable change will not be possible without this industry, and one of the largest (GHG) savings potentials lies dormant here. A good example for this is the Polish PKN Orlen, which plans to push its investments in renewable energies by means of Green Bonds. This leads directly to the transition to the topic of energy sources.
3. Energy is probably the decisive key to sustainability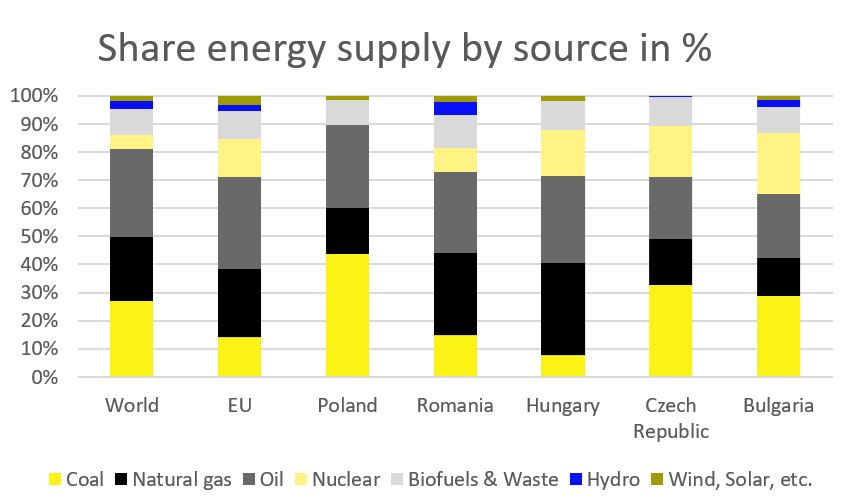 Source: IEA; Raiffeisen Research (last available full year)
Compared to other countries in the CEE region, Romania has a good starting position in terms of its current energy mix. The share of coal is significantly below that of Poland, the Czech Republic or Bulgaria, for example. Within the peer group, only Hungary has a significantly better starting position.
When it comes to oil and gas, however, the situation looks very different. These forms account for around 60 per cent of energy production in Romania. But at least gas is considered a transitional technology in the area of ecological change. And it is currently less in the negative spotlight.
On a very positive note, Romania is already a CEE leader in renewable energy forms such as hydro, wind and solar. However, there is a lot of further need and many projects are already under construction or in planning and should drive the change here further.
Perhaps one of the most discussed topics on the subject of "green" and Romania is the subject of nuclear energy. This has played an important role in Romania since the 1990s and enjoys broad political support. Extensions are also under discussion here. There is no right or wrong in this topic. And at the moment neither researchers, politicians nor ESG rating agencies have a common view on how this topic should be evaluated from a sustainable point of view.
4. Next Generation EU as a pacesetter in greening
With all the upcoming topics in the direction of sustainable change, funds from the temporary NextGenerationEU development instrument might play a decisive role. In total, EUR 750 bn will be used to make the EU more environmentally friendly, more digital and more crisis-proof. The countries in the CEE region should be among the biggest beneficiaries. In the case of Romania, the focus is certainly on renewable energy projects and sustainable real estate and infrastructure projects. This should not only support, but significantly accelerate the above-mentioned developments.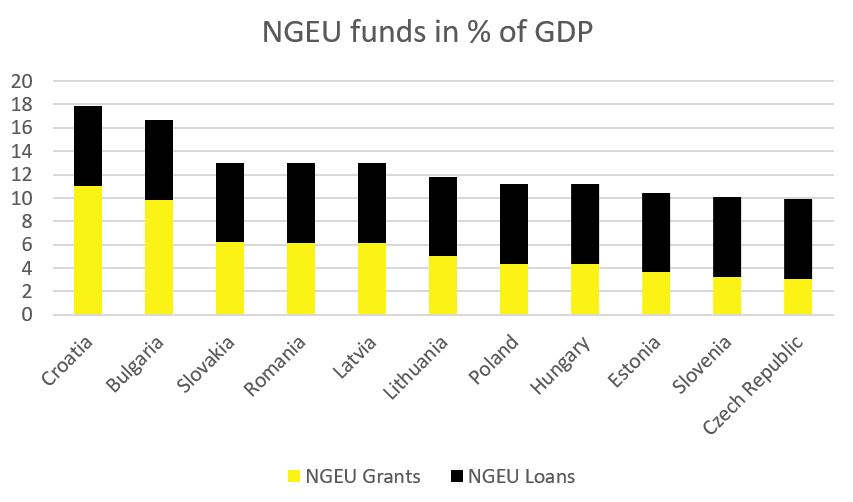 Source: EU Commission, Fitch, Raiffeisen Research
5. Green bonds at the state level are now part of the new normal
Also, while more and more countries play the ESG bond market, Romania is still in its infancy. We expect that this will change in the near future. As we have already discussed, there are definitely enough projects to dedicate the funds raised to sustainable purposes. Romania would also be anything but exotic in the ESG bond market. Poland and Hungary from the CEE region are already well-known Green Bond issuers. In the meantime, countries such as Egypt, Nigeria or Chile, to name a few examples, have also issued Green Bonds. In our view, this would significantly expand the investor base for Romania, and as an EU country, the ESG currency #1 EUR is the obvious choice anyway. Consequently, this step should only be a matter of time.
6. Conclusions
Romania is still in its childhood as far as the topic of "green" capital markets is concerned or is supposedly on the verge of waking up from its dormancy. All in all, we have many reasons for seeing Romania as a perspective ESG market of the future. On the one hand, thanks to positive first steps and a pioneering role in terms of renewable energy production in the CEE region. On the other hand, certainly due to the influence of large international companies that want to improve their ESG footprint. And last but not least driven by the EU Commission and the financial resources in the direction of sustainability. Both, in terms of the international character of the private sector (including the banking market) as well as in terms of the EU efforts, Romania is likely to be favored above average in our estimation. So it only remains to be seen until the Romanian ESG market finally picks up speed.
Further exciting stories can be found on our Research homepage under the Industry/ESG tab or in our Fixed Income Daily Vienna Calling (ESG news flow). (*Registration required: Possible for RBI clients by specifying the responsible account manager in compliance with the regulations and restrictions under MiFID II.)