You cannot talk about Eastern Europe, without mentioning caviar. Here's the portrait of a Ukrainian entrepreneur, who breeds the black gold in an ecologically and socially responsible manner.
Osetr is a black caviar producing company in Ukraine, located in the town of Ukrainka, 20 kilometers from Kyiv. The aquaculture enterprise with a closed cycle production, which breeds caviar fish such as sterlet, sturgeon, bester (a hybrid of beluga with starlet) and even a rare albino sturgeon, has been cooperating with Raiffeisen Bank Aval since the very beginning of its activity.
Maksym Mostovy, co-founder and top manager of Osetr, started his fish farming business in 2010, when he bought a farm that operated since the early 1970s – and even continued his family's tradition in doing so. His father was engaged in fish breeding for many years as one of the specialists in the very same fish collective farm. When Maksym Mostovy bought the farm, he started its modernization and invested into new technologies and people. He hired the best experts in caviar fish breeding. Today, about 50,000 sturgeon, starlet and bester species are living in the farm's fish cages (separate zones in a pond for different fish) – the business started with only 300 grams of fry.
The Osetr farm has a system of fish cages with live water in a deep, clean and chilly channel of the Dnipro river. "Natural conditions strengthened by technological solutions in the sphere of temperature control and oxygen saturation, is a key factor for the activity of such fish farms", says Maryna Pashko, Technology Specialist at Osetr. The company has a closed cycle production, meaning that all technological stages "from caviar to caviar" are passed. Apart from the outdoor system of fish cages, there is a special production line in a manufacture site with indoor basins, which allow milting, fish incubation and growing. Another production line provides a final stage of the process: preparation for spawning and getting caviar.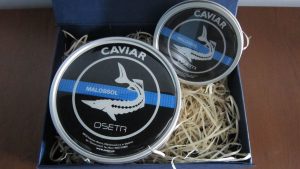 The available fish cage system allows the classification of the fish by type, sex, age and size, as each fish has been chipped. All fish live under comfortable conditions and have their own rations. The health status of each fish and the caviar development process are monitored by means of ultrasonic investigation. Each specimen has its own record ("dossier"). The product meets high quality standards. The farm has successfully passed two audit revisions, a recertification procedure, and it has a German certificate confirming the quality of the product. Maksym Mostovy comments: "A can of our black caviar may go on sale in any European supermarket without additional certification, as our products have already been certified."
As the founder says, the caviar producing farm requires long-term investments. First incomes in caviar business come in only after ten years of activity, the recoupment period lasts for no less than 15 years. And with regard to constant investments for development, the self-repayment time might even reach 20 years. A long start is a trial for a business, but after that a time of long-lasting output can be expected. Sturgeons, for example, may live even 200 years with regular spawning, on condition of proper keeping. Therefore, such a business can and should pass from generation to generation.
Maksym Mostovy has different directions in mind, when it comes to developing his business. Firstly, he intends to expand the production capacity of his enterprise. The goal is ambitious: one ton of caviar per year, as there is a high demand for black caviar on the domestic market and from abroad. He also plans to expand the farm's product line. The businessman wants to develop the production of golden black caviar from albino sturgeons, which is trendy and highly demanded by wealthier people. Maksym Mostovy also intends to offer products for a wider public: to build basins for cheaper fish with a short recoupment period, like trout. Maksym considers even opening a fish and caviar restaurant on the territory of his farm, as well as a souvenir shop, in order to create a full-functioning tourist point. When asked for his rules for success he says: "To love what you do, to produce something of the quality you would choose for yourself, to be fair in business and ecologically as well as socially responsible."