By Anja Knass, RBI |
Renato Eggner is the Managing Director of Raiffeisen-Leasing Fleet Management and for years a strong ambassador for e-mobility in Austria. In our interview he explains why leasing is an accelerator for e-mobility.
Mr. Eggner, could you give us a quick overview on e-mobility in Austria?
Eggner: According to the Austrian Federal Association for Electric Mobility, almost 8,950 electric cars were newly registered in the first three quarters of 2020, accounting for around 5 per cent of all new registrations. Compared to the same period in 2019, that's an increase of about 21 per cent. In total, about 36,200 electric cars are currently registered in Austria.
It is interesting that in the first half of 2020, 77.6 per cent of all e-vehicles in Austria were registered to companies. Almost 80 per cent of all fully electric vehicles in Austria and Europe are financed by leasing companies.
Why does leasing play such an important role?
Eggner: The great advantage of leasing is that the still quite high purchase costs of e-vehicles can be flattened by the constant leasing rates over the term of the contract. Compared to private individuals, the holding period of company cars is shorter, as companies usually renew their fleet every two to four years. During this period, new cars usually also show the greatest loss in value, which makes these cars very attractive for the used car market and private individuals. So, if you look at it, leasing accelerates e-mobility as it flattens out the financial burden of the high acquisition costs and enables more and more private individuals to exchange their conventional cars for e-cars.
Leasing also plays a very important role in financing the charging infrastructure. Especially in the public sector, the costs for charging points are very high and we can offer cities and municipalities liquidity-saving financing through leasing. The more public charging infrastructure is available, the more people dare to exchange the gas pump for a charging cable.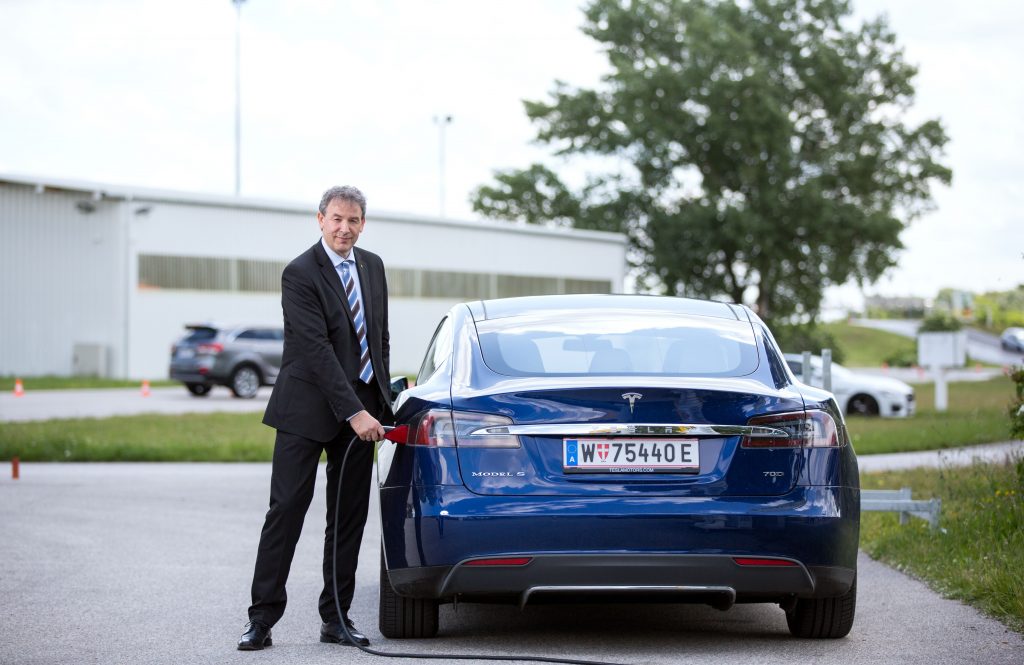 How does the Austrian government support e-mobility?
Eggner: The promotion of e-mobility has currently become a very high priority. Private individuals and companies can apply for subsidies for the purchase of alternatively operated vehicles and charging infrastructure. And the public sector itself is also setting a very good example. Just recently, for instance, after comprehensive advice from our experts, we were able to finance the purchase of 125 environmentally friendly cars for the General Accident Insurance (AUVA) through a full-service leasing contract. Over the planned four-year holding period, AUVA's fleet will reduce its CO2 emissions by more than 1,000 tons.
How do you assess the marketability of hydrogen cars?
Eggner: Currently, hydrogen cars have a range of up to 660 kilometers, can reach 160 hp and need only five minutes at the hydrogen fuel stations to fully fill the fuel tank.
However, there is – unfortunately as so often – a need to catch up in terms of infrastructure. At the moment, there are only five hydrogen fuel stations in Austria. We are faced with a hen-and-egg problem here: What has to come first? The infrastructure, so that people feel confident to buy the cars or the cars, so that the fuel station infrastructure grows?
Who scores better in the eco-test: hydrogen or battery electric cars?
Eggner: At the moment, hydrogen only makes sense from an ecological point of view if it is not obtained from fossil fuels and if the energy required for electrolysis is generated exclusively from sustainable surplus electricity. Under these conditions, hydrogen is awarded the eco-gold medal. Especially the renewable energy sources such as photovoltaics or wind turbines often produce so-called surplus electricity, which is not needed at the time of energy generation and can therefore be used for the electrolysis of hydrogen. Hydrogen production, for example by extracting natural gas or oil, is not an improvement in terms of CO2 footprint.
Do you see hydrogen as competition or complement to battery electric-mobility?
Eggner: The question of whether hydrogen or battery electric mobility will win the race depends above all on political decisions and further progress in terms of infrastructure – as mentioned above. From a purely technical point of view, I see clear advantages for hydrogen drives in heavy goods traffic. Trucks, airplanes and ships can be operated with hydrogen–electric motors are not marketable at the moment. In passenger transport, on the other hand, battery electric motors have the advantage that they can be charged overnight at home. For charging hydrogen tanks, however, a filling station is required in any case. So, my prognosis is that hydrogen will prevail in heavy traffic and battery electric-mobility in passenger transport. The two should not be mutually exclusive, but complementary.