By David Vagenknecht, Raiffeisenbank Czech Republic and Gunter Deuber, RBI Vienna |
The topic of inflation is popping up everywhere now. It haunts the economic gazettes, and some inflation data are currently higher than expected. This is true for both, Western and Central and Eastern Europe. But of course, the devil is in the detail.
Different starting points
The starting points are very different. In Western Europe, consumer price inflation will pick up significantly in 2021 following a period of low inflation in 2020. One-off and pandemic-related special effects in price measurement are drivers of this upshot in 2021. Possibly headline inflation will well overshoot the ECB CPI target on a temporary basis.
In Central and Eastern Europe, we have not experienced such a deflationary shock as in Western Europe in almost all CEE countries. In part, currency devaluations played a role here. This was because the price shock driven by falling energy prices at the beginning of 2020 was similarly pronounced here as in Western Europe. Overall, however, we are starting the upcoming economic recovery in Eastern Europe from a significantly higher inflation base.
In addition, a faster increase in inflation rates here could be favored by the fact that the economic slump was in part less severe than in Western Europe. Also, local factors such as country-specific tax changes for energy sources, tobacco or government services tend to push the inflation outlook temporarily upwards.
A lot of uncertainties in price measurement
Apart from these factors, there are currently even more uncertainties than there are in the price measurement via baskets of goods even in normal times. This is because the lockdowns and closures imposed have shaken up price statistics in the sectors affected by the pandemic, especially in the services sector. As shops remained closed, actual prices were not observable. So statisticians had to work with imputed prices, i.e. prices from the past.
Currently, inside the euro area some 13% of prices in the inflation measurement are based on imputed prices. In some CE/SEE countries (e.g. Czechia, Slovakia) this ratio is even above that level. In other countries we are here at least in the neighborhood of 5% for this ratio. As soon as actual prices become available due to shops reopening, some price adjustment could take place. Seasonal factors are also worth mentioning. These are technically eliminated when using imputed prices but are additionally likely to be distorted by the nature of the pandemic itself which heavily distorted and/or added to seasonal patterns.
Most recently, there have been some adjustments in the calculation of weights in consumer price baskets. This was due to impairments in price data collection as well as pandemic-related changes in consumer behavior. However, in contrast to the euro area, for which Eurostat has adjusted its methodology, this technical factor will play a smaller role in the CEE region. The Czech consumer price basket has remained unchanged compared to 2020. For Hungary and Romania there are either no or negligible changes; but we observed noteworthy adjustments in CPI weights in Poland.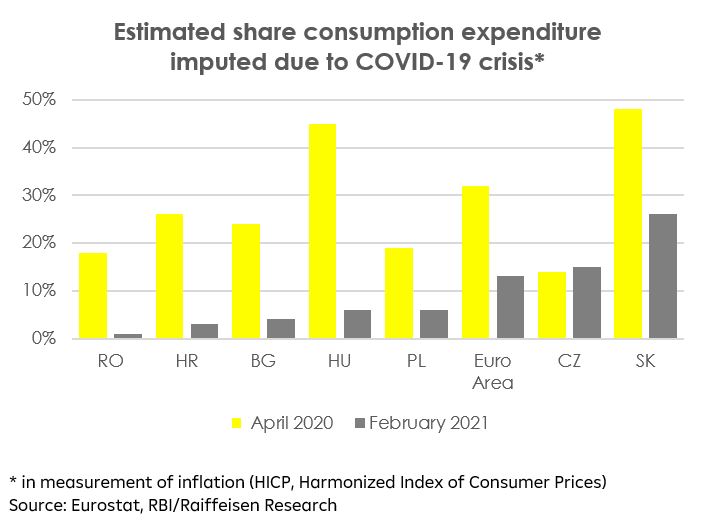 Don't bet too quickly on singular signals
On top of the sketched uncertainties in price measurement the inflation outlook is a black box in part due to additional factors of uncertainty. Currently, we see interesting developments on the supply-side creating risks for cost-push inflation.
Two main effects come into play: supply chains disruptions in combination with a swift rise of commodity and transport prices. The latter driven by a strong global recovery outside of Europe. (For more on that one see our Wide Angle Shot publication covering recent global economic forecasts.) Those factors obviously lead to higher production costs as rising commodity prices translate into higher raw material prices. One should bear in mind, however, that commodity prices are supported by an extremely low base.
Hence, these price pressures should ease once the slump in commodity prices drops out of the year-on-year rate. Still, the reopening of economies and bounce back of economic activity will tend to keep commodity prices elevated.
The former effect, supply-chain disruptions, currently continues to push input prices and transport cost, overall contributing to higher total costs. We see this development already in recent spikes in producer prices. This, too, will translate into higher consumer prices in the coming months (considering the usual time-lag of the pass-through process).
Too strong cost and producer price inflation would be definitely a risk factor to the trade-open CE/SEE region. The outlined developments will however be counteracted by factors that in turn mitigate costs:
For one, wages, a substantial portion of total costs, should grow only moderately given the pandemic shock to the economy and weakened financial position of many firms.
Second, with CE exchange rates gradually returning to stronger values, the FX channel will weigh on imported inflation, thus, contributing to lower production costs.
With the re-opening of the economy, labor productivity will increase. This, coupled with subdued wage growth, will dampen unit labor costs. Moreover, companies should be in a position to use their accumulated cash reserves to catch up on delayed investment (e.g. in machinery) which will contribute to production efficiency and cost optimization. In short, we do not view cost-push inflation to be a problem in the quarters ahead.
Risk of premature policy contraction does not seem very acute
In this respect, we assume that central banks will not react to sharp and temporary inflationary swings for now. Just as the old monetary policy credo that in normal times we should keep a sufficient distance from deflation in view of the uncertainty we face in measuring prices is quite justified, central banks do not want to be pushed into a hasty and decisive monetary tightening by the current wide range of price-distorting effects.
We therefore assume that the ECB, Fed and also most central banks in CE/SEE will for the time being overlook temporary inflationary pushes and remain cautious in normalizing monetary policy and rather enter with a slight delay than act too early.
But we also think that most central banks in the region cannot wait as long as the ECB to normalize monetary policy for many reasons. Labor markets are still tighter in the region than in most parts of Western Europe.
Most likely EU-funds will also generate stronger spillovers and multipliers in the region than in Western Europe and the whole euro area. Not to forget that we are confident that the US Fed will normalize monetary policy well ahead of ECB. A backdrop that supports somewhat higher rates in several CE/SEE economies. Therefore, we remain confident that the ultra-low interest environment and "low for longer" strategy of the ECB will not get too much imitators in CE/SEE beyond 2021 or 2022.
---
Looking for a long-term read? Find a comprehensive CEE inflation study "CEE Inflation & Monetary Policy Outlook: Left with an inflation puzzle" on our Research portal. (Registration required.)
---
David Vagenknecht is a Macroeconomic Analyst at Raiffeisenbank a.s. in Prague. He spearheaded a recent extensive Raiffeisen Research cross-country note covering regional inflation trends in CEE.
Gunter Deuber is Head of Research at Raiffeisen Bank International AG in Vienna.
---