By Oliver Marx, RBI Vienna |
Digitalization is key for a country's success in international competitiveness. There is a clear link between digitalization and economic performance, therefore governments, businesses and households need to implement necessary reforms to prevent falling behind economically.
In the European Commission Digital Economy and Society Index "DESI" from 2018, which measures digital performance and readiness in Europe, Hungary ranks on one of the lower positions. DESI is comprised of five categories: Connectivity, Human capital, Use of Internet Services, Integration of Digital Technology and Digital Public Services. In the total Index Hungary ranks on position 24 out of 29 countries measured. Core euro countries and the Baltic states are the best ranking countries, whereas Eastern European countries tend to achieve lower scores, and especially Southern European countries are found at the lower end. Compared to its Central European peer group Hungary scores only better than Poland.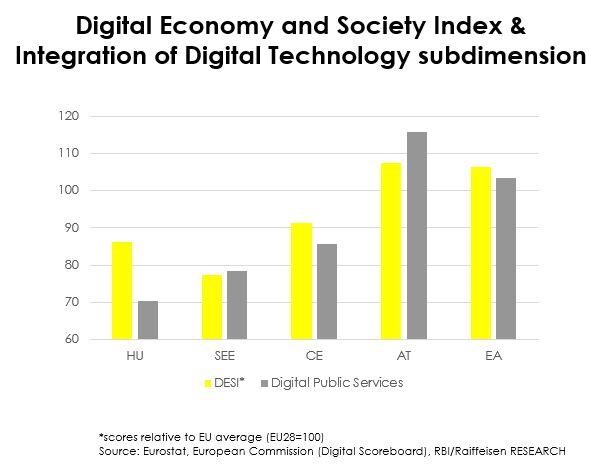 Business and government lacking digital maturity
Hungary performs especially poorly in the categories Integration of Digital Technology and Digital Public Services. The first one refers to digital maturity of businesses, showing that only an extremely low percentage of enterprises share information and make business digitally (only 14 percent, while the EU average is at 34 percent). The latter refers to the digital readiness of the government and public services, where Hungary ranks last. Reuse of information across different administrations is only scarcely established and the usage of online health care services is extremely low.
The situation concerning human capital adept in professional fields connected to digitalization is at a mediocre level, below EU-average. Particularly the number of STEM graduates is extremely low, possibly leading to a scarce supply of skilled employees in the future. But there are also some areas in which the economy is digitally developed to a decent grade. Connectivity and Use of Internet summarize the availability and quality of fast internet and its usage in private households. Hungary is here at EU average level. Especially high is the percentage of people having subscriptions to Ultrafast Broadband (>= 100Mbps), ranking on the seventh place in Europe! On the other hand, mobile broadband subscriptions are at the lowest level in Europe. This may be linked to the high prices of mobile phone contracts, which are among the most expensive in Europe. Also significant is the high level of private internet usage, e.g. social networks and video calls. Although this may have only limited effect on the economic development, it shows the populations' acceptance of digital tools.
In contrast to the DESI, the "Knowledge Economy Index" from the EBRD does not only focus on digitalization but on innovation and knowledge in general. Here we can see a similar picture with Hungary scoring as the worst Central European country overall but still outperforming all Southern European countries. Hungary falls under the category of an "advanced knowledge economy region" classified by the EBRD, although it is the country with the lowest score considered as such.
More worrisome than its situation today is its development. Compared to 2011, there has been almost no improvement. In terms of development, Hungary is the second worst country after Kosovo in CEE, having lost three ranks in the Knowledge Economy Index since 2011. It has not been able to reform its institutional framework, which is one of the key requirements for improving innovation. World Bank indicators such as rule of law, corruption perception and government effectiveness have significantly worsened. Another key pillar for digital readiness are the skills for innovation, including education, which also does not show any positive development.
Banking sector underlining mediocre picture of digital maturity
Hungary is lagging compared to its Central European neighbors in terms of digital maturity in the banking sector. The gap to the leading northern countries is even bigger. Digital banking penetration is at a very low level, with Hungary being the least developed country in CE. Digital bank transfers were used by 71 percent of the population in the past year, which is 10 percentage points less than the CE average. Furthermore, in the past year only 38 percent of the population payed bills or bought something online. Conventional banking services are also quite low. Debit card ownership is at 69 percent for the population older than 15 years in Hungary, compared to 79 percent of CE average. Although in CE and EU comparison Hungary looks underdeveloped in terms of digital maturity in the banking sector, it must be recognized that many Southern European and Eastern European countries perform worse.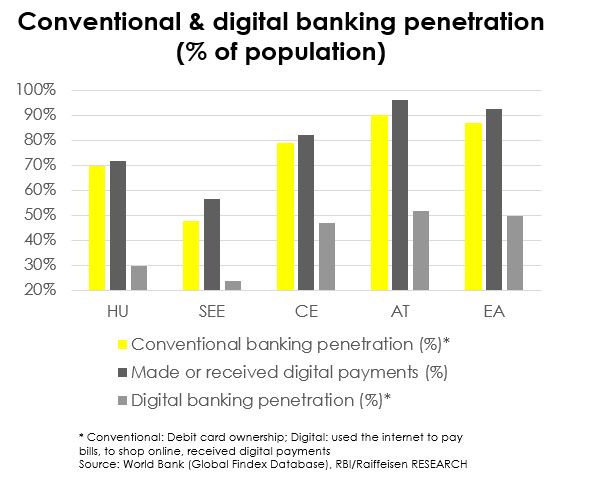 To address the digital weaknesses, Hungary's government has brought to life several initiatives. The "Digital Success Program" introduced by the government aims at increasing digital preparedness of the country and acts in several key areas of ICT. The "Superfast Internet Program" for example will provide Hungarian households with even faster internet connections. Furthermore, there have been some government initiatives aiming at improving digital public services. Supported also by EU-funds, the public sector is introducing electronic tax declarations and other programs as e-Health and e-Procurement. However, the gap to the EU is remaining significant in these areas.
Too good for SEE, but not good enough to compete in CE
Overall, Hungary's economy cuts a rather bad figure when it comes to digital maturity. Businesses as well as the government lack basic digital maturity. On human capital side, highly skilled workers will probably be scarce in the future as STEM graduates are at an extremely low level. Looking at infrastructure, we can see a well-developed fixed ICT broadband, while mobile internet subscriptions are at Europe's lowest level. On the other hand, Hungarians are keen to use electronic devices in their free time for personal entertainment, even more than the average European, which indicates high affinity towards digitalization in certain areas.
All in all, Hungary's maturity status in digitalization must be seen in relation to its peer group. Compared to the EU and most CE countries it is underdeveloped, but it still outperforms South Eastern Europe. The development in the past has not been very positive, especially concerning general framework factors like the perception of corruption and regulatory qualities. Recently introduced initiatives show that the government is aware of needed improvements in general digitalization, though they will probably not affect these general framework factors, where they would be most needed.
Oliver Marx is an analyst for Central and Eastern Europe in the Economics Department at Raiffeisen Bank International in Vienna.
[divider style="none"]
[/divider]
Maybe you are interested in…
[custom_posts template="one_third" effect="none" hide="summary" entry_ids="2163,2011,1891″]
[/custom_posts]