By Zoltan Török (Raiffeisen Bank in Hungary) and Gunter Deuber (RBI) |
In spite of the recent and noticeable economic slowdown in the euro area and Germany (a major trading partner of Hungary), the Hungarian economy delivered record-high GDP growth at 5 percent in 2018. Hungary thus continues the strong growth performance of recent years, when it was one of the fastest-growing CE/SEE countries (together with Poland and Romania). This is a gratifying improvement. Hungary has long been one of the weakest growing CE/SEE economies, with only half as much economic growth as Poland or Romania.
A "new European" growth star, without excessive imbalances
Solid economic growth in Hungary is currently mainly driven by surging domestic demand, increasing household consumption backed by rising real wages, growing employment and booming investment activity. Available statistics from the beginning of the year suggest strong growth to prevail in Q1 2019. A price of these developments (i.e. strong rise of consumption and investment demand) is the creeping deterioration of the external balances. Following several years of hefty current account surpluses, in 2019 we may see a small deficit. However, the overall deterioration is still moderate (e.g. in comparison to Romania, where we are back to current account deficits in the range of 4-5 percent). With a moderate current account shortfall Hungary would be once again closer to regional peers like Poland, Slovakia or the Czech Republic that are characterized by either moderate current account surpluses or deficits. However, the times of current account surpluses in the range of 4-5 percent (like seen from 2013 to 2016) were also not pointing to a sustainable development in the Hungarian economy. Such "excessive" surpluses were possibly a reflection of domestic economic weaknesses and still needed external deleveraging.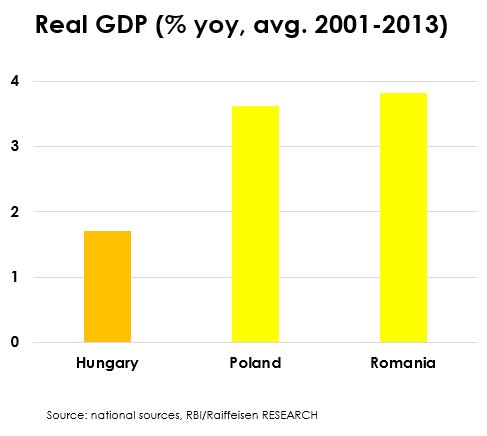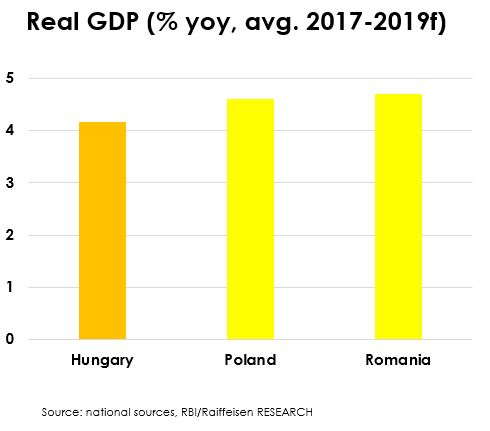 Fiscal policy remains at least on track and is not dedicated to an overly strongly procyclical orientation, as we see in Romania, for example. Nevertheless, favorable economic trends would allow a more significant reduction of the budget deficit, than the government is delivering. But at present, markets and international investors are not really demanding too much further fiscal consolidation, although government debt levels in Hungary are well above those of the regional competition. Here, Hungary is also benefiting from the ultra-accommodating monetary policy environment in the euro area, which is partly weakening the market discipline or creating a robust appetite among international investors for Hungarian government bonds (whether in local or foreign currency).
All in all, a stability-oriented economic policymaking is pursued in Hungary. Although certain pockets of weakness do exist, in terms of its economic policy, Hungary is close to Poland, the regional anchor of stability, in many key ratios. Thus, the country cannot currently be regarded as the first candidate from the CE/SEE region to need international support in an adverse scenario (like it was some ten years ago). This position has clearly been handed over to Romania. At present – in a still good economic phase and in contrast to Hungary or Poland – considerable so-called "double deficits" are discernible here.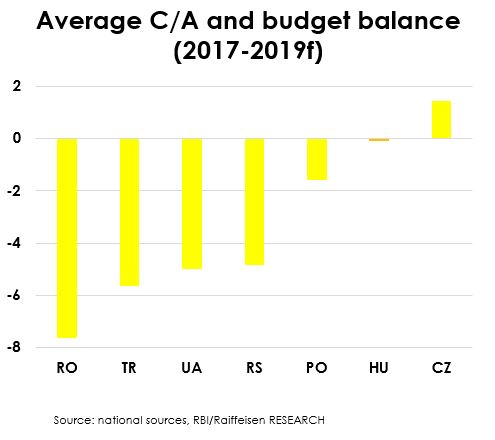 "Luxury problem" of low unemployment, manpower as a bottleneck
We expect decelerating growth rates in Hungary the rest of the year, however, given GDP growth is driven mainly by domestic factors, it is more resilient to conceivable unfavorable external circumstances. The labor market is extremely tight. The shortage of available workers became the single most important problem for Hungarian companies. The unemployment rate has been below 4 percent over the past years, readings we can also observe in the Czech Republic or Germany. The employment rate is also at a record high and we see no easing in the labor market tightness any time soon. Therefore, Hungary will remain a high wage growth and low unemployment rate country in coming years.
Consequently, inflation is likely to become a growing concern; like it happened over the past few months. Headline inflation data has been on a rollercoaster driven mainly by hectic fuel price developments. Nevertheless, core inflation is also trending upwards as strong wage inflation induces a massive cost side pressure on consumer prices, while the strong demand side allows repricing in case of various services and goods. Accordingly, core inflation is expected to further increase in the coming quarters, and we forecast that core inflation may temporarily even exceed the 4 percent level. However, from a monetary policy perspective, it is rather the longer-term outlook that counts, and we would expect a continuation of the low rate policy in Hungary. This is mainly due to the lack of strong inflationary pressure abroad and the rather dovish monetary policy stance of the ECB going forward.
All in all, the overall trends are fine: Hungary follows a policy of reducing financial vulnerabilities (be it in the public or private sector) and enhancing competitiveness. Based on past policy efforts, Hungary is expected to deliver a relatively healthy GDP growth going forward, while shortage of labor will remain the major bottleneck. The negative side-effects of the domestic-demand driven growth (inflation, deteriorating external balances) are not too worrisome for the time being. This holds especially true from a level and regional perspective. That said, Hungary is unlikely to be one of the first candidates, international investors would start to worry about in an adverse scenario. And this is a result of the debt reduction and economic policy consistency of recent years. It should be noted, however, that foreign actors have also played their part in Hungary's economic regeneration, whether through special taxes, participation in the private sector debt relief or the general loyalty of foreign direct investors who believed in the country as a business location.
Zoltan Török is Head of Research at Raiffeisen Bank in Hungary.
Gunter Deuber is Head of Economics, Fixed Income and FX Research at Raiffeisen Bank International in Vienna.
[divider style="none"]
[/divider]
Maybe you are interested in…
[custom_posts template="one_third" effect="none" hide="Summary" entry_ids="2191,2082,1756″]
[/custom_posts]