By Natalya Epeykina, Raiffeisenbank Russia |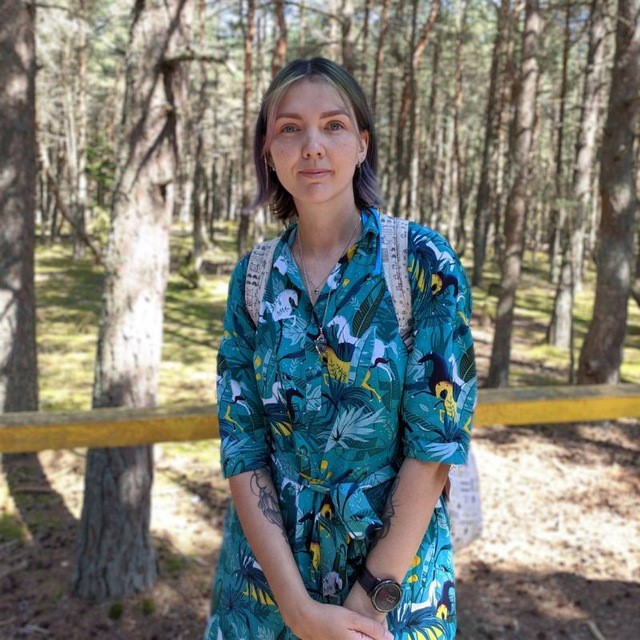 How can you understand to what extent you, your team or organization is working agile? How do you ensure that development can be beneficial? There are numerous ways to understand this topic, but in this blogpost, we will talk about the "Wheel of Life" by coach Paul Mayer and "Spiral Dynamics" conceived from the ideas of Clare W. Graves and his followers, two of the most common tools for diagnosing and planning the development of an agile mindset.
What is the essence of these tools?
The Wheel of Life is a very simple and accessible diagnostic technique used in personal coaching. Working with the wheel is quite simple:
Make a standard list of the most important areas of a person's life (family, self-development, career, friendship, etc.) or ask them to choose six to ten key areas.
Place them on the sectors of the wheel, the radius forms a 10-point scale.
Describe what each area should look like so that it can be rated on a scale from 1 to 10.
Assess the current state of each area.
Highlight the most lagging and extending areas and think about how balance can be achieved.
Select the frequency of measurements to return to evaluations after a while.
You can adapt this tool to the principles of agile, evaluate, mark growth zones and work on them.
But there are also disadvantages: In the use of the Wheel of Life, for example, we may find that certain assessments are overestimated because they were rated relatively high on the scale, but in reality would have to be assessed quite differently to be consistent with the current situation. Additionally, the Wheel of Life cannot be called an accurate instrument, as it does not allow to assess the real picture within the team and identify in-depth problems. Moreover, the areas lagging become the most noticeable. Therefore, the assessment looks rather flat and superficial.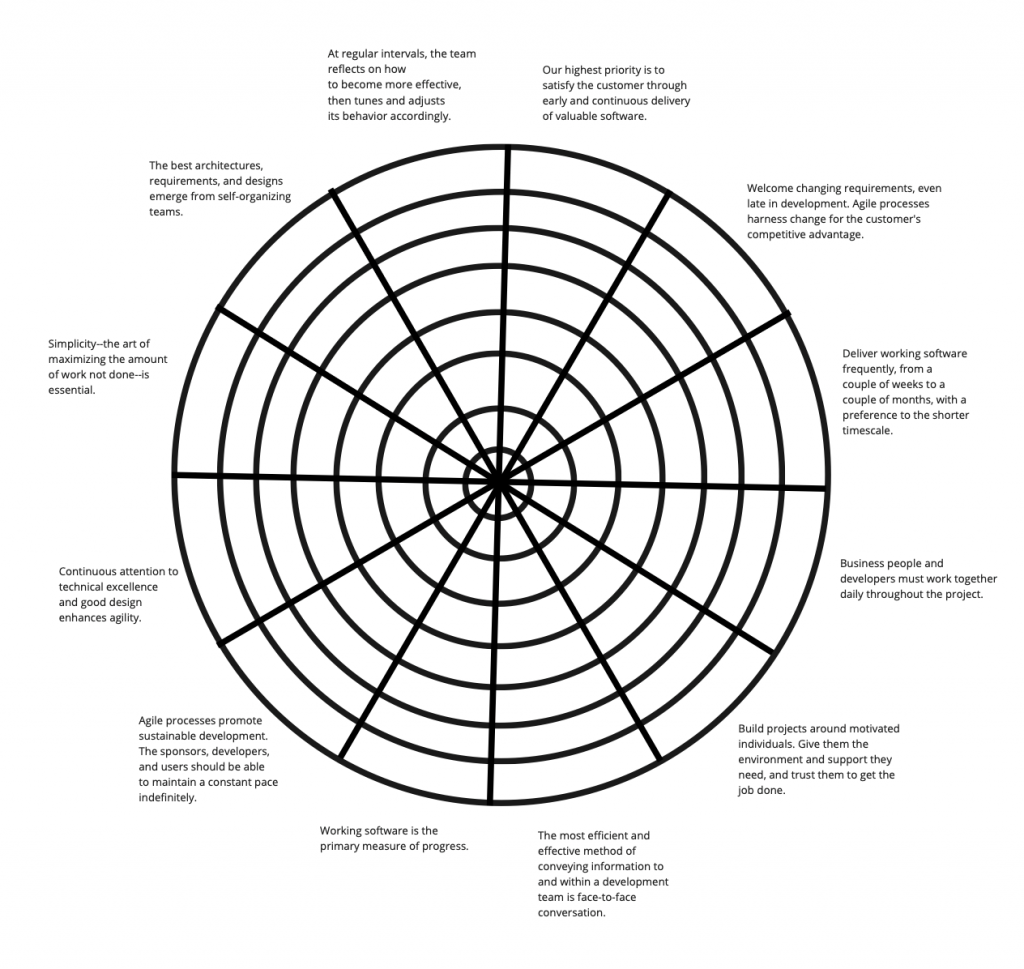 (c) Natalya Epeykina
This is where spiral dynamics can provide deeper insight into the issue.
Spiral Dynamics is a very in-depth and serious research, based on the concept that there are several standards for the "ideal behavior" of a person. These standards are dictated by culture and environment and are largely influenced by the evolution of society. You can read more about spiral dynamics in Don Beck's book Spiral Dynamics in Action: Humanity's Master Code.
The eight levels of Spiral Dynamics presented below will help us to understand how agile we really are and to what extent our actions correspond not only to principles but to our real motives.
In order to use this tool, you need to take a balance wheel with twelve principles from the Agile Manifesto and evaluate the attitude towards each of them on an 8-point scale, distributing positions from the center of the wheel to its circumference. In this case, the following postulates correspond to points:
we do this in order to do at least something in this incomprehensible environment (beige level);
we do this because our esteemed colleagues tell us to do so (purple level);
we do this because we are ordered to do so (red level);
we do this because of the rules set forth in the regulations (blue level);
we do this because it is profitable, it sounds reasonable and logical (orange level);
we do this for the common good of the team (green level);
we do this because team members are interested in it or because it is useful for development (yellow level);
we do it for the common good (turquoise level).
This scale helps to understand the real picture of accepting agile principles in a team, rather than simply following them. Interestingly, the levels can also be laid out according to the Japanese principle "Shu-ha-ri" which literally means "Obey – detach – separate." The beige to blue levels correspond to "Shu", where rule-following is central. The levels ranging from orange to green are closer to "ha", aimed at understanding the meaning of the rules and changing them in a rational manner. Finally, the yellow and turquoise levels are "ri" representing flexibility and creative direction.
(c) Natalya Epeykina
The next steps
Choose those principles that have the lowest score on your scale. To focus and not distract attention, pick two or three areas.
If your score is in the first four levels, you should consider how much value these principles can bring you. Focus on meaning and their advantages? Concentrate on the principles of understanding and goal setting. Is this an I-centered assessment? See which level follows it, and focus on working out the main, common part. Is this a We-centered assessment? Think about what personal advantages, interests and benefits this principle can bring to individual participants.
If you are at the orange level, emphasize to the team that together, as a team, members can accomplish much more than just a collection of individuals.
If you are already at the green level, be careful not to try to make people focus only on team values, and do not replace competence with non-factual motivation – your team will experience burn-out very quickly. Take your team to the yellow level where everyone should find areas of interest and development for themselves.
If you have reached the turquoise level, you have a lot of creativity, connected not only with the mission of your organization, but also with a global benefit to society.
The most important thing to remember is that development should be harmonious. If you only focus on one area, it will be rather difficult for your wheel to roll.
We hope that these diagnostic and development planning tools will prove useful on your journey towards agility.
Natalya Epeykina is a Scrum Master of the Digital On-Boarding team in the Corporate and Investment Banking department at Raiffeisenbank Russia. She is a certified PSM II Scrum Master and has extensive experience in facilitating processes and organizing events.