Planning a business trip to the heart shaped land? Here are some insights into the country located in Southeastern Europe. Find more details on how to plan your trip to Bosnia and Herzegovina, as well as information on history, culture and where you might enjoy a Burek.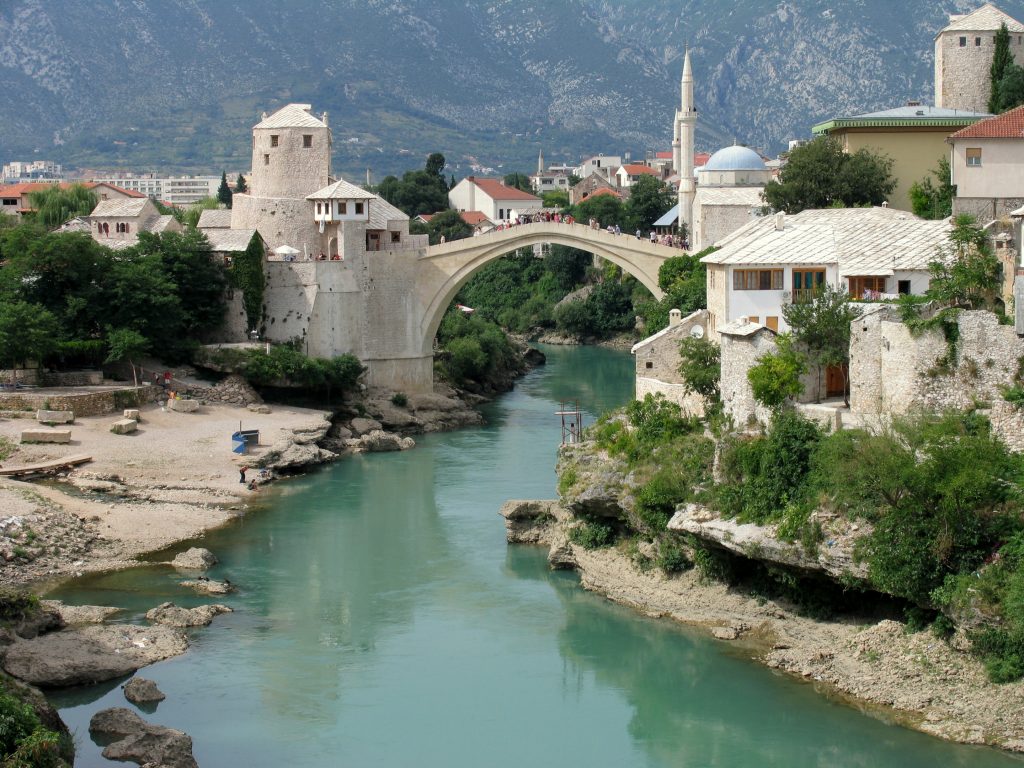 The 'Heart of Europe'
The country is at a crossroads between east and west in Southeastern Europe and is therefore frequently called the 'Heart of Europe'. Its capital Sarajevo is only a two-hour flight away from the main business centres of Europe.
Enjoy your Burek!
You may spend days preparing for your trip, but keep in mind that sometimes plans can change. You could meet one of the locals on your way to the hotel and finally end up being a guest at his or her home, rather than your hotel room. If this happens then you will be greeted in the traditional manner and offered a homemade pie, called Burek. You will drink Bosnian coffee together with your host and his or her family as if you had known them forever.
All about business in Bosnia & Herzegovina
When it comes to business relations, you will experience professional business people that are very capable to engage in international business dealings. Therefore, the primary incentives related to business are a motivated and qualified workforce combined with low operating expenses, good connections to regional markets and most importantly people who will readily accept you and give you a fair chance. Bosnia & Herzegovina welcomes and embraces the modern business culture. It will be easy to communicate with business partners in this country in a professional manner supported by the latest technology. Most of the business partners you will encounter will be able to speak in one or more of a range of foreign languages, predominantly English and German.
Currency
Bosnia and Herzegovina has a stable national currency (Convertible Mark) pegged to the euro and an annual inflation rate that does not exceed 3 per cent.
Telecommunications & Electricity
The telecommunications network is modern and stable and internet is accessible throughout almost the entire country. Bosnia & Herzegovina is also a major producer and exporter of electricity. Foreign investors hold the same rights as local companies, but also enjoy many other benefits.
Passport or Visa required?
Citizens of the European Union and the countries that are signatories to the Schengen Agreement do not need a visa to enter Bosnia and Herzegovina.
Aside from business
Once in the country, if your time allows, you should visit some of Bosnia & Herzegovina's many attractions. The largest and capital city is Sarajevo with approximately half a million people living in the city and its surrounding area.
Small country with rich history
By its size and population (approximately 3,500,000 inhabitants), Bosnia & Herzegovina falls into the category of small countries in Europe but it has a rich history, however, that dates back to the year 958. In that year, Bosnia as a country was first mentioned in official documents. In addition to its long history, fascinating scenery, nature, culture and traditions, another feature of the country is its exceptionally welcoming people. Known for its tradition of multi-ethnic and multi-religious cohabitation, the region has been a crossroads, a meeting point and an intersection of four main religions for centuries. Today, as in the past, Islam, Catholicism, Orthodoxy and Judaism stand as pillars of the country's cultural identity.
Where East meets West
Sarajevo is specific in that it represents a clear line where east meets west. This not only reflects the cardinal directions but civilizations. If you step on this line and turn to one side you will see the 'oriental eastern' side of Sarajevo that dates from the times of the Ottoman Empire, but if you turn 180 degrees you will see the central city avenue along Ferhadija Street that reflects the 'western European' style exemplified through its buildings that date back to the Austro-Hungarian period. The city also has many monuments from the modern era when Sarajevo hosted the 14th Winter Olympic Games. Once again, the city became a meeting place for people from all over the world.
Diving at the UNESCO world heritage site
The Old Bridge over the River Neretva in Mostar is a designated UNESCO World Heritage site. One event worth your attention is the traditional diving competition that takes place on the bridge every year in late July. There are many other breathtakingly beautiful places in Bosnia & Herzegovina. These include the Una National Park, the Cravice waterfall, the waterfalls at Jajce, the nature park at Hutovo Blato and the source of the River Bosnia close to Sarajevo. Hopefully, you can discover many of these attractions and experience this beauty beyond words first-hand.
If you want to know more about Bosnia & Herzegovina, visit www.bhtourism.ba.