Located on the Balkan Peninsula in Southeastern Europe, Albania is near the main European markets and can be reached easily by plane, car or ship. Although the whole country is worth a visit, Tirana remains the business capital of Albania and thereby the centre of economic connections.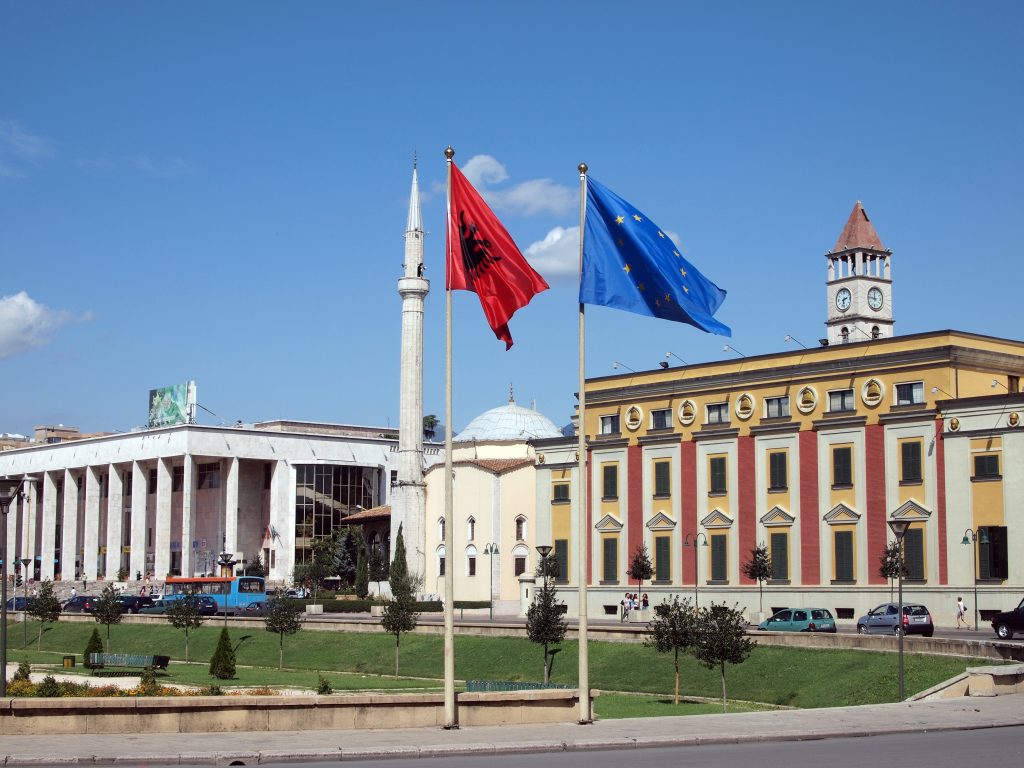 How to get to Albania?
The only airport with international service in Albania is "Mother Theresa International Airport", located in Rinas, 17 km northwest of Tirana. The most convenient way to get from the airport to Tirana is by taxi. The journey from Tirana to the airport takes twenty to thirty minutes and costs about 2,500 lek (approx. € 20). If you order a taxi service in advance (e. g. "Speed" or "City Taxi") you could also get an offer for 1,500 lek. Another option is to take the bus: The "Rinas Express" departs every hour between 6am and 6pm, as bus service between the airport and the National Museum in the centre of Tirana. The single fare is 250 lek.
Entry requirements
EU citizens and citizens from most other European countries as well as the US, Canada, Australia, New Zealand and Japan can enter Albania without a visa. Other travellers need to get a visa from an Albanian embassy or consulate abroad before travelling. More information can be found on the Albanian Ministry of Foreign Affairs website.
Money & Costs
The Albanian currency is the lek. The lek is a non-convertible currency and must be changed back into your own currency before leaving Albania. ATMs are found all over Tirana and the fees depend on the bank you choose to withdraw from and your house bank's fees. Cash can be changed at exchange offices found all over the city, in banks and in many of the better hotels. If you're doing anything outside the city centre or are planning to travel to any locations at the countryside, be sure to carry enough cash with you.
Safety
Albania is a rather safe country and Tirana a rather safe city. As anywhere else in the world, you should not leave your personal belongings unattended. Hence, be vigilant, but not more than in any other European capital or big city.
Where to stay in Albania
In Tirana you will find a pleasant number of high quality hotels, the "latest gem" being the five-star hotel Plaza. It is the tallest building in town, providing you with breathtaking panorama.
Rogner is one of the most frequented hotels in the city with long-standing tradition offering an outdoor pool, a modernized spa area and a tennis court for their guests.
Sheraton also offers a pleasant stay within the boundaries of a hotel chain.
Where to eat in Tirana:
Oda will give you the feeling that you are walking into someone's home to have traditional Albanian food, homemade and tasty. You might even find a few vegetarian dishes there.
Mullixhiu offers fine dining with great hospitality and family warmth. This restaurant offers a pure culinary experience.
Era restaurant has been serving Albanian and Mediterranean culinary since 1999. The ample menu will fulfill most people's needs.
How to spend your free time in Tirana
There are still plenty of communist-era relics to see in Tirana. By far the largest and most impressive being the massive socialist realist mosaic adorning the façade of the city's National History Museum. The BUNK'ART war museum is another point of interest. Juxtaposed in the near vicinity you can take a breath of fresh air with the "Cloud" or "Reja" which was designed by the widely acknowledged architect Sou Fujimoto. This installation is conveniently located in front of the National Art gallery. Many outdoor events are performed there. If you get lucky, you may come across a jazz festival or a modern art performance. Further, "Sheshi Skenderbej", the main square of Tirana, was inaugurated in June 2017. It hosts some of the most beautiful art events and concerts performed in Tirana. One of the oldest buildings is "Et'hem Bey Mosque" (built 1789–1823). Close by you will find Tirana's 35m-tall clock tower. Climbing the tower (that was completed by Ottoman architects in 1822) will be rewarded with an impressive view of Sheshi Skënderbej. Its bell sounds every hour.
In 2017, "Pazari I RI" (new bazaar) has been inaugurated in a historical part of Tirana. During the day it is more of a bazaar, while in the afternoon local culinary, restaurants and other cultural activities, festivals or fairs can be joined. You can dine outdoors and enjoy the constant good weather of Tirana.
For more information on Tirana please visit the webpage www.visit-tirana.com