By Benedikta Schlange, RBI |
Welcome to autumn, the season of coziness. It gets dark earlier, the trees lose their leaves, we unpack our warm coats and it gets colder. A particularly nice time to enjoy a deliciously warm apple strudel.
Since we have already delighted our readers with many Eastern European recipes, we thought it was time for a typical Viennese pastry recipe – apple strudel.
The origins of the Viennese apple strudel
The strudel dough probably originated in Arabia. This dough, which was further developed into baklava in Turkey, for example, came to Austria via Hungary at the time of the Danube Monarchy. During the Turkish sieges in the 16th and 17th centuries, Hungarians learned how to prepare the thin dough. In 1696, apple strudel was mentioned in writing for the first time in a handwritten cookbook. Through Maria Theresia, apple strudel gained popularity in the 18th century and entered Viennese society.
And now we want to show you how to make your own apple strudel.
For the dough you need:
175g flour
1 pinch of salt
1 egg
5-6 tbsp cold water
30g melted butter
Knead all the ingredients for the dough into a smooth, shiny dough, brush with a little melted butter and leave covered in a 50°C oven for 30 minutes. 
For the filling:
1kg organic tart apples
1 tsp cinnamon
75g sugar
75g sultanas
50g chopped almonds
grated zest of an organic lemon
Peel the apples, remove the core, chop and mix with all the other ingredients for the filling.
To finish, you will need :
100g melted butter
1 tbsp breadcrumbs
1 tbsp ground almonds
Now take the dough out of the oven (it is very soft but that is good) and preheat the oven to 225°C. Roll out the dough into a rectangle on a floured kitchen towel. Brush the dough with a little melted butter. Mix the breadcrumbs with the almonds and spread on the dough. Roll up the dough lengthwise with the help of a kitchen towel. Place on a baking tray lined with baking paper with the seam facing downwards and brush again with a little butter. Bake the strudel for 10 minutes at 225°C, then turn the oven down to 200°C and bake for another 30 minutes until the strudel is golden brown.
During the baking time, brush the strudel 2-3 times with butter.
Allow the finished strudel to cool, dust with icing sugar and serve with whipped cream, vanilla sauce or vanilla ice cream.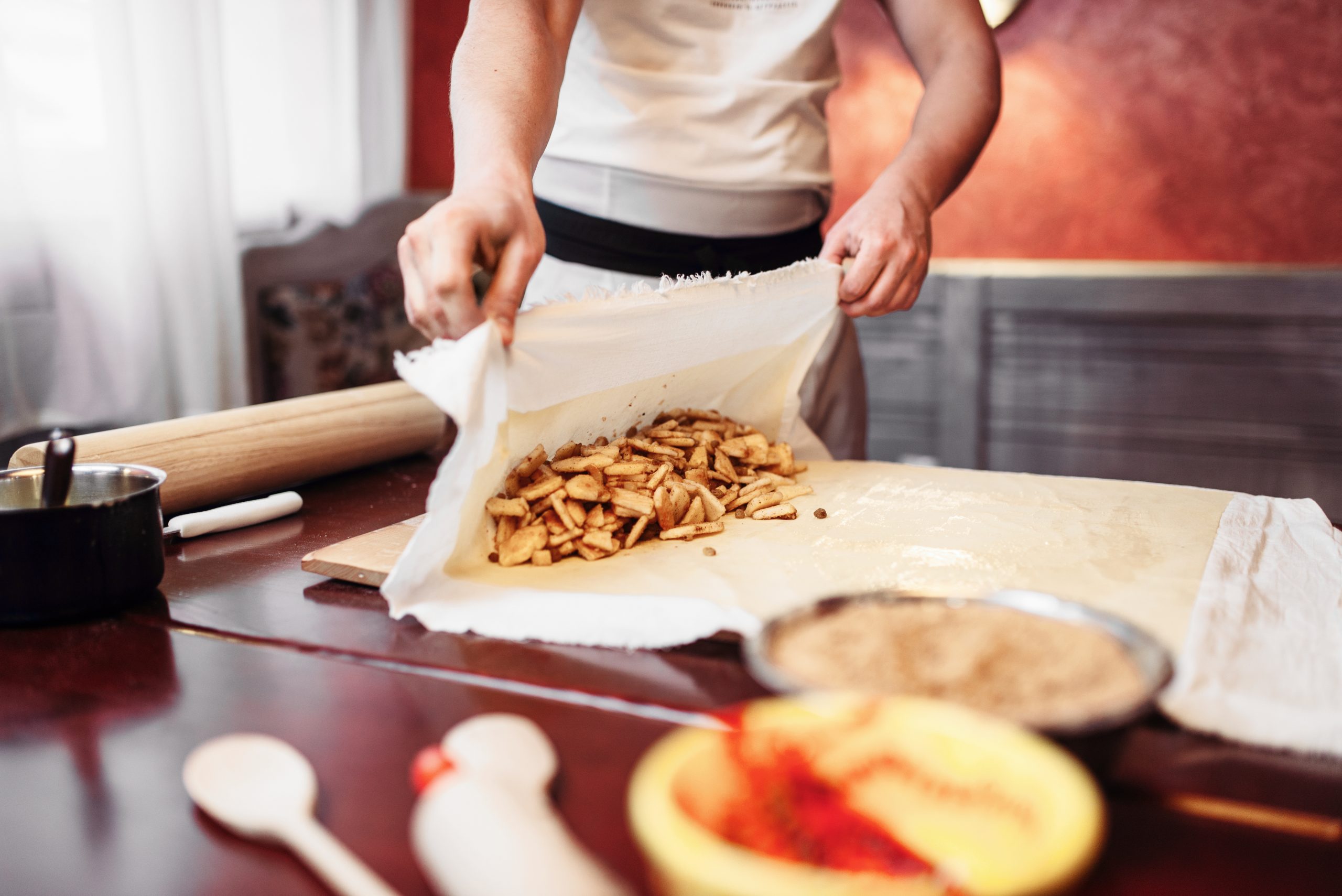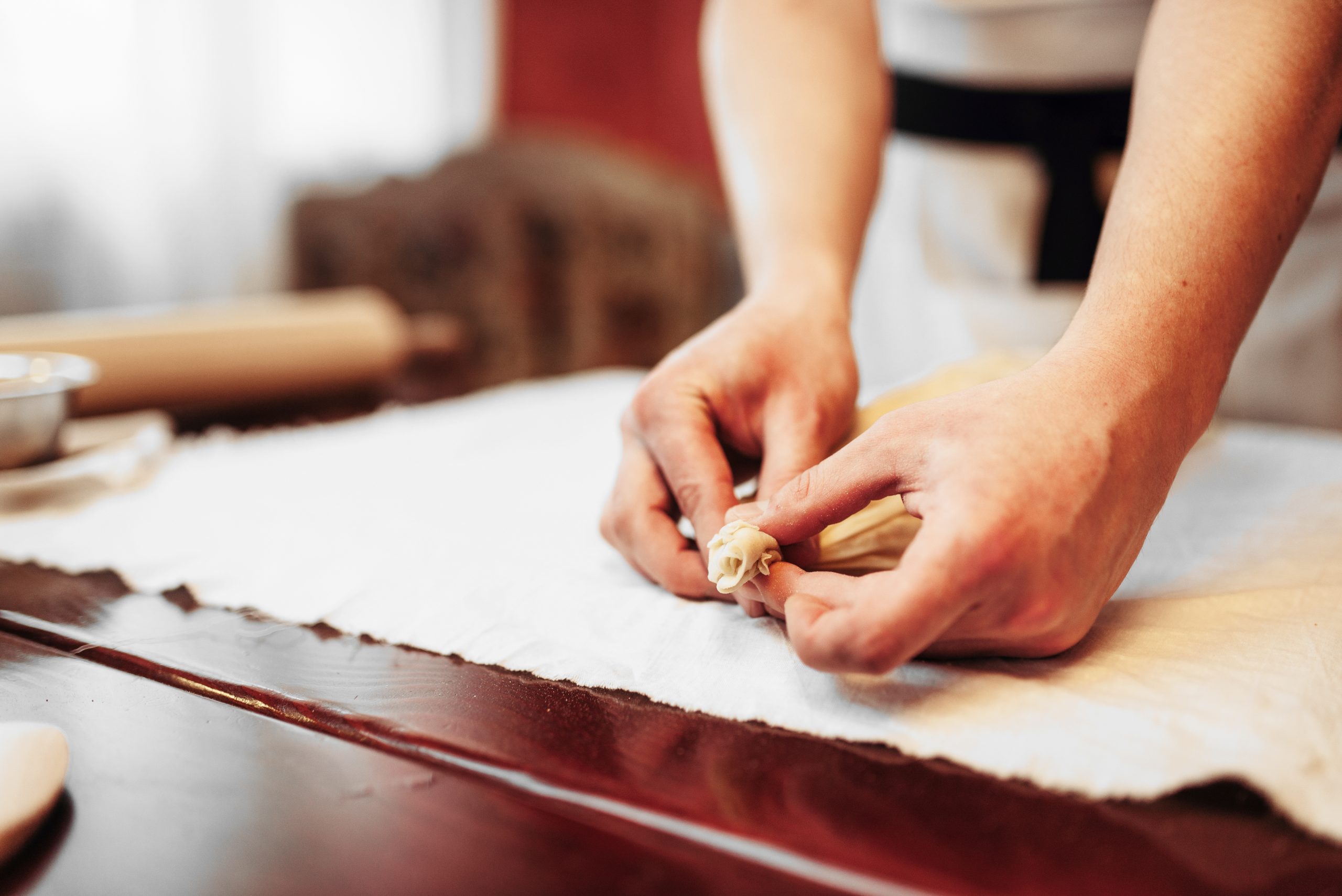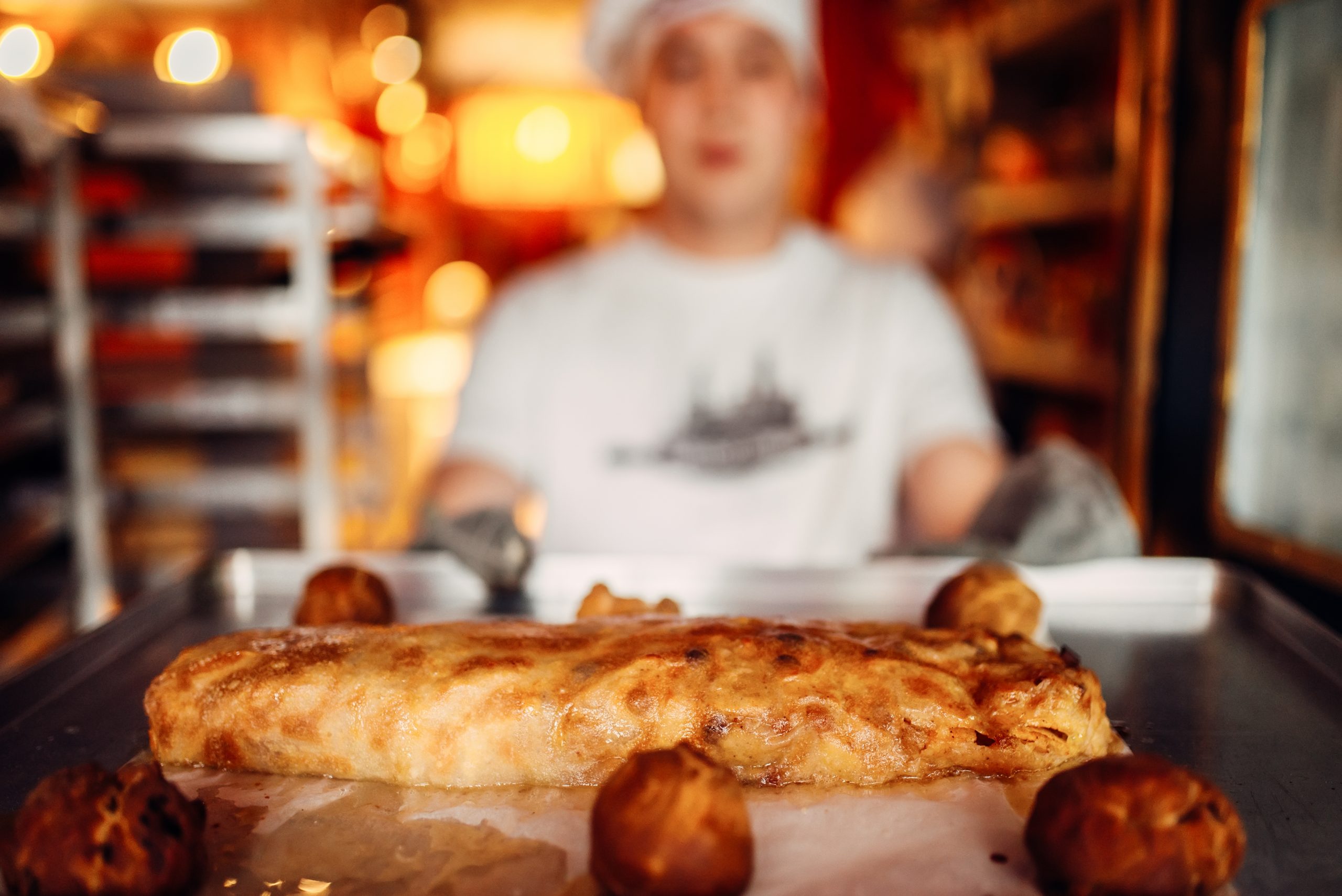 If you are planning to travel to Vienna, here are three cafés that are famous for their excellent apple strudel:
Café Korb
Brandstätte 7/9, 1010 Vienna
Café Landtmann
Universitätsring 4, 1010 Vienna
Meierei im Stadtpark
Am Heumarkt 2A, 1030 Vienna
If you want to learn from and with experts how to bake an original apple strudel, you can do so here, for example:
Café Residenz Schönbrunn  Kavalierstrakt 52, 1130 Vienna
Meissl und Schadn  Schubertring 10-12, 1010 Vienna
Palais Hansen Kempinski Schottenring 24, 1010 Vienna