By Ozren Tabaković, Raiffeisen Bank Croatia |
The cooperation in the frame of the Women in Business Programme of the European Bank for Reconstruction and Development (EBRD) with Raiffeisen Bank in Croatia has encouraged many young woman entrepreneurs to leap into business waters. We talked to Višnja Mrakovčić Supek, Principal Manager, Advice for Small Businesses, SME Finance and Development, at EBRD in Croatia about the programme's aims, Nataša Mlakar, Director of Corporate and SME Lending Products and Nataša Romić, Chief EU Funds and Credit Line Manager, at Raiffeisen Bank in Croatia, who told us about their experience with the customers. Last but not least, we also invited Silvija Repić to share her inspiring success story explaining how – with the help of the programme – her new brand Sana Delikatese, with hummus as the first product launched, managed to conquer the Croatian market.
What is the history behind the EBRD Woman in Business programme in Croatia? How did it start?
Višnja Mrakovčić Supek:
Empowering women has always been high on the EBRD agenda and we have been looking to address the issue at different levels. We believe that economic empowerment for women means access to finance and know-how, representation at senior positions as well as fair and transparent access to the labor market and business opportunities. The EBRD recognizes gender equality as a key driver for inclusive growth in all economies. Equality of economic opportunity for women and men is a key element of a well-functioning economy oriented towards benefitting all participants in the process.
In support of this development the EBRD launched its Women in Business Programme which offers financing and advisory services to help women manage and grow their businesses. The donor-supported programme has been an enormous success and to date has been rolled out in 18 countries and provided 480 million euros in financing to women-led private enterprises.
Croatia was one of the first countries in which the programme was piloted back in 2011.
How do you motivate local businesswomen to participate in the programme? How many women have participated in the EBRD Woman in Business Programme in Croatia?
Višnja Mrakovčić Supek:
On the one hand, a unique set of non-financial instruments is available to women, which makes it very attractive. These include local advisory projects, trainings, mentoring, seminars, networking opportunities, etc. Our activities tend to help create informal networking groups in which female entrepreneurs support each other, share experience and even do business together.
Advisory projects are tailor-made for each of our clients. Their impact on turnover, profitability and competitiveness increase is highly visible.
In Croatia alone, several thousand women have benefitted from the programme to date and the number is growing as the activities continue. Since 2015, when Raiffeisen Bank joined the programme, we have achieved a lot:
85 women-led companies implemented tailor-made advisory projects in various areas such as strategy and business planning, marketing, ICT, quality management and others. The programme helped with the structuring of projects, linking businesswomen with advisors and it covered part of the consultant costs.
145 female entrepreneurs participated in trainings covering topics such as digital marketing, financial management, ICT in business, leadership and corporative governance for small businesses.
19 female entrepreneurs were matched with a mentor for a year-long mentoring relationship through the Cherie Blair Foundation.
More than 320 female entrepreneurs completed "Business Lens" – an online tool for business diagnostics available on ebrdwomeninbusiness.com.
20 seminars were delivered jointly with the partner banks across the country, gathering more than 550 women.
A business-matching visit to Taipei China was organized for 20 women, focusing on digital marketing, new technologies and participation of the Asia Expo fair and meeting local businesses.
Several high-level conferences were held promoting women in business and raising awareness about the importance of inclusion.
All these non-financial activities were made possible thanks to the support of our donors, in this case the TaiwanBusiness-EBRD Technical Cooperation Fund.
Why do you think it is important that the banking sector supports women in business?
Višnja Mrakovčić Supek:
Women-led companies in Croatia mainly belong to micro- and small segment businesses; in order for them to be able to step-up and grow, access to financing is crucial and it has to be made available. Banks can become important business partners if they develop products which address specific needs of women in business in an adequate way. Before developing such products, it is helpful to do market research to understand specific needs of female entrepreneurs first.
With our programme we offered both advisory services and financing and we see that the combination of non-financial and financial instruments supports women-led companies in growing.
Where did the inspiration for Sana delikatese come from?
Silvija Repić:
My family always loved good food and is always very curious about new things when traveling abroad. I suppose this was the first step. We fell in love with hummus many years ago thanks to my father who brought it home from Israel – the homeland of this 2000-year-old spread. Hummus is the ideal Mediterranean spread that combines great taste and great nutritional value at the same time, so we were surprised that it was not available in our market since we wanted to buy it on a regular basis. Step by step my father, a few enthusiastic friends and I started to develop the idea to introduce hummus to Croatia.
Can you give us a short introduction about the development of your brand? How did the story of Sana delikatese start and what were the biggest challenges that you encountered on the way?
Silvija Repić:
From the very first day our goal was to have very delicious and tasty, high quality products that have a high nutritional value and some special benefits (like gluten-free, vegan etc.). That was also the inspiration for our name – in Latin Sana means healthy and delikatese is something tasty. Sana brand definitely combines those two. We started to develop our hummus business with a small range of six products. It was very challenging since most Croatian customers never heard of it and humus in Croatian means soil. It was quite funny to explain to the customers what hummus is. Since we didn't have a big marketing budget, we were mainly doing promotions in the stores so that customers could test the product and see how great it is for themselves. But lack of marketing budget wasn't our only weakness, we also needed time to build knowledge and experience in sales. We knew we offered great products but since we were a small start-up we had almost no negotiation power with big retailers. But step by step we were gaining more and more trust. Additionally, the Croatian market had many difficulties with payment conditions, so we had troubles with the cash-flow.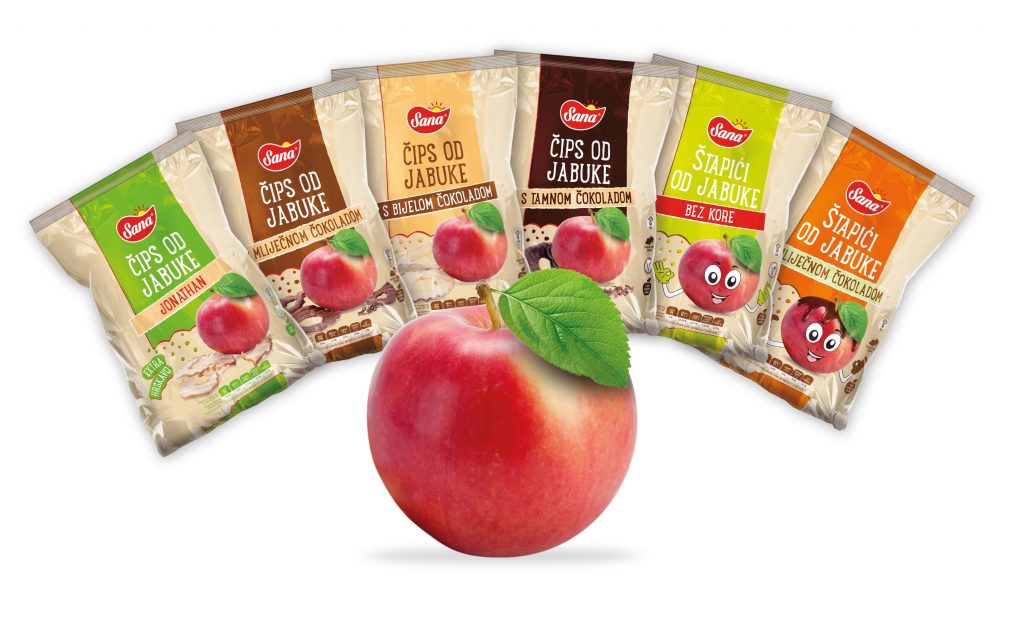 Our first innovation after a year and a half on the market was hummus with pumpkin seeds that we created a recipe for. Last year this product received the "Product of the year" award so we are very proud of it. We believe that with great products one should also offer great services, so our small team is very customer-oriented.
Know-how, marketing budgets and budgets for investments in new products are always a challenge for a small company. The cooperation with Raiffeisen Bank helped us a lot in the crucial moment when we had a big investment and the touristic season in front of us. This helped us to achieve our goals faster and gave us an additional push to grow.
How do you develop your new products? Do you have a favorite one?
Silvija Repić:
We try to be open-minded all the time. I think this is our "company culture" regarding new products. The know-how that my father has in the food industry helps a lot in the process of development, we can say that we are quite fast. In five years we developed almost 200 products under the Sana brand. I think this is not bad. While choosing new products, we always stick to our strategy – tasty, high quality and good for you. Furthermore, we always try to listen our customers, especially chefs in HoReCa (Hotel/Resturant/Café) segment. Some are very creative and have great ideas that Sana tries to fallow. Our product range consist of spreads and side dishes (hummus, eggplant Thai salsa), tahini, apple chips with chocolate, date syrup and sesame topping, beetroot ketchup, peppers with hummus and tofu, falafel, special premium spices,… We sell most of our products in retail and the HoReCa segment.
How did the Croatia market accept your products? What is your plan for the future?
Silvija Repić:
While all Sana products are new and unique, it is always a great challenge how to introduce them to the market. Now it is little bit easier since customers already have some brand awareness when it comes to Sana. Today the range of hummus products is offered by almost every Croatian retailer and it is popular in the hospitality sector. Sana is the dominant market leader with a share of the hummus market of over 85 percent.
On the other hand, one of the reasons for our success has been the growing health consciousness of Croatian consumers. Building on this trend, Sana is now diversifying into a gluten-free product line. This is a fast-growing sector of the European food market and expected to almost double in size in the next five years alone. We are already exporting to Slovenia and are seeking for partners in the region and further. With our high-quality Sana products we are sure that we can meet the needs of very demanding customers in Western countries. Meanwhile, our diversification continues: guacamole is almost here, and also one special surprise for children – fresh gluten-free milk and a new chocolate snack/desert.
Why did Raiffeisen Bank in Croatia decide to support precisely the women entrepreneurship idea? What is the feedback from female clients?
Nataša Mlakar and Nataša Romić:
Raiffeisen Bank in Croatia has always nurtured a special relationship with entrepreneurs, micro-, small and medium-sized enterprises. By raising awareness of a gender intelligent approach, we realized that our approach needed to be especially tailored to women entrepreneurs, both in the way we communicate and through a comprehensive package of products and services. We wanted to offer our clients the products they need, along with maximum time savings enabling them to devote themselves to their businesses and their private life.
Meanwhile, we also wished to provide them with education that they might have no time for or could not afford themselves and, of course, a forum in which they can exchange experiences and advice. The feedback of our women entrepreneurs was excellent. Our work was fully recognized, and we felt extremely proud to hear that Raiffeisen Bank was perceived as a bank which truly understands its clients. At this time, there are 500 clients involved in our programme.
The Women in Business Programme by EBRD and the follow-up initiative provided by Raiffeisen Bank in Croatia, have succeeded in changing the way in which also we as a bank perceive women entrepreneurs and clients. They have spurred us to come up with many creative ideas and have proved successful, which is important both for the goals of the bank as a corporation and as actual support to this vital segment of the economy. The fact that our work has been recognized both within the bank and in the market motivates us to persevere and become an authentic gender intelligent bank – one in which women entrepreneurs can find a reliable partner.
[divider style="none"]
[/divider]
Maybe you are interested in…
[custom_posts template="one_third" effect="none" hide="summary" entry_ids="2011,1985,1966″]
[/custom_posts]