By Anastasia Stepina, Raiffeisenbank in Russia |
We live in a time where traditional media by no means is our single source of information. The influence of blogs can not be denied and especially channels like YouTube can reach significant resonance in a user group or a society as a whole. Often, specific single bloggers hold a very high power of influence when their audience has reached numbers comparable or even exceeding that of traditional media. Russia is no different in this regard and being the largest country in the world (by area at least) also means that a blogger holding significant influence in Russia, has reached an importance not to be underestimated in a global context as well. In this blogpost, we want to present to you four of the most influential Russian blogs and their background.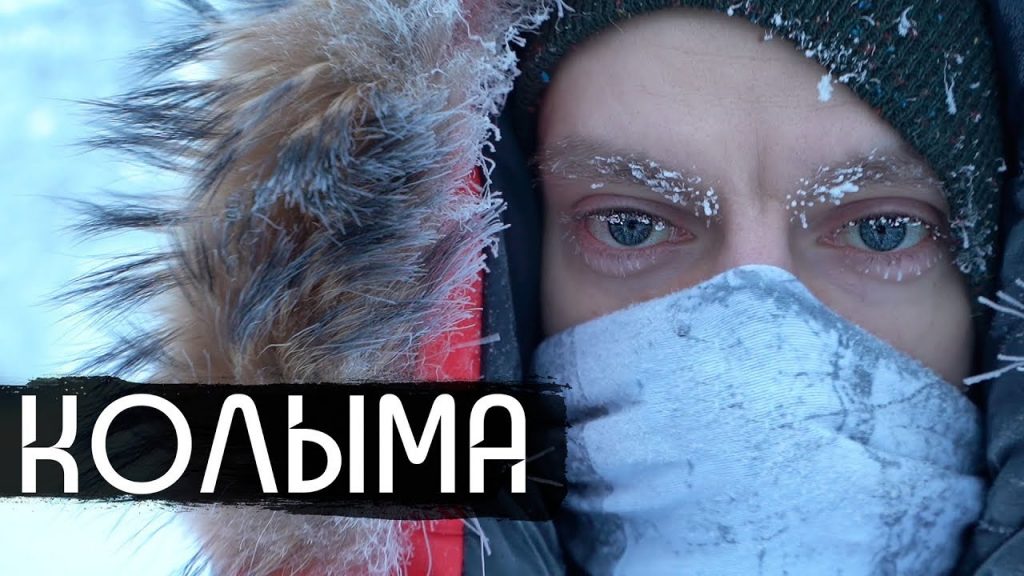 VDUD: Reinventing Russian journalism
6.27 million subscribers
Eight years ago, Yury Dud was appointed a Sports.ru chief editor – which is quite an achievement for a 25-year-old journalist, but seems nothing compared to the public perception he gained by launching his YouTube blog VDUD. Today, he is the most popular Russian YouTube blogger. Celebrity interviews are his specialty and here are some of his most successful blogposts:
Millennials even believe that Yury Dud invented the interview genre itself. To some extent, they are not mistaken – at least he reinvented it. The Russian blogger himself says that he just "asks stupid questions to interesting people" – a quite modest statement in view of the many prizes and awards he already received.
In fact, by following Yury's posts, you can also watch the development of his journalistic style and shift in topic selection. While he started with naive and funny blogger interviews, nowadays, he dives deep into the historical, social and cultural tensions of Russia's past and present. Some good examples of this are his recent videos on Kolyma's story and the tragedy in Beslan. Many videos on VDUD also offer English subtitles.
SOBOLEV: Not afraid of serious topics
5.11 million subscribers
Nikolay Sobolev is a blogger, singer, writer, intellectual, businessman — and he is handsome. At least that is what his fans consider granted. You could, of course, ask, why this is important. Well, the number of his followers equals the population of Norway after all.
Sobolev is well known not to shy away from serious topics, as some of his headlines illustrate: "Teachers beat students", "Animals are killed for the World Cup", "Bloggers against censorship", "Legal porn is on YouTube"; His video "Football players beat people" about a fight of football athletes with a driver reached more than two million views and was commented over eight thousand times. His biggest popularity, however, Sobolev gained by exposing the "real face" of business people, musicians and other people of public interest. Some of his pieces investigated the topic of corruption in show business and he likes to take up on celebrity stories involving a lot of conflict.
His video "Sobolev against Russian television" reached more than four million views. Sometimes Sobolev also tackles social topics, i.e. in his AUE Children attacked a blogger video (more than 4 million views), where he tells about children's problems in criminal gangs. All in all, Sobolev definitely is to be considered an impactful blogger.
AMIRAN SARDAROV: Laughter against stereotypes
4.94 million subscribers
Amiran Sardarov became famous for his YouTube blog with the title "Hach's Diary" (which is a rude name for southern Russian nationalities according to Sardarov), where he talked about his life as an emigrant in Moscow. His masculine "Southern guy" image was a well-played card, so it does not matter that Amiran himself was born and raised in Moscow. His "exotic" appearance attracted attention since childhood. Because of this, he said, he decided to get famous.
His acid jokes about "Southern men" helped to dispel many negative myths in society. His posts in general portrait the life of the Metropolitan elite, entertainers, athletes and successful entrepreneurs. Sometimes acting like a feeble-minded man, Sardarov asks these people questions which might seem strange at first, but then provoke funny and ridiculous situations in order to show them that all people are equal, and that national stereotypes are just that: stereotypes.
Today, Sardarov holds his own PR firm along with a popular YouTube blog. Also, Amiran is quite an authority among Russian YouTube viewers and provides consultancy to up-and-coming bloggers in the frame of his PR work.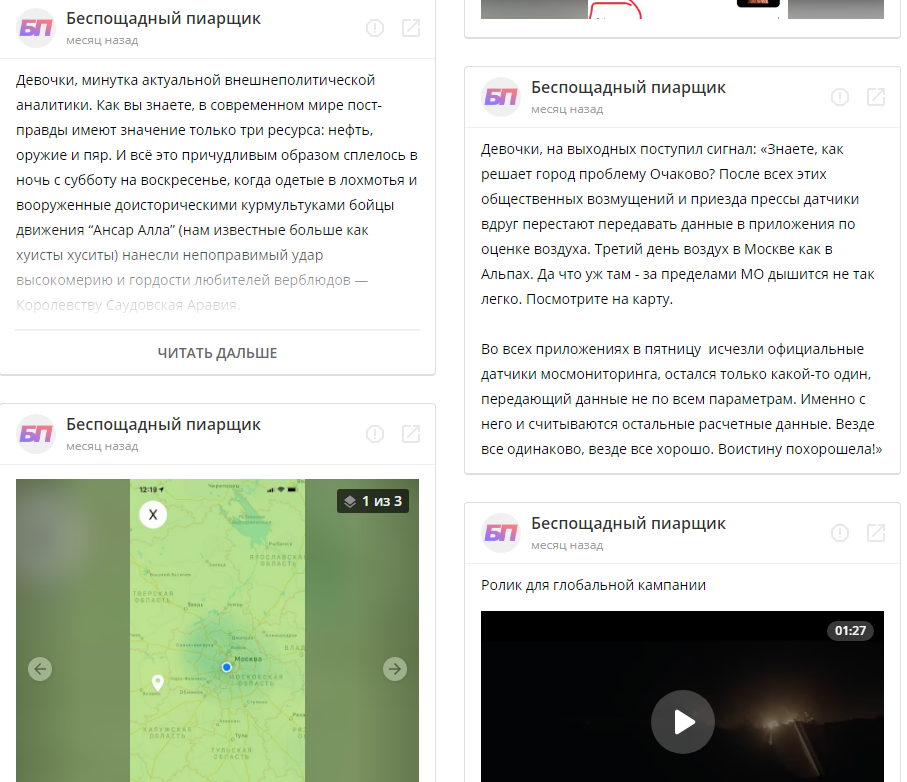 Ruthless PR Guy: Insider's Picks on Everything
74,967 followers
The "Ruthless PR Guy" is one of the most prominent authorities on Russian-speaking Telegram, famous for a catchy style and appealing newsworthy topics. The actual author(s) of the blogposts is/are unknown, but most probably it is a group, who regularly gains double-digit thousands of views. It is claimed that the group consists of the following characters: Semen The Monkey, Zina The Secretary and Oleg The Analyst, and it also includes an artificial intelligence.
The channel's messages are short and cover various topics: business, politics, international relations, sports and so on – anything that is on the media agenda or may become part of it. The Ruthless PR Guy's public influence should not be underestimated: the group attracted public attention to some uneven facts in US-Russian political scandals involving Oleg Smolenkov or to the ecology issues in Ochakovo, one of Moscow Western districts. Sometimes the Ruthless PR Guy also posts analytical reviews – such as a summary of the recent Barcelona protests wave.
Initially focused on the relatively tiny PR and marketing community, the Ruthless PR Guy grew into a reputable media raising important topics, and today is sometimes even named as a source of information in Russian and global media – including Bloomberg.
[divider style="none"]
[/divider]
Maybe you are interested in…
[custom_posts template="one_third" effect="none" hide="summary" entry_ids="2758,2448,1789″]
[/custom_posts]