By Katja Fiedler, RBI |
Florian Gschwandtner, co-founder of the fitness app Runtastic, talks about creating motivation out of an investor's "no", being an investor himself now and how to learn from setbacks.
Mr. Gschwandtner, you are one of Austria's most successful start-up founders. In retrospect, what was the biggest challenge in founding Runtastic?
The first feedback from potential investors was: no, no, no & no. That wasn't so nice and encouraging of course, but somehow I managed to mentally create a motivation out of every no.
Runtastic managed to attract one investor. Did you ever consider further investors?
Hansi Hansmann got involved with us in 2012 and he already wanted to do so in 2010. We never had other investors because, de facto, we never needed money after generating a positive cash flow by ourselves after 18 months.
You are not only a successful entrepreneur but you have also invested in young companies. For what reasons did you decide to make these investments?
Firstly, I see it almost as an obligation to invest in young companies. Leading by example, and to show that we can and will achieve a lot here in Austria. When I make my decision, the founding team plays a very important role. I need to see that people are on good terms and that the distribution of tasks has been clearly understood. If I also like the product and the assessment of the company value is ok, a lot can happen :-).

Today, Runtastic is an international success story. Taking into consideration your experiences abroad, what are the characteristics in the Austrian start-up scene compared to other countries?
Do we always need a peculiarity? I don't think we have a big peculiarity but we as Austrians are special. We are ambitious, honest and intelligent people and therefore we can achieve a lot. We need a little more risk affinity and then we'll have all needed.
From January 2019, you will be an investor and part of the jury in the Austrian TV show "2 minutes 2 million" ("2 Minuten 2 Millionen") where start-ups get the opportunity to pitch in front of business angels. Which business ideas do you find most interesting?
I'm interested in technology and digital topics, of course. I'm curious what I'm going to see and if I'll invest in the one or other start-up. There are other areas, however, such as food&beverage and other topics, in which I could imagine to invest. As already mentioned above, everything is possible with a good team.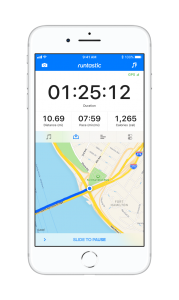 You have just published your book "This is how start-up works: my life, my secrets of success" ("So läuft Start-up: mein Leben, meine Erfolgsgeheimnisse"). In this guide book you explain how you learnt from setbacks. Could you please put this in a nutshell for our readers?
In the beginning, my co-founding colleagues and I heard a no very often. For many others Runtastic's story would have ended there but we were different. Every no was a motivation and, as you can see, a lot is possible although everybody seemed to know it was not going to work. About further setbacks you can read in my book 😉
Finally, a personal question: How often do you use Runtastic in your private life and which feature is your favorite?
Depending on the season between three and six times a week. My favorite feature is "Live Tracking" and if I receive applause from "friends" during my work-out I know that somebody is watching me running through the world over the smartphone – that's always fun and motivating!
Find Florian Gschwandtner's regular Monday Motivation as well as many tips for start-ups on instagram.
Florian Gschwandtner is one of Runtastic's co-founders (www.runtastic.com/en), an extraordinarily successful Austrian start-up founded in 2009. The main product is a smartphone application which helps to track fitness activities and monitor progress. The company soon attracted a renowned Austrian investor. In 2015, the German sportswear manufacturer Adidas paid 220 million euros for Runtastic. Gschwandtner remained CEO of the Adidas subsidiary Runtastic but recently announced to leave the company by the end of the year.
[divider style="none"]
[/divider]
Maybe you are interested in…
[custom_posts template="one_third" effect="none" hide="summary" entry_ids="1498,1465,1421″]
[/custom_posts]