By Gunter Deuber, RBI
From the perspective of the CE/SEE region, there are currently some positive aspects emerging from the rather swift and joint economic policy response to the unprecedented COVID-19 crisis. Overall, the EU is making available some 5-6% of GDP as an anti-cyclical crisis response. For comparison: Joint EU economic policy efforts in the context of the Global Financial Crisis (mostly delivered via the European Investment Bank, EIB) amounted to some 0.25-0.5% of GDP! Moreover, EU members from CE/SEE are an integral part of the EU crisis response as will be shown in the following.
Firstly, the allocation of the EU Recovery Fund or Next Generation EU (NGEU) instrument remains very supportive for the EU member countries from CE/SEE. About 20% of the grants and guarantees under the NGEU should go to the CE/SEE countries, while their EU GDP share stands at just under 10%. This is good news as the CE/SEE region clearly benefits from redistributive elements within the NGEU. However, the general cuts in grants and guarantees compared to loans provided at the EU level following intensive EU summit negotiations should result in a cut of available sums to the CE/SEE region to around EUR 80 bn within the NGEU instrument (down from EUR 100 bn in grants & guarantees, excl. loans). However, we see this moderate cut as manageable for the CE/SEE EU members, while the EUR 80 bn available in grants and guarantees still represents some 6-7% of the regional GDP.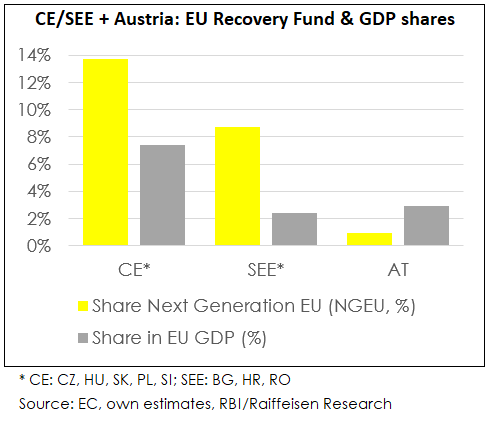 Secondly, previous crisis responses at EU level have often given the impression that the region CE/SEE does not have a sufficiently strong voice or lobby. This has changed significantly with this crisis response. And here it should not be forgotten that most CE/SEE countries were also clear proponents of a significant crisis response at EU level. It will now be up to the EU members in CE/SEE to make active and efficient use of the opportunities offered by the available EU funds and to ensure sufficient local absorption capacities, both at the administrative level and in the real economy. Moreover, the sizeable EU support shall make the benefit of EU membership visible on the ground.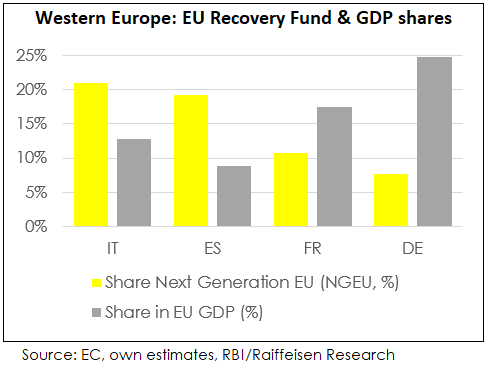 Thirdly, there is of course a noticeable and meaningful differentiation among CE/SEE countries in terms of available EU support in terms of grants and guarantees within the NGEU instrument. In relation to their estimated 2021 economic output, the CE countries should be able to receive on average of about 5-6% of their 2021 GDP in transfers and financial assistance (excluding loans). Over a three-year horizon 2021-2023 this would be an annual allocation of around 1.8-2% of GDP (with more frontloaded payments in 2021/22). For the SEE countries the 2021 GDP-relationship should be around 10-11% of GDP equaling annual payments in the range of 3-4% of GDP (with more frontloaded payments in 2021/22).
Fourthly, from a market and rating agency perspective the current crisis response clearly boosts the debt sustainability of some weaker EU member countries. This effect comes via transfers (which do not increase already elevated public debt levels), low rates and ultra-long maturities available for the loans. This could be of special relevance for some CE/SEE countries remaining outside of the euro area.
Finally, from a CE/SEE perspective, it is relevant that the envisaged link between the rule of law and EU funds is only vaguely formulated in the EU summit conclusions. However, there seems to be a clear determination at EU level to follow up and strengthen this linkage in the coming months. Therefore, we would expect efforts to introduce a "rule of law" conditionality regime, that can take decisions with a qualified majority. According to this idea in future the EU Council (of member states) would then have to explicitly agree to a reduction of EU funds to a given individual EU member subject to rule of law investigations (like Hungary or Poland at present) with a qualified majority. In this context, a qualified majority of 55% of the EU countries, representing at least 65% of the total population of the EU (and not unanimity), could decide on any possible cuts in EU funding. For the time being, it will be possibly difficult to achieve such qualified majorities at the EU level and in the context of an existential crisis. However, this cannot be ruled out from a longer-term perspective. At first sight this might sound negative from a CE/SEE perspective. However, it should not be forgotten that a credible and effective rule of law mechanism could also enhance the institutional quality in CE/SEE, a trend which can also bring some benefits for the CE/SEE region beyond calming intra-EU tensions.
"We need the recovery plan "Next Generation EU" and a strong long-term EU-Budget, to secure the recovery after the COVID-19 pandemic and the necessary investments in our common future. This is in our common European interest and therefore also in the interest of Austria – not at least due to our strong export-orientation. In Europe, the strength of the other Member States is also our strength." – Othmar Karas, Vice President of the European Parliament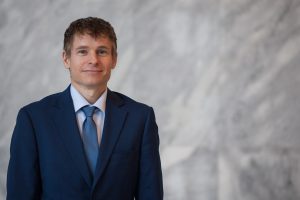 Gunter Deuber"From a CE/SEE point of view, there are also positive aspects to be seen in a greater EU focus on legal reliability. A credible and effective rule of law mechanism at the EU level could also enhance the institutional quality in CE/SEE, which can bring investor- and market-friendly benefits." – Gunter Deuber, Head of Economics Research, Raiffeisen Bank International
Gunter Deuber is Head of Economics, Fixed Income and FX Research at Raiffeisen Bank International in Vienna and designated Head of Raiffeisen Research.