By Johannes Langthaler, RBI |
I am a passionate long-distance bike traveller. For me, there is nothing better than travelling to new countries and unknown regions in this way. It's just the right pace to get to know the culture, people and history there. Other cycling trips have taken me from Vienna down the Danube to the Black Sea, or in the other direction to the Atlantic, or as just last summer to the Mediterranean and the great city of Trieste.
And at some point, it occurred to me that I could also visit some of the countries where my new employer RBI is active. So, I set off on my first of three cycling trips, which started this summer in Vienna and ended with the destination Prague/Czech Republic.
Czech Republic: convenient to visit by bike
On my way, I cycled through the unique primeval and cultural landscapes north of Vienna, through Southern Morawia and Central Bohemia, always on car-free or low-traffic roads, passing beautiful forests, moors, alleys, lakes, streams and river meadows and fascinating cultural sights: mighty and fairytale castles, romantic monasteries and churches, medieval towns and idyllic villages. The Czech Republic is one of the most convenient countries to visit by bike! The country is scattered with a system of asphalt cycle paths and, most importantly, you will always find accommodation, small rest stops or beer gardens, delicious food and friendly faces along the way.
Off to Brno
Starting in Vienna, you simply have to follow the Eurovelo 9 cycling route going north to Brno. After crossing the Austrian/Czech border, I passed Lednice (beautiful castle) and Mikulov (great view from the town tower – Kostelni vez!). Along the cycle route I came past an open-air museum on the border, the former dividing Iron Curtain. I continued cycling along the Morawian wine route and passed by the natural-protected, huge artificial lakes of Nové Mlýny. When arriving in Brno, I had the pleasure to visit friends of mine and we spent some time by the Svratka river and in beer gardens (I recommend trying a "Hovezi gulas" and a cold pint of Hausknecht Brněnská 12). Brno is a great city with approximately 400,000 people living there, with many vital squares, classical coffee houses, the cathedral as well as the second largest Czech museum, the Moravian Museum.
Passing castles, bone houses and prosperous sliver mining cities
From Brno to Praha, I followed the National Cycline Route No. 1 connecting these two major Czech cities. I followed the beautiful Svratka River for a while and definitely recommend staying in one of these peaceful nature camps near the river. You can rent your own cabin, for example here. Very soon after Brno, I passed by the Pernštejn Castle and cycled through beautiful villages and historical centers, with many historical links between Morawia/Bohemia and Vienna. It reminded me of Joseph Roth's famous book 'Radetzkymarsch'. Later, I came past Kutna Hora in Central Bohemia. The town is a Unesco World Hertitage Site known for its two cathedrals and the cemetery with the Sedlec bone house – bones of 40,000 people. At the end of the 13th century, Kutna Hora was the most prosperous town in Bohemia due to its silver mining and the minting of the "Prague Groschen", a groschen-type silver coin that became very common throughout Medieval Central Europe.
Along the way, I stumbled across a few Raiffeisen branches!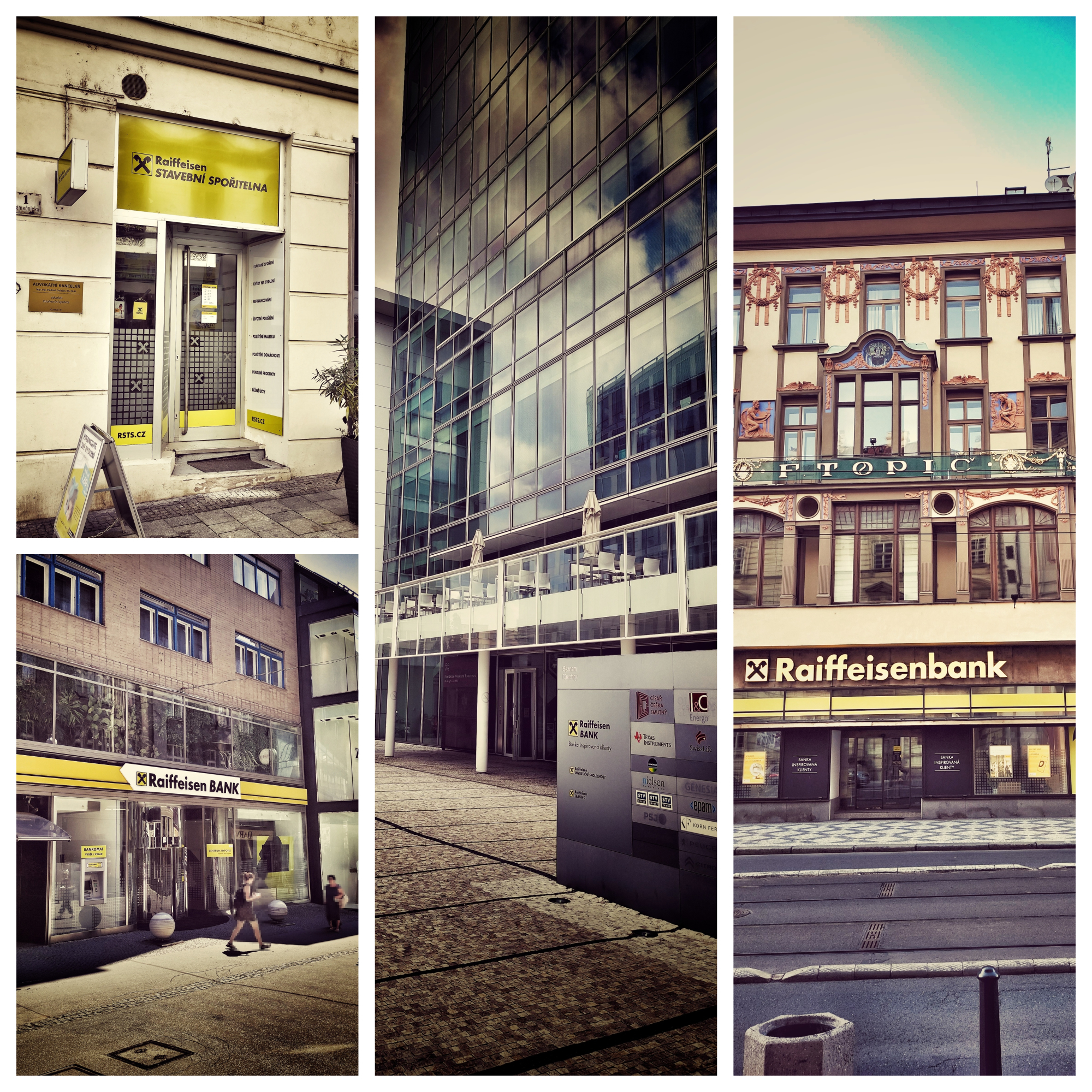 After cycling all the way from Vienna, it was particularly nice to meet Pavel and Martin from Raiffeisen in the Czech Republic for a coffee – thank you for your hospitality and having this nice welcome talk close to Raiffeisen premises in Prague. Pavel obviously is a fellow bike enthusiast.
Reaching Prague
The beauty of Prague is, of course, known worldwide. Besides the usual sights, I recommend visiting the Mucha – Museum and strolling through the alternative Zizkov district with its fascinating and multicolored markets, coffee houses and old Jewish cemeteries (including this one). Of course I had to follow every tourist's instinct and also take a bike-selfie on the well-known Karlsbrücke!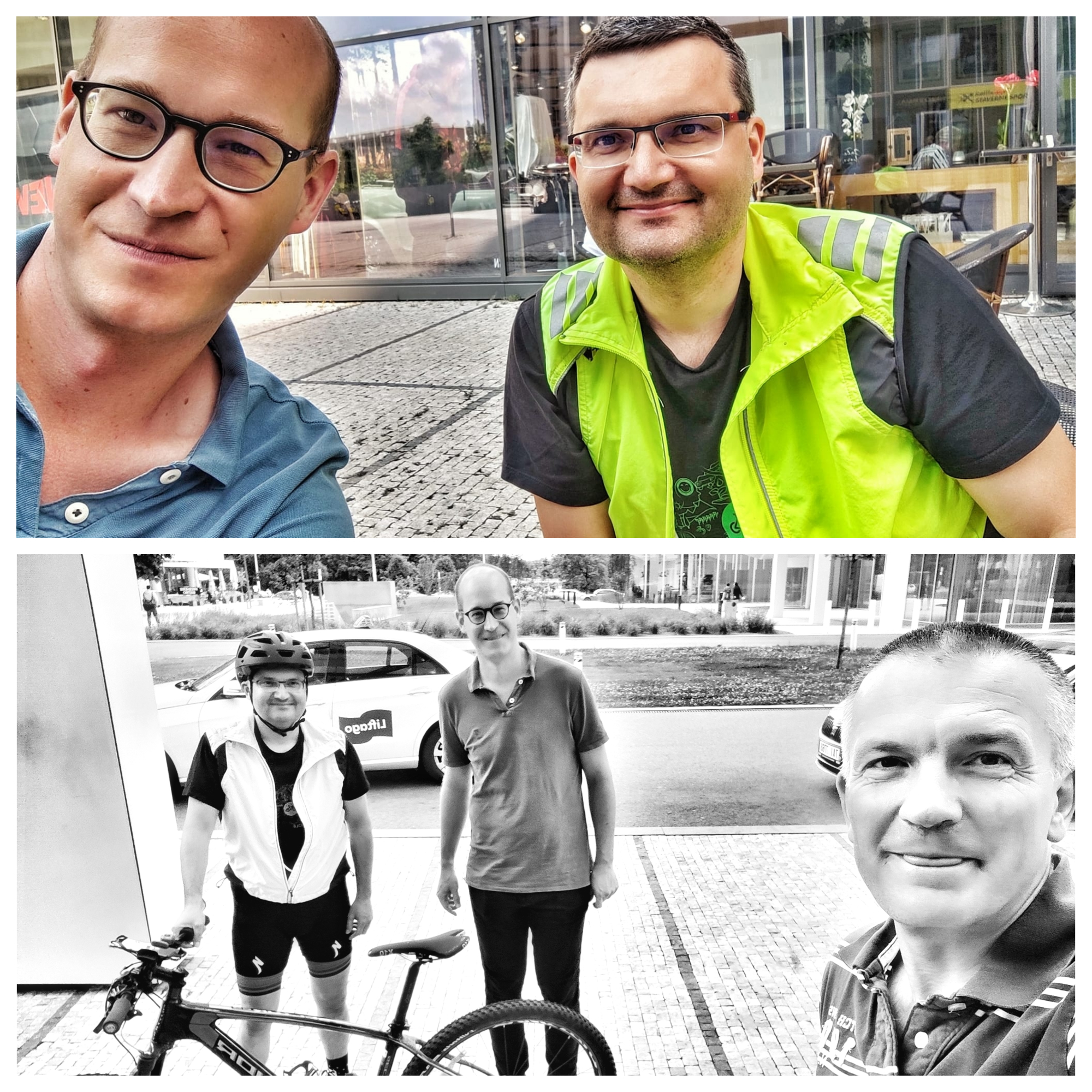 I got back to Vienna by train. Direct trains run several times a day.
What a great trip! Brzy se opět uvidíme! – See you again soon!
My next trip will take me from Vienna to Bratislava and Budapest. So stay tuned.
Johannes Langthaler
joined RBI on 1 December 2021 as Senior Group Regulatory Transformation Manager with a focus on Resolution Planning & Strategy.