By Zrinka Zivkovic Matijevic, Raiffeisenbank (Croatia), Gunter Deuber and Casper Engelen, RBI
Tentative pandemic recovery
When the coronavirus first emerged in Croatia, the country was seemingly hit stronger, with daily infections at a higher rate than its SEE peers. However, Croatia and most of its peers were quick to announce stringent containment measures compared to Western European countries. Around two weeks after the restrictions were put into place, they resulted in a rapid decline of daily new infections, towards the lowest level in the SEE-region. Currently the daily reported new cases have remained below 5 since 22nd of May, according to ECDC data, suggesting the outbreak has been contained to a great extent. Due to these positive developments the country's total amount of cases is at around 55 per 100.000 inhabitants, much lower than the average of 74 amongst Croatia's peers in SEE. These developments have already led to the gradual and controlled loosening of the restrictions within the country. The advances on the public health front are also starting to appear in the activity within the country. Compared to SEE peers Croatia was amongst the first to see a lasting return towards more normal levels of mobility according to Google/Apple mobility data. Additionally, the recovery and the convergence towards normality in the rest of Europe is also positive news for Croatia, as the COVID-19 pandemic is on the retreat, tourism related search queries regarding Croatia are also recovering to a certain extent, which might be an early indicator that all hope is not lost for this year's high-season. These searches where examined by taking the 10 largest tourist demographics visiting Croatia each year, by country of origin, for each of these countries the average of the most commonly used search phrases was taken. The search phrases were customized per country based on their relative incidence and included both destinations, such as Zadar and Dubrovnik, as well accommodation types, such as hotels, apartments and camp sites. As can be seen in the graph, there was a low in the google searches related to vacation in Croatia from mid-March until early-April, but a gradual recovery set in around mid-April. However, compared to the previous years, the number of searches is still depressed by about 31%.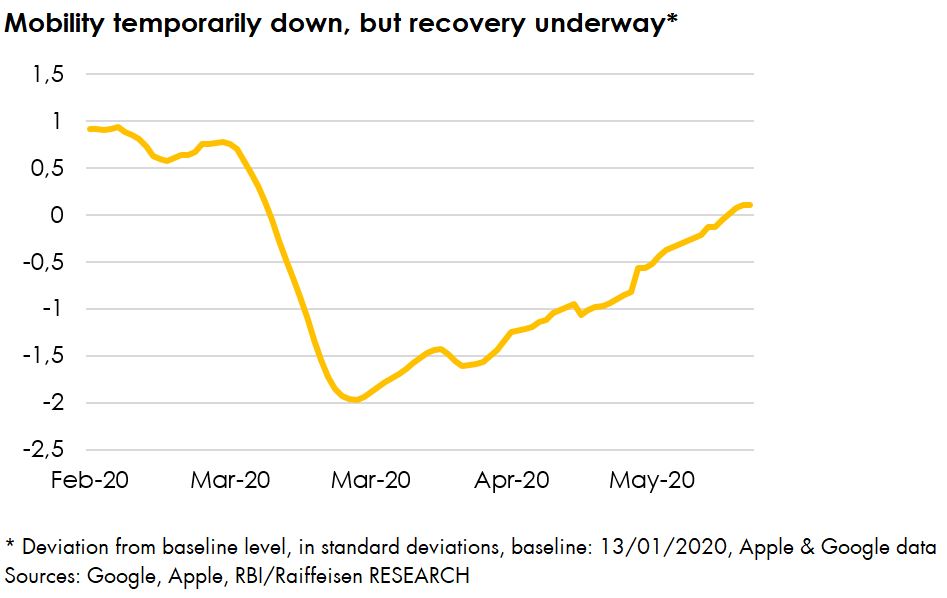 Sudden stop – huge drop  
Despite some positive signals like the recovery of activity or the outlook for some tourism to take place in summer 2020 – as will be sketched later – the COVID-19 crisis will take a huge toll in Croatia due to its high dependence on tourism. Although in better shape than at the time of the great financial crisis of 2009, because of a lower level of indebtedness or structural current account surpluses in recent years, Croatia has become more vulnerable to such unpredictable events or external shocks. In fact, the tourism dependency of the economy in Croatia has increased in recent years and is among the highest in Europe. The completely lost pre-season, followed by a 60–70% drop in the peak season, makes a GDP drop by 8.5% in 2020 our current baseline scenario. However, a scenario of losing 80-90 percent of tourism revenues and overnight stays in the peak season could possibly even result in a double-digit GDP drop in 2020 and such a scenario cannot be totally excluded yet. Moreover, tourism may take a more sustained hit beyond 2020. In addition, the purchasing power of the main outbound markets (Germany, Austria, Slovenia), the propensity to travel abroad, and finally a natural tendency to protect the local market through various incentives will determine how successful the season and how deep the economic slump would be. Dark clouds have already come with the first indicators for March and April, which, alongside a continuous downslide in industrial production, showing that retail trade plummeted severely while tourism overnight stays and arrivals recorded a double-digit decline. The first and possibly the only clear predictor of future trends – the sentiment index – dropped to the lowest levels in the past five years. In any case despite the rather favourable epidemiological situation, beautiful natural attractions and vicinity of the outbound markets, Croatia could face the hardest tourism/economic year since the Homeland War in the 1990's.
The loss of tourist revenues will have a strong negative impact on the households' disposable income, consumer and industry optimism and expectations while the investment cycle in many sectors/companies will be prolonged or postponed. Finally, the general government budget will suffer from significantly lower inflows thus interrupting the three-year period of budget surpluses, declining public debt and stability-oriented fiscal policy. And while for the time being the public finance sustainability remains in the shadow of the Covid-19 events, this fall it will become a hot topic. Or, it could happen even earlier because at the beginning of July, instead of counting tourists, the main focus will be on counting ballots on the parliamentary elections scheduled at that time.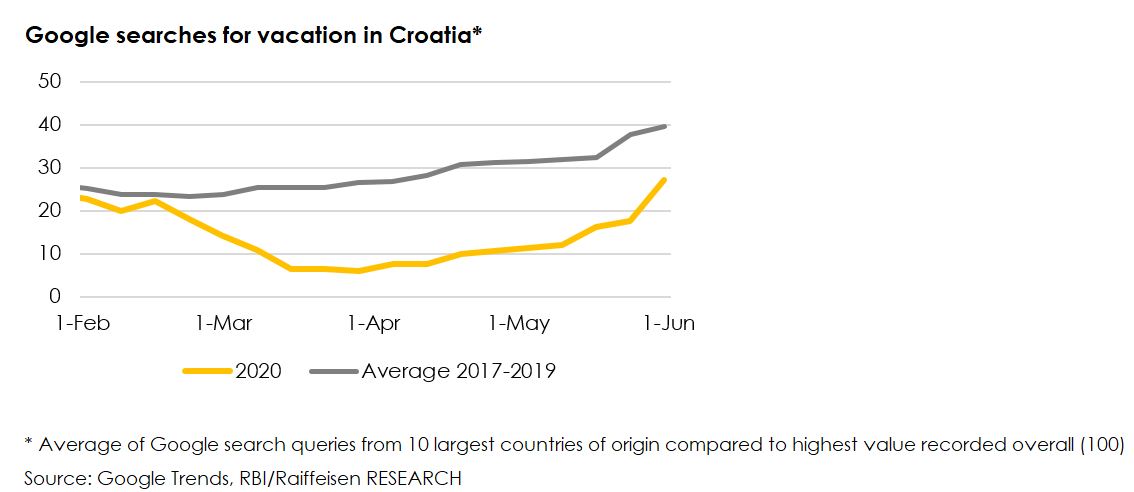 Croatia has some natural "strong" allies at EU level
Despite the difficult economic outlook for Croatia and the tourism sector in 2020, there is also hope that worst case scenarios (i.e. a total loss of the tourism season) can be avoided. Because from a European perspective, Croatia is not alone with its pronounced tourism dependency. Therefore, and once COVID-19 diseases have been contained in almost all Eastern and Western European EU countries, it does not seem per se reasonable to restrict controlled travel within the EU. In the coming weeks, EU activities can certainly be expected in this area, since some large EU countries also have a rather high share of travel and tourism activity of over 10% of GDP (above all Spain, Italy, and to some extent France). Bilateral agreements between individual countries allowing cross-border travelling and tourism also seem possible. Especially in the case of Croatia, agreements with certain (neighbouring) Central and Western European countries should be considered. Moreover, easily accessible EU tourism destinations such as Croatia or Italy are often characterised by a high proportion of loyal and returning guests, in contrast to more exotic destinations. That said, travelling outside to the EU could remain still more burdensome than inside the EU going forward (e.g. with regards to quarantine measures and / or required corona tests). Thirdly, controlled tourism could help to improve the overall public sentiment – after all, the first publicly discussed dissatisfaction with the lockdown restrictions is evident in Western Europe. However, in some EU countries, some calls for "national tourism first in 2020" are currently also discernible. This holds also true for Austria. To a certain extent this could limit international travelling in the upcoming peak season. Nevertheless, we think that initial experience with lockdown reversals also shows that consumers are keen to return quickly to familiar patterns, subject to certain but necessary restrictions. The same could apply to summer tourism within Europe – if a second drastic wave of infections can be avoided. Moreover, it should then also be in the political (self-)interest to allow controlled/tracked tourism within the EU. Firstly, this would demonstrate a certain functionality of the EU. Secondly, some of the traditional EU tourist destinations (Spain, Italy, France) are currently – together with Croatia – among the hardest hit EU economies.
Austria and Croatia – they're in the same boat
Croatia's weak economic performance in recent years (or the last decade) has led to a slight decline in its economic importance for Austria. Between 2017 and 2019, Austrian exports to Croatia rose by only 1.3% yoy on average, which is significantly slower than Austria's total exports of goods (+5.5% yoy). Consequently, the share in total goods exports has recently declined further to 0.9% (2007: 1.3%). In terms of foreign trade, Croatia does not belong to the top 10 partner countries of Austria. Nevertheless, Croatia here plays is in a league with Turkey and other large EU countries. The new sobriety after the euphoria of the early years of the 00s, which ended abruptly with the beginning of the Global Financial Crisis (GFC) and the much-needed adjustment and deleveraging locally, is also reflected in the FDI activity of Austrian companies in Croatia. After a steep increase (2004: EUR 1.4 bn), the FDI stock was continuously reduced after peaking in 2007 at EUR 7 bn (2019: EUR 3.7 bn). Nevertheless, Austria is still the largest investor in Croatia in terms of foreign direct investment, ahead of Germany and Italy. Some 24.000 jobs had been created linked to Austrian FDI. In the banking sector, Austria is the second largest creditor just behind Italy. That said Austrian banks remained committed to the Croatian market in recent challenging years, trimming their exposures since the GFC just by a small margin. Following years of adjustment and deleveraging market conditions for (foreign) banks in Croatia just started to improve, while some pockets of vulnerability remain (e.g. the average liquidity position of Croatian companies is below the EU average, the private sector still carries a decent load of debt). Tourism has been a "success story" to the very end. Croatia's share in Austria's total international travel expenditure has risen continuously also in recent years. With a share of 9.5% (2019), Croatia thus ranks third. In this respect, economic interdependence and rationality do not speak for too much (tourism) protectionism.
Zrinka Zivkovic-Matijevic is Head of Economic and Financial Research at Raiffeisen Bank Croatia.
Gunter Deuber is Head of Economics, Fixed Income and FX Research at Raiffeisen Bank International in Vienna.
Casper Engelen is a Junior Economist in the Economics Research Department at Raiffeisen Bank International in Vienna.