By Zoltan Török, Raiffeisen Bank Zrt. Hungary, Helena Horska, Raiffeisenbank a.s. Czech Republic, Tibor Lörincz, Tatrabank, Slovakia and Gunter Deuber RBI, Vienna
From a broader European perspective, the region Central Europe (CE) did fairly well in containing the COVID-19 spreading, some countries were among the least affected European countries (e.g. Hungary, Slovakia). Although the Czech Republic and Hungary have just somewhat more or about the same number of inhabitants as Austria, COVID-19 cases reached only 50% or 20% respectively of the confirmed cases in neighbouring Austria as of today. In Slovakia (60% of the Austrian population), infection rates have reached only about 10% of the Austrian level so far. This relative success in CE is all the more pleasing as Austria is also among the more successful EU countries in COVID-19 containment in the light of recent progress.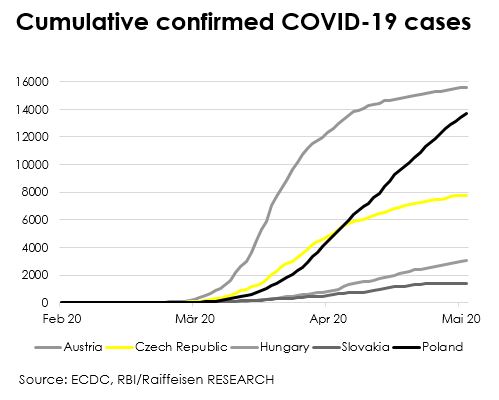 There are possibly some universal explanations to this encouraging regional development. Among them for example a low degree of integration into global trade flows (not European trade flows!), moderate direct economic linkages to China, a lower exposure to global traveling (e.g. as measured by international airport sizes), a modest population density in CE or the presumed advantages of small and medium-sized countries in COVID-19 containment. Other explanations are economic structures, labour market characteristics and/or the complexity of social networks. For instance, according to this train of thought, more complex and service-oriented economies/societies have a higher risk of virus spreading than moderately complex and less service sector-oriented societies. Some of the factors mentioned previously may have played a role in CE but did not safe other small/medium-sized and/or thinly populated countries from being hit strongly. Therefore, we think that such universal explanations cannot do the trick alone. Hence, we want to shed a closer look at the COVID-19 related developments over the last few weeks in the CE-3 countries plus Austria.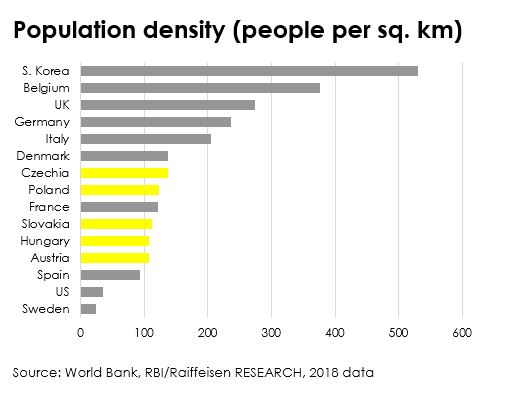 In Hungary authorities reacted at an early stage: One week after the first cases were registered (medical students from Iran) on 4 March, the government introduced the first set of measures (closing universities, theatres, cinemas etc.). Primary and secondary schools were closed from mid-March, nation-wide lockdown rules were announced end of March. However, lockdown rules were light compared to most Southern, Western and CEE countries. Not only food and medicine, but also other shops and restaurants were allowed to remain open (although with limitations). As borders were closed, Hungarians were rushing for domestic trips. In order to avoid mass-gatherings, municipalities were allowed to implement own emergency rules (i.e. restricting the entry, closing down parking sites, etc.). As the pandemic curve was kept relatively flat, the government relaxed lockdown rules early May, except for Budapest and the surrounding Pest County.
The Hungarian government has two principal goals: 1) Keeping the COVID-19 pandemic curve relatively flat, and 2) limiting the economic damage as much as possible. As far as the first target is concerned, while Hungary lags behind CE peers (i.e. Slovakia, Czechia, Poland concerning death data), it delivers better statistics than a lot of other European countries. Concerning the economic damages, we are touching yet unchartered territories. Initial data is just about to be published, but it is quite clear that Hungary is not an exception: economic losses are devastating during the lockdown period (i.e. 50% yoy decrease of new car sales in April etc.). Nevertheless, our assumption is that solid macro fundamentals and economy-centred crisis management in Hungary could result in a somewhat smaller recession in 2020 than the European average. It possibly fits into this strategy that commuting between Austria and Hungary for employees is possible without any restrictions from the beginning of May.
The Czech Republic also introduced rather strict confinement measures from a broader European perspective early March (12th of March). It goes without saying that those measures also put the whole economy into a dormant state. Already at the end of April, the Czech government was able to release a plan that foresees a gradual reopening of all shops and services under strict hygiene conditions until the beginning of June. Currently, the state of emergency is extended until 17 May. It seems possible that all major restrictions related to the COVID-19 spreading could be terminated by 25 May. Since the end of April, people in the Czech Republic are also allowed to move completely free again, to meet in the public and to travel abroad. The economic activity has started to gradually awaken, including the automotive and services sector.  In March, according to the Czech Statistical office, the Czech industrial companies run at 69 % of their capacity (down from 84 % by end 2019). Nevertheless, global and European value chains still remain fragmented and do not work smoothly yet. Foreign orders dropped and domestic demand is squeezed by extremely high uncertainty and rising fear of layoffs. The government is trying to support the most affected sectors/individuals, while the local infection curve is flattening and with new daily cases below 100 and a reproduction number, which dropped below 1. However, the risk of returning (smaller) waves of COVID-19 spreading remains. Therefore, the government has to prepare "smart" preventive measures to track the spreading of the virus. It has to be ready to adopt local/regional restrictions, while avoiding another country-wide lockdown.
With regards to Slovakia there are two main reasons for the lowish number of Covid-19 infections: a swift response by the government, and good old-fashioned luck. The latter is reflected in the fact that the virus appeared in Slovakia after its severity was already clear: by the time of the first case locally (7 March), Italy already reported thousands of cases and almost 200 deaths. Moreover, the Slovak healthcare system is chronically understaffed. At an initial stage there were serious concerns that the system might not be able to withstand a surge in hospitalizations. This led the government to introduce very harsh measures in a frontloaded way. On 9 March, two days after the first recorded case, some schools were closed, and on 12 March, public events were cancelled. Slovakia also reacted faster than its neighbours: according to the Coronavirus Government Response Tracker of the University of Oxford, on 12 March Slovakia had stricter measures with ten cases, than the Czech Republic with 94 cases on the same date. The swift response led to a more linear, rather than exponential, growth of COVID-19 cases in Slovakia. Active cases topped at 1,022on 22 April. Recent growth of cases is now below ten infections per day, along with boosted testing capabilities. This positive development has supported the government strategy of easing containment measures significantly as of 6 May. From the beginning of May, commuters entering Slovakia (e.g. from Austria) do not have to show a negative COVID-19 testing result anymore.
Compared to some Western peers and more in line with neighbouring CE peers Austria also reacted with a rapid and stringent lockdown starting mid of March. This strategy paid off, while the economic damage has not been overly large up to now according to most recent data releases. On a positive note, there were no major differences in the measures taken at the federal level. At the beginning of April, the government was already able to present a lockdown reversal plan, with shops gradually opening from mid-April onwards. Bars and restaurants shall be allowed to open under strict hygienic rules from mid-May, while hotels shall be in a position to re-open from end of May onwards. After the stabilization of the health crisis, there is clear communication that economic interests are now also being considered again and that Austria wants to be one of the countries that emerge from the crisis quickly and better economically. It is therefore understandable that there are considerations and efforts to implement cushioning measures for the important tourism sector (e.g. conceivable bilateral travel agreements for the summer months with important countries of origin). With regards to the overall crisis management the communicative flanking by the government was a bit dramatizing at the beginning, possibly motivated by the idea to contribute to compliance with the rules. Whereby Austria also had a rather steep/exponential infection curve at that time (e.g. compared to some CE peers) being also over-proportionally hit compared to Germany by mid of March. Now Austria – together with its neighbours in CE – is among the European countries leading the (partial) normalisation of economic and social life.
All in all, it seems that frontloaded plus bold confinement measures helped to arrest the COVID-19 spreading in the CE region incl. Austria – for the time being. Moreover, it seems that the later arrival of the virus in the region has helped a lot, i.e. there was no tendency of downplaying the threat. Some structural aspects may have helped the late arrival and/or less pronounced spreading in the region. Now the region will be an interesting testing case for the gradual and monitored re-openings that are looming in a lot of Western (European) countries. In this context it will be interesting to see to what extent people are accepting a partial and/or regional re-introduction of "smart" restrictions – if needed. The gradual opening up at the national level in CE and Austria may help to stabilize economic sentiment that tanked heavily according to recent data (e.g. Purchasing Manager Indices) – but for a real economic turnaround, the region naturally needs a revival of external demand. In this respect, it is also accurate and important that the smaller and medium-sized economies of Austria and CE are committed to a rather rapid opening of border traffic – if circumstances permit. European solutions are of course preferable for small/open economies like Austria or the CE economies but coordinated bilateral and/or local openings and agreements may also make sense for the time being.
Zoltan Török is Chief Economist at Raiffeisen Bank in Hungary.
Tibor Lőrincz is Economic Analyst at Tatra Banka in Bratislava.
Helena Horska is Chief Economist at Raiffeisenbank a.s. in the Czech Republic.
Gunter Deuber is Head of Economics, Fixed Income and FX Research at Raiffeisen Bank International in Vienna.