By Juraj Valachy, Tibor Lőrincz, Tatrabank, Slovakia and Gunter Deuber, RBI Vienna |
The public sector in Slovakia – as in many neighboring countries – is not always considered efficient. However, the government's response during the corona crisis is seen very positive. This holds true for both the outgoing cabinet and the incoming one. Slovakia held its parliamentary elections the weekend before the first Covid-19 case was recorded (in February), a new government was appointed in March. State and local governments were swift in taking social distancing measures: public gatherings, schools and shops were closed before Slovakia hit 100 cases. Thanks to these measures, the growth rate of Covid-19 is not exponential, but more closely resembling linear growth. As of 27 April Slovakia, has recorded some 1,400 cases, the lowest among the Visegrad peers. In the event of a crisis, the state has apparently taken effective short-term action here.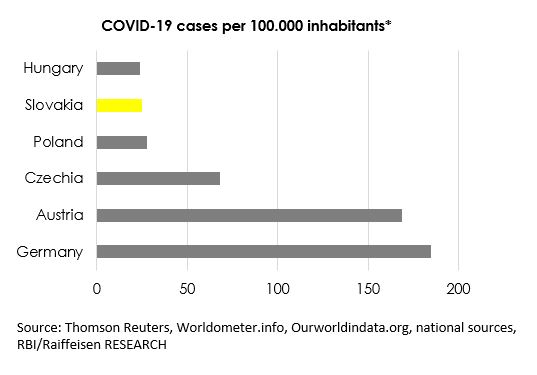 Closed economy locally plus trade openness as Achilles' heel
Swift implementation of containment and social distancing measures (e.g. closing all schools and shops with the exception of supermarkets, drug stores and pharmacies) in combination with disruptions in global/trans-European supply chains plus border controls quickly sent the economy into its biggest slump in modern history. Currently, we expect the GDP to drop at least by 6% in 2020, somewhat more than during the Global Financial Crisis (back then Slovakia recorded a GDP contraction by 5.5%). Current estimates show that the economy went down by 20-30% cumulatively during March and April. Even if the government would abolish all restrictions for shops and the service sector, GDP will go up only marginally. The biggest problem is the lack of foreign demand. Slovakia is characterized by the highest degree of trade openness among peers. In Slovakia foreign trade amounts to around 190% of GDP, compared to 150-160% in the Czech Republic or Hungary, some 110% in Austria or 90% in Germany. It will therefore be decisive for Slovakia how the larger economies of Western Europe are going to gradually revive their economies – the reopening domestically cannot save the economy. Nevertheless, it is a positive sign that Germany, Austria and Central Europe are doing well in containing the Covid-19 spreading and are gradually re-opening their economies. We expect that economy will be gradually opened under the strict hygienic rules (e.g. limited number of customers per square meter). Similarly, we expect this to happen in other European countries. That is why we forecast a 6% drop in real GDP in 2020 and strong growth of 5% in 2021.
First mover in lifting restrictions, effects on recovery more unclear
On 30 March, the Slovak government allowed certain exceptions and opened some small shops, e.g. for building and gardening materials, under very strict hygienic rules. With this Slovakia was among the first movers regionally, presenting the first easing of restrictions after having been in force for 17 days. In Czechia, Poland or Austria the first easing of restrictions could be only delivered after having been in force for 30-40 days. Nevertheless, large parts of the economy remain at a standstill, either because of forced shutdown by the government or because of market conditions. On 20 April, the government introduced a 4-phase plan of reopening the economy, depending on the future evolution of new cases. In the ideal case, the economy could be almost fully open after six weeks, however, we consider this unlikely.
On a positive note, we do not have much evidence about a larger increase in the number of unemployed (official numbers will be released later in April). We believe that wage subsidies will help to keep employment relatively stable. We expect the unemployment rate to increase by 1.5-2% from a record low at 5% in 2019. The more problematic labor market aspect is the employment of foreign workers that became an increasingly important part of labor force. This holds especially true in the industrial and construction sector in Western Slovakia. The lack of foreigners can have a noticeable effect via delays in the construction sector. However, a certain cooldown in the increasingly overheated real estate market must not be such a bad thing. This holds especially true as the future demand for real estate might be reshaped by the current crisis. For many Slovaks the housing market was for a long time the only perceived form of investment, given the underdeveloped of local capital markets and a corresponding investment tradition. Now, demand is expected to decline significantly for this reason.
Support measures underway – some 10% of GDP
Up to now the government announced various measures to help the economy, e.g. direct payments (various measures) or loan guarantees. The government is willing to inject EUR 1 bn (1.1% of GDP) per month and to provide bank loan guarantees in the amount of EUR 500 mn (0.55% of GDP) per month (i.e. 1.6% per month). Overall, the 2020 drop in GDP and the need for fiscal spending will lead to a significant public deficit. Even without the corona crisis we would have expected a budget deficit at 2.4% of GDP for 2020. Now, the combined effect of lower GDP growth and fiscal transfers should push up the deficit to 10% of GDP (a reading somewhat higher than the 8.5% of GDP deficit in 2009 during the GFC). The public debt-to-GDP ratio should increase to some 60% (up from 48%). However, making precise estimates for the deficit and public debt level are a tricky undertaking. The European Commission allowed EU countries to spend unused structural fund for anti-corona measures. Slovakia can immediately spend EUR 2.4 bn (2.7% of GDP) for fiscal measures, which as such will not have impact on deficit or debt. The precise value of deficit and debt is more a matter of accounting, the more important is a total fiscal transfer of 10% of GDP into the economy.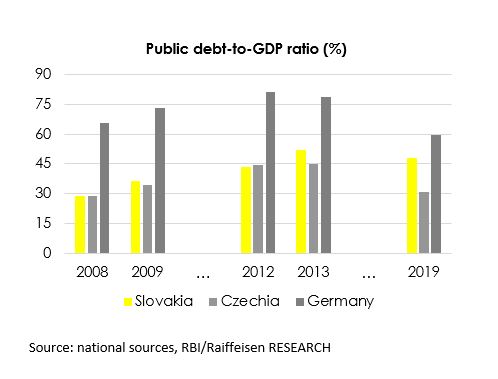 The new government approved additional support measures, focusing on home-office working/home-schooling parents. The newly elected government approved a prolongation and extension of child-care benefits if the state of emergency is in place (estimated costs are EUR 300 mn) and that the state will pay 55% of the wages to employees who are in a two-week quarantine claimed by doctors (estimated costs are EUR 100 mn). Within one week, the incoming government announced a batch of eleven measures, among them various direct subsidies. E.g. the state now covers 80% of the wages of employees of companies that were ordered to close by the government, firms with a drop in demand by more than 40% can postpone social contribution and prepayment for corporate tax. Also, companies and entrepreneurs will be entitled for wage subsidies. There is a cap of EUR 200,000 of total payments for wage subsidies per company that basically leaves bigger companies without meaningful help. Many technical details of this program are still missing. After the criticism from large corporates, the government also approved help with financing wages of workers that were hit by drop in demand. However, solutions are still outstanding and/or unclear for sectors that will be hit for longer time than other others, namely in tourism (hotels, restaurants), travel agencies, sports and cultural events.
Banking sector and (lack of) anticyclical policy space
All above-mentioned support measures were focused on wages of workers that cannot work for whatever reason. Other important parts of the economic stimulus are government guarantees for new bank loans, and, more importantly, a moratorium on existing loans for up to nine months, aimed at retail customers and SMEs (which together account for ca. 75% of all loans). Such support measures are key, as Slovakia is the most indebted economy in CE/SEE as measured by the loan-to-GDP ratio and its steep rise over the last decade (also vis-à-vis CE peers). That said a chain of bankruptcies could have dire consequences. Furthermore, the government passed a moratorium on bankruptcies, that is, until the end of the year no creditors can send a debtor into bankruptcy proceedings.
It will also be important for the banking sector to realign the balance between regulations, bank taxation and sustainable profitability. After all, Slovakia still has one of the highest countercyclical capital buffers in Europe, while these instruments, which were made for these times, have already been reduced in other euro and EU countries, in some cases significantly. Moreover, the planned increase and extension of bank taxation should be reconsidered, at least in part. On the one hand, the banking sector should contribute to an anti-cyclical policy response as outlined above and, on the other hand, sustainable banking market conditions are of course an important planning parameter for banks. This is especially true in the low interest rate environment of the euro area.
A balanced handling of the situation in the banking sector is also of international interest. After all, the banking sector in the country is characterized by a 98% (!) share of foreigners. The large Austrian CEE banks alone have a market share of nearly 40%. Therefore, it comes as no surprise that according to international banking statistics, Austria accounts for around 45% of the balance sheet positions related to Slovakia. This makes Austria the country with the largest balance sheet position vis-à-vis Slovakia in absolute terms. In this respect, major Austrian CEE banks, but also other local credit institutions in Austria, clearly see the neighboring country as extended home market.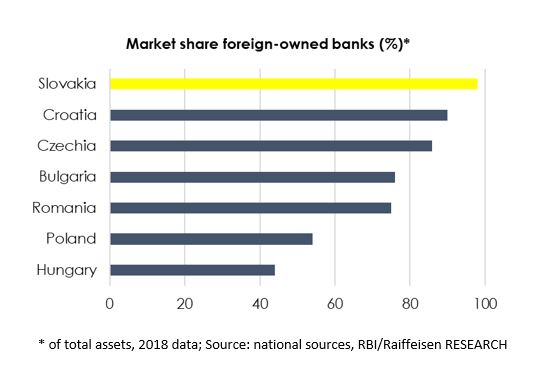 Currently, Slovakia's euro area membership is a double-edged sword. On the hand, membership is shaving off several basis points from government bond yields, on the other hand, Slovakia has no possibility of depreciating its currency or setting interest rates. With regards to the government financing via capital markets Slovakia should profit from the increased and more flexible government bond buying activity. Previously, the ECB was hitting certain bond buying limits in case of Slovakia (like in case of Germany). Now the ECB has more flexibility. With regards to the missing option of FX depreciation one has to say that this instrument would be possibly not so effective right now. However, with an independent monetary policy Slovakia would most likely have more policy space available right now, as the ECB rate setting of recent years was not really fitting to the conditions of the Slovak economy. The absence of monetary flexibility puts the whole burden of support now on the fiscal side and forces the government and banks to be more creative in boosting the economy. Currently, Slovakia is also facing the discussion of debt mutualization in Europe and inside the euro area. In the past the country was a hefty opponent of such instruments, while currently the criticism is somewhat silenced. However, Slovakia is still not actively supporting such a policy move.
First crisis reactions vs mid- to long-term policy orientation
While the first battle was won, the war is far from over. The government was swift and decisive, and ultimately successful in its reaction. However, institutional deficiencies persist. Healthcare is notoriously criticized, and not without merit, even in good times. SMER, the party in power for twelve of the last 14 years, apparently did not prepare a pandemic plan. All decisions are instead being made on the fly by the new government, with understandable possibility of error: like when the government decided to stop inter-district travel, not taking into consideration that commuters regularly cross district lines, creating hour-long traffic jams in the process. Moreover, the fiscal space could and possibly should have been made much larger given the lack of other anticyclical adjustment tools (i.e. interest rates or exchange rate). After all, Slovakia has not sustainably reduced its public debt-to-GDP ratio since the GFCs and the euro area crisis. This is in clear contrast to its neighbors, the Czech Republic and Germany, for example. The longer the coronavirus crisis goes on, the lower the importance of short-term and one-time measures, and the more important the general quality of the bureaucracy and government becomes.
Juraj Valachy is Senior Economic Analyst in Tatra Banka in Bratislava
Tibor Lőrincz is Economic Analyst in Tatra Banka in Bratislava
Gunter Deuber is Head of Economics, Fixed Income and FX Research at Raiffeisen Bank International in Vienna.