By Gunter Deuber and Matthias Reith, RBI Vienna
After a phase of exponential spreading of COVID-19 infections in Austria, lasting several weeks in March, the curve has significantly flattened since the beginning of April. Now it is only linear. More importantly, in the last week, the trend has been clearly confirmed that there are significantly more convalescents than patients, despite an overall increase in the number of cases. Hence, Austria achieved a stage victory in the fight against the spread of COVID-19. However, the victory came at the expense of severe restrictions – radical lockdown and social distancing measures were implemented in Austria at an early stage. Some measures have been more restrictive than in some neighbouring and Western countries, and especially Germany.
A new type of economic crisis without stabilizers
Now Austria is also the frontrunner inside the euro area to implement the first easing of economic restrictions and to present a concrete "roadmap" towards a complete withdrawal of restrictions. In recent weeks it has become clear that the economic and social costs of the lockdowns (in Austria, comprehensive restrictions have been in force since 15 March) are prohibitively high. A lockdown leads to a massive slump in private consumption. This is not the case in a "normal" economic crisis. On the contrary, here private consumption usually acts as a stabilizing GDP component, while investments and foreign trade are tanking. According to the latest calculations by the Austrian National Bank (OeNB), private consumption has even contributed 65% to the drastic decline in economic output in the last lockdown weeks in Austria (the GDP weight of private consumption stands at around 50% in Austria). The OeNB also assumes that in the weeks of the complete lockdown, value added fell by almost 30%, and in some particularly affected sectors such as hotels and restaurants by as much as 80%. In this lockdown period alone, annual economic output has fallen by -2.8%. These figures confirm internationally circulating estimates that each week of lockdown costs at least 0.5 percentage points in economic output. Half a year of lockdown – if this loss function were truly linear – would mean, according to these indicators, a GDP slump of about 15%.  But even this curve or loss function is certainly non-linear, and a half year lockdown probably means even higher GDP losses.
In light of the progress on the COVID-19 front as well as the sketched economic losses it seems reasonable that Austria is attempting a cautious and responsible return to some social and above all economic normality starting this week. The easing of the restrictions will start with smaller non-essential shops, craftsman will be allowed to go back to work, and DIY stores to reopen. According to the plan, in two weeks' time, larger shops will be allowed to open (with limitations on the number of customers per square metre), and from mid-May onwards, inns and bars may be allowed to reopen, and perhaps also schools. If this two-week stage plan is successful, then Austria together with Denmark – and perhaps with some other Central European countries in tow – will send a social and economic signal of hope that the end of the ordeal everyone has been suffering is near.
Cautious easing of restrictions possibly not enough to turn the cycle
A return to more normality in the coming 5-6 weeks could perhaps limit the economic slump in Austria to "only" 4.5%-5% until mid to end of May. However, the cautious easing of restrictions is unlikely to quickly turn-around the economic cycle. Nevertheless, the lockdown reversal may help to stabilize economic confidence, but the economic damage will remain huge. The economic free fall in the first half of the year, especially in the second quarter, is thus likely to be even more pronounced than initially assumed. Despite a V-shaped recovery in the second half of the year, we now expect GDP to fall by 7.2% for 2020 as a whole. On top of the immediate lockdown losses, we still expect a lot of second-round effects to unfold in the coming weeks and months. Thus, after-effects of the lockdown measures should continue to be felt in most sectors towards the end of the year 2020 and beyond. In addition, it should be stressed that in order to turn the economic downward momentum, a more substantial lifting of restrictions beyond the current easing will probably still need to take place, for instance from June or in Q3.
Despite being an early lockdown reversal mover the annual GDP loss in 2020 for Austria is likely to be slightly higher than for the overall euro area (-6.5%), reflecting the greater importance of the tourism sector, which was particularly hard hit. The pre-crisis GDP level (Q4 19) shall be out of reach until the second half of 2022. Moreover, it can be assumed that the path to economic normalization will not be a straight line. On the one hand, the withdrawal of lockdown measures in important sourcing and sales markets will not occur simultaneously. And on the other hand, renewed tightening of the lockdown measures (possibly at community or regional, not federal level), if the number of infections makes this seem necessary, is more than just a residual risk. This does not necessarily have to happen in Austria. But even a further partial lockdown abroad would affect the Austrian economy via the impaired export markets and the lack of intermediate products and tourists.
Apart from the immediate and drastic output loss, the lockdown also left its mark on the labour market. Unemployment exhibited an unprecedented rise in the second half of March, by rising by 62% between 15th and 31st March, with the strongest increases recorded in the western provinces (Tyrol: +219%) reflecting the shutdown in the tourism sector. The unemployment rate (ILO) is expected to rise from 4.4 % most recently (February) to above 7 %, thereby exceeding the levels seen in the aftermath of the GFC (Global Financial Crisis) as well as in the period of "lagging behind" in terms of business cycle dynamics that lasted until 2016.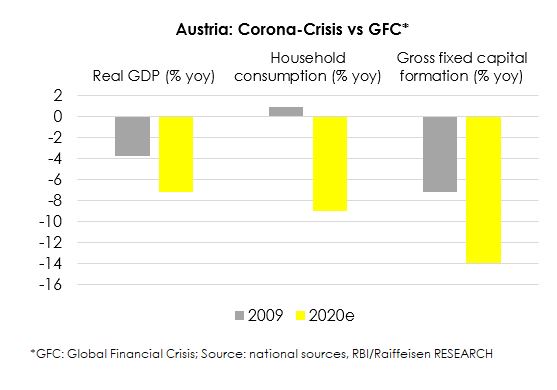 In Austria, as in most other euro area countries, the government was quick to announce a targeted fiscal support package. The volume of discretionary measures, though, clearly exceeds fiscal measures of other countries except Germany. By now discretionary fiscal measures amount to more than EUR 38 bn or about 10% of GDP – far more than in all other euro area countries except Germany. It is thereby using its fiscal space build up in recent years as government gross debt declined by 15 percentage points to 70% of GDP as of 2019 (thereby still higher than in Germany of course). Needless to say, public finances are under the impact of the corona virus from 2020 and beyond. After a Maastricht general government surplus of 0.7% of GDP in the previous year, the mix of discretionary fiscal measures and the effect of the recession on the budget (lower revenues, higher spending) will lead to a deficit of just over 9% of GDP (forecast: 9.3 % of GDP). The automatic effects of the economic slump alone (automatic stabilisers) should amount to just under 5 % of GDP.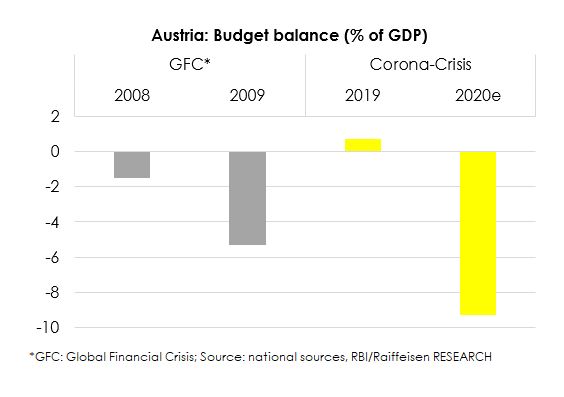 National experiments, plus coordinated EU strategies both are needed
The calculations outlined above also indicate that a gradual easing of the restrictions will not lead to a significant economic recovery per se. Rather, it is more likely to succeed in limiting the economic downside risks. After all, not every loss in consumption really means that there is pent-up demand. Moreover, a small open economy such as Austria is critically dependent on social and economic normalization in neighbouring countries and for its trading partners. In this respect, initial experiments in the national and on one's own interest – as is currently the case in Austria – make sense in order to gain initial experience. Ultimately, however, joint and European coordinated solutions and international coordination are needed to stabilize economic life in Europe as a whole in a more sustainable way. Only then will the massive monetary and fiscal support measures at national and EU level be fully effective.
All in all, the ramp-up in Austria is a balancing act with elements of trial and error. If this process will be successful it can also show that health interests and the interest in reviving overall economic development need not contradict each other. Moreover, it's not just about economic gains, but also about the return to a liberal and differentiated society. In this respect, a return to some social normality as quickly as possible also fits in with the current more liberal conservative-green government constellation. For Austria it cannot be said that those in power want to consolidate their increased power in the longer term.
Gunter Deuber is Head of Economics, Fixed Income and FX Research at Raiffeisen Bank International in Vienna.
Matthias Reith is Senior Economist for Austria and dealing with broader European topics at Raiffeisen Bank International in Vienna.