By Alexandra Jocham, RBI |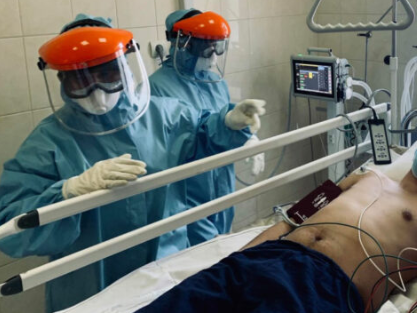 We looked for a company that was particularly well adapted to the Corona crisis and found it in Kievguma, which now produces reusable protective clothing for medical personnel. Find out more about the Ukrainian manufacturer here.
Kievguma https://kievguma.ua/ quickly reacted to the spread of the Coronavirus and launched the production of biological protective clothes for healthcare personnel. Healthcare workers use protective clothes to shield themselves from fluids of infected patients and contaminated surfaces that might infect them.
In close cooperation with military experts, epidemiologists and virologists, the Ukrainian manufacturer developed the production of GumaTexTM, an innovative material that offers unique protection against external factors and is reusable.
During the process of independent pre-clinic tests for protective clothes it was confirmed that the unique material, design elements and patented manufacture technology had the highest level of biological protection and fully corresponded to the contemporary requirements of international medical practice and its purpose. The quality management system implemented at the enterprise complies with the requirements of Ukrainian standard DSTU EN ISO 13485:2016 which is confirmed by the certificate issued by TÜV AUSTRIA European notified authority.
In an interview we asked Andriy Ostrogrud, CЕO of Kievguma, how the production change came about and what the biggest challenges were.
What did Kievguma produce before the crisis?
Before the crisis, Kievguma has produced and continues to produce above 4,000 product types for all branches of the economy, including medical items.
Why did you decide to adapt your production?
We started the development of protective clothes of the given category in October 2019, at the request of companies in the energy sector. The clothes were intended for their employees whose working conditions required water-proof individual protection means.
What were the challenges?
Since we had already got tested samples of the products, by the beginning of the COVID-19 pandemic, we could launch mass production of protective suits and protective coats as quickly as possible. Of course, we had some problems with the production, but it is quite normal in case of a quick launch of any mass production.
As you said, the original target group among customers was a different one. Who are your customers now?
Our customers are charity foundations, medical institutions and military hospitals, regional and city authorities. At the time being, we have already sold above 40,000 protective suits of different modifications.