Business aviation might be a niche market, but one with remarkable growth numbers and potential. According to the European Business Aviation Association (www.ebaa.org), the European business aviation field generated a turnover of EUR 100 bn in 2016 and offered 400,000 highly skilled jobs. As the world economy is back on a growth track, so is business aviation, especially when considering that a business aviation trip saves on average 2 hours in time and gains EUR 2,840 on average in productivity per passenger, as the business jet turns into a fully functioning flying office and meeting room.
However, when looking at business aviation in the CEE region, the main reason why senior managers opt for this exclusive form of travelling is not primarily the saving of time and the boosting of productivity, but the sheer possibility to directly connect two airports and nonstop reach more remote cities. In 2016, a survey by Booz Allen Hamilton listed 25,280 city pairs within Europe that had no scheduled flight connection, but were exclusively connected by business aviation. As illustrated in the below map by Booz Allen Hamilton, business jet travelers going to CEE countries have the highest time-saving advantage compared to regularly scheduled flight connections.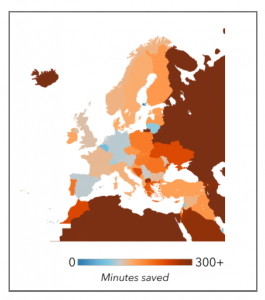 Source: Economic Impact of Business Aviation in Europe by Booz Allen Hamilton, 2016 p. 41
Therefore it comes as no surprise that Russia is a top destination for business aviation flights, followed by Austria that often servers as a travel hub for more remote destinations in the CEE region.
| | | |
| --- | --- | --- |
| Country | average daily business aviation flights in 2017 | growth rate yoy in % |
| Russia* | 113.5 | -12.0 |
| Austria | 51.8 | 7.1 |
| Czech Republic | 24.3 | 13.8 |
| Poland | 24.0 | 10.0 |
| Croatia | 15.1 | 16.1 |
| Ukraine | 13.9 | -1.3 |
| Serbia | 13.5 | 8.7 |
| Romania | 9.7 | 20.9 |
| Slovakia | 9.4 | 30.9 |
| Hungary | 8.4 | 10.6 |

Source: Traffic Tracker Europe, European Business Aviation Association, December 2017;
* 2016 data by Russian United Business Aviation Association (RUBAA)