By Jörg Bayer, RBI |
What could be a better companion for warm summer nights than a nice, cold beer? Beer is a very popular drink with a partly long tradition in CEE. Some of the best-known breweries are located there. For us, this was a good reason to do some research – and of course some tastings – in this area. Enjoy reading the collected facts and watch the video with the beer tasting of our experienced colleagues in the field (they are German and know what they are talking about 🙂 ).
In Russia beer, tied with vodka, is the most popular alcoholic drink. Up until 2011 beer was considered a soft drink in Russia.
Beer in PET bottles is widely distributed in Belarus.
In over 95 per cent of the cases in Bosnia and Herzegovina lager beer is the chosen beer.
Beer was mostly unknown in Bulgaria until foreigners introduced it in the 19th century.
Domestic brands produce more than 90 per cent of the consumed beer in Croatia.
Beer is one of the most important exports in the Czech Republic. Over forty industrial breweries and seventy small and medium-sized family breweries are located there.
In Vienna you can order a "16er Blech" (16th sheet metal) at local street food stands ("Würstelstand"). If you order a "16er Blech" you will get a beer from the Viennese brewery Ottakringer. 16 stands for the 16th Viennese district Ottakring where the brewery is located and "Blech" for the can material.
Source: Wikipedia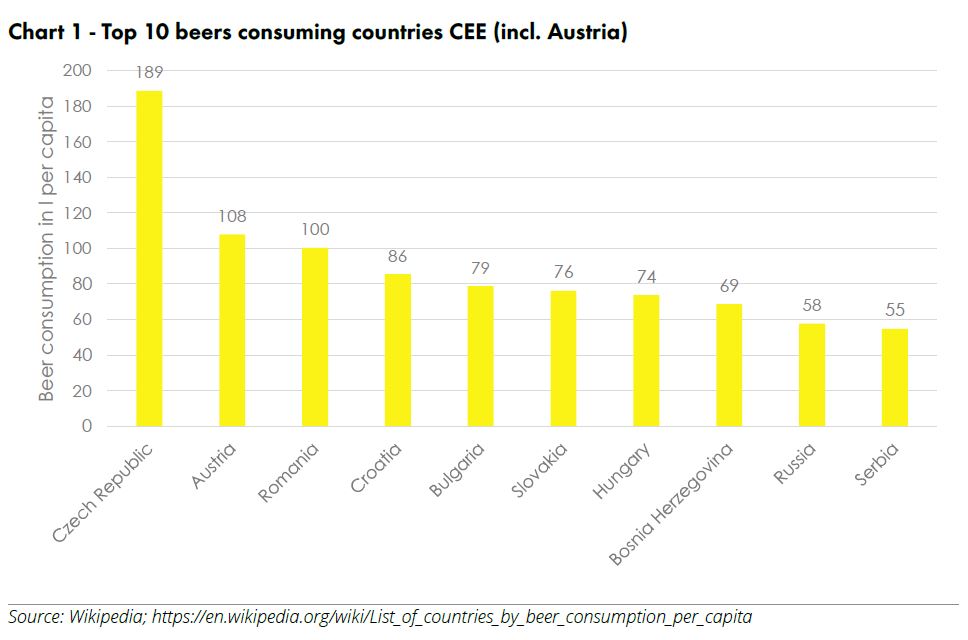 Would you like to learn more about beer? Check out the Beer Report by Raiffeisen Research and the following video by  Christian Nohl and Stefan Kratzsch, both responsible for Institutional Clients at RBI. They are happy to share their knowledge about beer in this video. Spoiler alert: We also tell you how to say "cheers" in all the languages of the CEE countries in which RBI operates.