By Gunter Deuber, RBI and Natalya Chernogorova, Priorbank Belarus |
In terms of its degree of digital maturity, the banking sector in Belarus can be described as very advanced. This holds true although the banking sector in Belarus is sometimes overlooked in analytical or marketing studies covering Digital topics in the CEE or EMEA region. However, in internationally recognized transnational data sets (like the Global Findex Database), Belarus is characterized by a very high degree of digitization in banking. Approximately 80% of the population made or received a digital payment last year. These are values comparable to those in regionally leading CEE countries when it comes to digitization (Poland, Czech Republic, Russia) or close to the values of established Western economies (such as the euro area). Therefore, with regards to the degree of digital penetration in the banking sector Belarus is much more advanced than some EU economies like Hungary, Bulgaria and Romania, where a lot of foreign-owned Western banks are operating. The high degree of digital penetration is supported by the fact that the penetration of the population with a formal bank account or with debit and credit cards also tends to be at a high regional level. But that does not explain everything. The general environment is highly supportive as well. Belarus is characterized by a strong IT education and expert community. The latter is actively sharing up-to-date expertise with students, while IT companies are strongly integrated into the educational process. There is a high affinity for digitization in Belarus and the banking sector supports this orientation.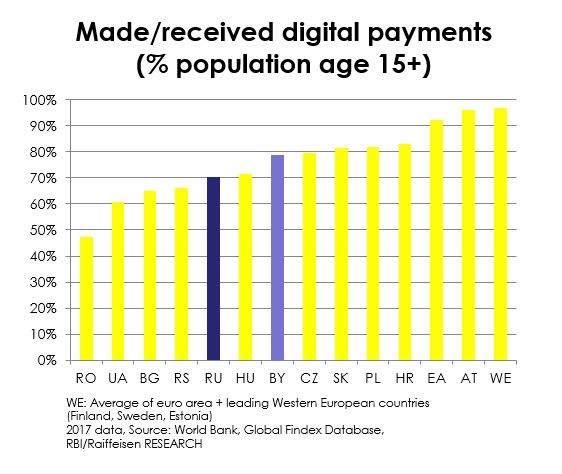 The National Bank of Belarus (NBRB) has started to implement a Digital Banking Strategy some four to five years ago. The NBRB encourages a broad-based digital transformation process as the banking sector is seen as a catalyst to support the overall digital transformation in the country. Currently, the NBRB's focus is on development of payment and settlement systems, remote identification, open API and block chain technologies. One of the key trends in the market is the upcoming launch of an innovative instant payments system enabling transactions in a 24/7/365 regime (to be launched by the NBRB from July 2019). The NBRB has also launched a pilot project (together with commercial banks) to enable customer identification by biometric face and voice characteristics that should enable access to banking services without any identification documents. Going forward biometrical documents (ID cards and passports) are set to be distributed from 2019 onwards. Moreover, the NBRB is to develop a regulatory framework in 2019 regarding the adoption of Open API technology in Belarus. Furthermore, blockchain technology should be actively used to support documentary process. A pilot project for a blockchain-based registration of bank guarantees was launched in 2017. According to recent plans, other parties (e.g. notaries, state customs committee) should be involved to digitalize the related document workflows.
Last but not least, the country has embarked on a very open and flexible course when it comes to cryptocurrencies. As of 2018, several laws and regulations have largely legalized the cryptocurrency business. That said, the cryptocurrency business is highly regulated, i.e. exchanges have to store data for years and KYC processes do apply. Moreover, some Russian-owned banks with a sizeable presence on the Belarusian banking market also bring fresh digital impulses to the market. Their home market Russia is possibly the most advanced regional banking market in CEE when it comes to the degree of digitalization. This holds especially true in cities like Moscow or St. Petersburg. Even if the relations between Belarus and Russia are not always quite simple and aligned in the economic sphere the two countries and banking sectors are very similar in the field of digitization and mutually enrich each other. What holds true from a big picture point of view is also true for the Raiffeisen network banks in Belarus and Russia. Recently, the Raiffeisen subsidiary in Belarus, Priorbank, took part in a blockchain-based trade finance transaction initiated by Raiffeisen Bank Russia. Given the strong linkages with Russia in the financial sector it seems very reasonable that the NBRB is actively supporting cross-border digital initiatives within the Eurasian Economic Union (e.g. the NBRB works on cross-border interbank identification processes within the Eurasian Economic Union).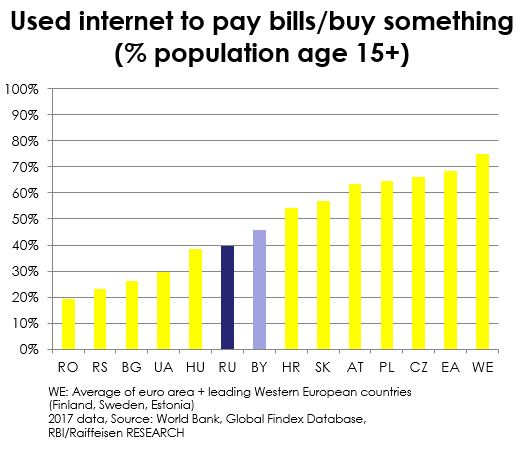 Gunter Deuber is Head of Economics, Fixed Income and FX Research at Raiffeisen Bank International in Vienna.
Natalya Chernogorova, Head of Research at Priorbank in Belarus.
[divider style="none"]
[/divider]
Maybe you are interested in…
[custom_posts template="one_third" effect="none" hide="summary" entry_ids="1616,1611,1636″]
[/custom_posts]