By Gunter Deuber, RBI |
Among the three larger Eastern European banking markets (Belarus, Russia, Ukraine), Belarus can be considered a haven of stability. Although the country has experienced quite a few severe balance of payments and currency crises in the last two decades (around 1997, 2009 and 2015), only one banking crisis (1995) has been recorded over the last two to three decades in relevant databases and according to conventional definitions. This is not per se an alarming sign, as many transition economies (including Central and Southeastern European countries) experienced severe banking crises in the mid-1990s. Moreover, exactly one banking crisis in almost three decades is not a particularly unusual occurrence. Austria and Germany are also listed in relevant data sets and over a similar period of time with at least one banking crisis (2008 in each case). In contrast to the relative stability in Belarus, at least three to four or two to three banking crises have been recorded for Ukraine and Russia, respectively, over the last three decades (depending on the extent to which one includes most recent developments in 2016 or 2017 into the counting for both countries).
Most stable return on equity in the region
In this respect, the banking market in Belarus has not yet experienced a severe and crisis-induced market shakeout. Today, almost all, or 85% of the banks active on the local market for some ten to fifteen years now, are still in operation. In contrast to Belarus, in Russia and Ukraine more than 60% of the banks functioning on the local market since 2000 had to leave the market up until today. However, the banking sector in Belarus, with 24 banks currently operating there and just over 30 at peak levels, has never been as "overbanked" as the Russian or Ukrainian markets, with over 1000 (Russia) and 200 (Ukraine) banks operating there at peak levels. In view of the relative stability of market players, the share of state-owned banks in the asset base of the local banking market has declined only moderately over the last two decades (from almost 90% in 2000/2001 to around 65% at present). The relative stability of the local banking market in Belarus is also reflected in the long-term steadiness of the sector's profitability. The sector's average return on equity stands at around 9-10% in Belarus. This means that it appears to be performing somewhat worse than the Russian banking market with an average long-term return on equity at around 16%. There, however, the average annual fluctuation range of earnings stands at stunning 6 percentage points, whereas in Belarus it is only around 2-3 percentage points. This also makes Belarus the most stable banking market among its Eastern European peers in terms of its return profile. By way of comparison: in Ukraine, the long-term average return on equity is 1-2% with an annual fluctuation margin of 30 percentage points!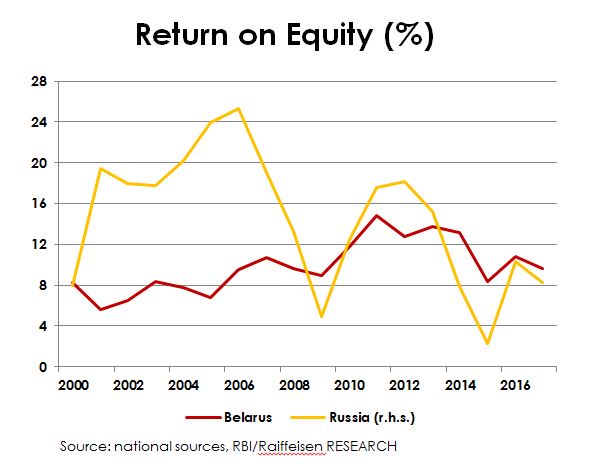 The relative stability of banking in Belarus, also in challenging times, speaks for a specific crisis management competence (also of the regulator). The latter is certainly supported by the high and rather constant share of state-owned lenders by international and regional standards. The same applies to concentration in the sense of market power, i.e. the high market share of the five largest banks in the country (approx. 80 %). However, both relative stability and a high degree of state ownership also have their price. In good regional or global market phases, profitability in the banking sector of Belarus cannot compete with that in Russia.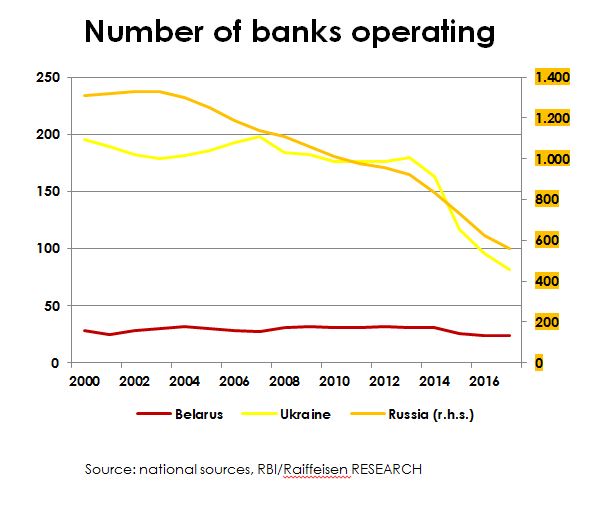 Does comparative stability attract investors?
In view of the high state share in the banking sector as well as the moderate but stable profitability, Belarus as a country and the banking market have never aroused a convergence fantasy among Western foreign banks like the Russian and Ukrainian market, where some noticeable transformations (with declining state shares) were discernible over the last decade(s). However, some of the convergence phantasies at Western banks definitely did not play out well on the volatile Russian and Ukrainian banking markets. Therefore, the relative stability in Belarus could be interesting for international investors. Furthermore, there is some intention to lower the state-ownership in the banking sector. However, in view of the hardly completed transformation, the ongoing search for international investors in smaller state-owned banks or (minority) shares in larger state-owned banks – despite acceptable overall market performance – has so far been rather difficult. As little transformation has taken place over the last three decades, there could be a sizeable backlog of potential for transformation. Moreover, Russian banks are already present on the market and, in line with the multi-vectored economic policy orientation – towards Russia, but also towards China and the EU – market entries of credit institutions from China and/or the EU would be desirable. In view of China's growing and already substantial interests in Belarus, a market entry by a Chinese bank currently appears more likely than a market entry by a large EU banks. In light of current efforts and preparations, a (successful) privatisation in the banking sector in the coming 12-24 months seems possible. Particularly, as a clear commitment to stability-oriented macroeconomic policies seems to be in place.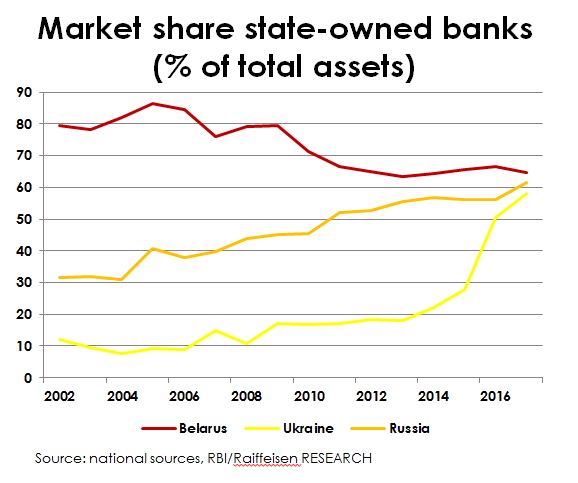 If Belarus can really achieve privatisation success, then the state's share of the banking market could fall below the level in Russia and Ukraine for the first time. In the last years several banks were nationalised in Russia and Ukraine and there are currently no clear prospects for (re-)privatisation. This would make Belarus not only the profitability champion, but also the private sector champion in the banking sector.
We regularly cover the Belarussian banking sector within our annual CEE Banking Sector Report. Find the whole 2018 report here.
Gunter Deuber is Head of Economics, Fixed Income and FX Research at Raiffeisen Bank International in Vienna.
[divider style="none"]
[/divider]
Maybe you are interested in…
[custom_posts template="one_third" effect="none" hide="summary" entry_ids="1563,1456,1381″]
[/custom_posts]