by Patricia Lang-Schönberger, RBI |
ADVANTAGE AUSTRIA is the internationalisation and innovation agency of the Austrian economy. It provides support in all matters relating to foreign business: export, import, foreign investments, country information and international industry developments. Michael Otter, Head of ADVANTAGE AUSTRIA, talks about the good relations between Austria and CEE.
How many inquiries do you receive on average from companies that specifically want to become active in the CEE region and ask for your support? Do you receive more inquiries from large companies (international groups) or more from one-person businesses, SMEs or start-ups?
Around 25,000 Austrian and 40,000 international customers contact our offices each year. Some regions are more in demand than others: CEE accounts for about one third of these requests. This means that around 7,000 customers turn to the foreign trade centres in this region for information and support. The majority of clients are smaller companies and SMEs. But of course, large companies also turn to us – the type of enquiry simply differs. We try to provide assistance on as many levels as possible. ADVANTAGE AUSTRIA is not just an export agency, but we also look after local branches in the region, according to the motto: "Dear customer – you are not alone on site". We help to build up networks, define the legal framework together with the customer or even talk to politicians. As the official contact point in CEE, together with our local Commercial Counsellors, we can provide support on many issues.
Which companies are active in the CEE region?
The leading companies investing in the CEE region come from the financial, construction and infrastructure sectors. Large Austrian companies that have invested in the CEE region have shown foresight, vision and courage and settled there in the long term. That was a good decision – it is an Austrian success story.
What is the most important advice you would give entrepreneurs specifically for the CEE region to ensure that business is and remains successful?
You have to work solution-oriented. Personal contact, pragmatism and patience are at the top of the list. It is not enough to be there once a year – personal contact is essential. You show the other person that you value working relationships very much. As a little advice: talking to our Commercial Counsellors is also recommended, if support should be necessary. They know the country and its people, they are integrated into local society and can help in many situations with their network.
As the innovation agency for the Austrian economy, what global trends do you currently see? Or are there trends that you recognise especially for the CEE region?
Exports are and will remain our most important pillar. However, in order to provide even better support, we want to build on the innovation and technology knowledge in the region and worldwide. Our Commercial Counsellors establish intensive contact with local start-ups or universities in order to acquire technological knowledge or food for thought which we can then apply in our consultancy. Finally, we want to be able to tell an SME what certain technological and innovative developments can mean for its own business model. We not only export knowledge but we also import it, so to speak.
At present, the trends in the region are strongly in line with IT competencies. There is a lot of potential on the market, smart and committed people who speak English very well and are well educated. I would like to refer here to the IT industry in Serbia – a number of established IT companies have settled there. We want to find out more about where the talents are and see where the best are at home. Therefore, we will soon be organising a "Coding Contest" – an online programming competition to which we invite coders in six locations worldwide to compete jointly and at the same time introduce Austrian companies to them. The locations include Sarajevo, Prishtina and Tirana.
What do you recommend companies who want to establish business contacts in the CEE region?
Be ready to immerse yourself in the culture. In any case, you should have a historical understanding of the respective country or region. This helps to gain a foothold. We have created a reference book – Dos & Don'ts auf der ganzen Welt. This provides topics of conversation with which you will build an honest bridge between Austria and the host country of your business partner on the basis of interesting and surprising details. And if that's not enough, just mention one of the many details worth knowing that accompany almost every country report as funny "Did you know that…" elements. To know such detailed stories means always bowing to the country, a gesture of appreciation: I try to adapt myself as a foreigner to your customs.
To which countries does Austria currently export the most within the CEE region?
Currently, most exports are to the Czech Republic, Hungary and Poland. We are the No. 1 main investor in Croatia, Bosnia and Herzegovina and Slovenia.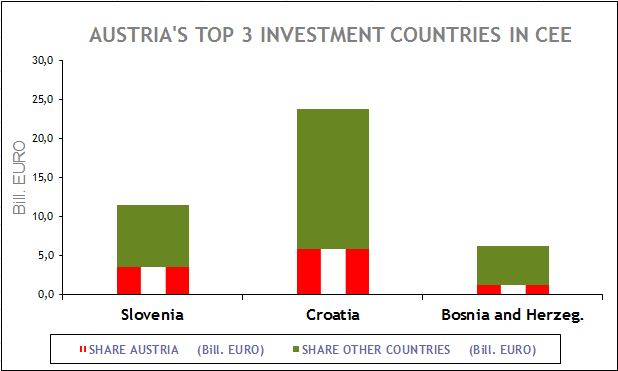 The share of Austrian exports to CESEE amounts to 19 per cent. Large European countries such as Germany or France, by comparison, deliver only 14 or even only six per cent. This underlines the importance of the region for Austria, but also the importance of Austria for the CEE region. What such figures unfortunately never show: the entrepreneurial courage to expand at all. This courage ultimately creates jobs in Austria, but also on the ground.
Vienna and Austria in particular are regarded as bridges to CEE. Which markets are in focus when young entrepreneurs (e.g. start-ups) want to export?
It tends to be noted that young entrepreneurs are open-minded and can imagine expanding everywhere. They see their market where there are opportunities for them. Every company should look for its niche and then invest there. In consultation with our local offices, an entrepreneur can clarify whether there is a market for his product in the respective country. Unfortunately, it is difficult to limit this to certain regions. Entrepreneurs observe trends for their products and niches – and then expand there. This can be in CEE, but also in Western Europe or the USA.
What are the biggest reservations against CEE as a business location or export region that Austrian companies mention to you? What would you say to that?
Regular surveys of the branches show us the challenges that companies face in the countries. The buzzwords here are often bureaucracy or legal uncertainty. What we do: we always try to respond specifically to the existing problem and help the branch to find a solution. This is the most effective way – and an essential part of our branch support.
Are there also bizarre or amusing stories that you can remember?
In Serbia, a strike took place in a neighbouring company to an Austrian company. An entire industrial park was closed down. Unfortunately, the Austrian company was also affected and could no longer drive to its premises, let alone handle its orders. The strikers even got the local television to come, the atmosphere was really heated up and we tried to negotiate with the people literally before burning oil barrels that the Austrian colleagues were allowed to go back onto its premises to continue their business. These are special moments that cannot be learned from a manual. It is important to remain human and to communicate at eye level – ultimately it is always about trust.
What is special about CEE as a business region for Austrian companies?
Its geographical, historical and human proximity to Austria. And of course, the CEE markets are still emerging markets with great business potential. Austrian companies have invested in these countries and have created jobs for people in the countries. Worldwide there are about 800,000 employees in Austrian companies – more than 400,000 of them work in the CEE region. Behind these 400,000 employees are families. Austria is a big employer in CEE – also one of the reasons why Austria is valued there.
Is there a region or city in CEE that you would particularly recommend? 
I myself have not yet travelled the area intensively, but what I saw impressed me. Important: Take your time! Try to visit not only capitals but also smaller cities. And the distances are really very short – instead of going to Paris or London at the weekend, Belgrade, Bucharest or Warsaw are just as suitable. Most cities in the CEE region are only two to three hours away. It pays off, because the people are warm and welcome you to get to know their country.
Please find more information on ADVANTAGE AUSTRIA in German here: www.wko.at