by Marlene Schloffer | RBI
Recently, we published this interview  with Petra Stolba, CEO of the Austrian National Tourist Office. In the second part of our series on Austria as a tourist destination, Petra Stolba talks about the cliché of the Alpine country, the boundaries between work and leisure, her personal holiday preferences and how to get bloggers to jump down a waterfall.
Every Austrian knows this: Abroad, people at first often think you're an Australian. At some point, when Schwarzenegger, Mozart and Salzburg are mentioned – then suddenly the other person enthusiastically mentions the movie "Sound of Music". Are there still those romantic, clichéd images of Austria?
Some of them still exist. Our aim is to soften those images a little bit. But the image is based on many factors. In general, the further away a country is located, the more the idea of the country is shaped of stereotypes. These stereotypes from school and media reports are condensing into a country's image. In the immediate neighbouring countries the picture is often much more differentiated. So we have to address the people where they stand. At the same time, we don't want to fall into the stereotype trap, but rather show a differentiated picture of Austria.
Currently, what are the most exciting markets for Austria?
The Asian region is currently particularly exciting. There is enormous growth potential there, which is why it's all about getting a foot in the door. In the CEE region, our goal is to further position Austria as a great tourist destination and to become market leader. In the third region, Western Europe/Australia/USA, we aim to maintain our market share.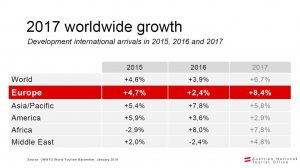 Which markets are particularly "enthusiastic" about Austria?
It's hard to say who's most enthusiastic. According to visitor numbers, one would have to say the Germans, because they account for 36 per cent of overnight stays. In second place are the Austrians themselves with 26 per cent of overnight stays, followed by visitors from the Netherlands with 6.8 per cent, Switzerland & Liechtenstein with around 3.5 per cent and Great Britain, Italy, the Czech Republic, Belgium, Poland and Hungary.
Austria is well known as a winter destination, e.g. in English-speaking countries. Are there more tourists in Austria in winter or are the visitor numbers relatively balanced all year round?
For a long time the summer season in Austria was much stronger than the winter season, for example in the 1970s. At that time there were no ski lifts, the infrastructure was not even close to what the Austrian ski resorts offer today. Since 2010, winter tourism has caught up with summer tourism in terms of overnight stays. In general, however, arrivals in summer are usually a little higher than in winter. In winter, visitors usually spend a week skiing, while in summer visitors more often travel to Austria for a long weekend.
Our blog focuses on Austria and Central and Eastern Europe (CEE). From which CEE countries do tourists particularly like coming to Austria?
The Czech Republic is our strongest market in the CEE region. Since 2010, the share of arrivals from our Czech neighbour has increased by 52 per cent. Hungary and Poland are also very strong – we recorded over 500,000 arrivals in each one of those three countries in 2017 – that means over half a million people from each of those countries were visiting Austria. Russia ranks fourth with just under 340,000 arrivals, followed by Romania, Slovakia and Slovenia.
What do tourists from CEE appreciate about Austria?
That varies greatly. For the Czechs, for example, self-determination plays an important role, so a "holiday the way I like it" is ideal for them. Czechs want an active holiday experience; sport plays an important role as well. Therefore we will soon start a challenge with Czech bloggers who will pass various adventures in Austria and write about it. What is special about our cooperation is that their readers can decide what the bloggers experience – whether they should abseil at a waterfall or jump, for example.
The boundaries between work and leisure are blurring. The connection and accessibility on holiday is becoming increasingly important, both in private and professional life. How is Austria as a tourist destination affected? What are current trends?
That is definitely an issue. Because no matter whether it's about culture, wellness or outdoor action: Behind all those activities lies the desire to escape everyday life. When we ask Germans what they think is so special about holidays in Austria, we very often hear: "Austria is the Sunday from everyday life" – Germans often think that the speed is a different one, people take the time to talk to each other. In general, I think the encounter is becoming more and more important nowadays. And it is also becoming increasingly important not only to consume passively, but to integrate actively. Austria offers all this.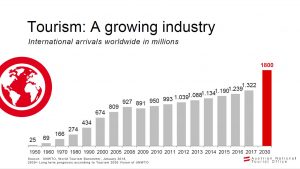 The Austrian National Tourist Office provides regular information about the prospects for the coming tourist season. What do you expect for the summer of 2018?
In tourism it is similar to agriculture: we are location-bound and weather-dependent, so you can't outsource or produce elsewhere. What we also notice is that the periods between booking and holidays are becoming shorter. People use webcams to monitor the weather on site before booking. We're satisfied with the current booking status. We can observe booking requests and bookings from all over the world in real time. Last year we had a record summer, hopefully we can repeat that in 2018.
Where do you personally like to go on holiday? What is your insider tip for a summer holiday in Austria?
Given that I promote holidays in Austria for a living, it sounds almost kitschy, but I love travelling in Austria. Even as a child my family and I visited a different federal province every year. Currently, I would like to go to the Southern Burgenland again, the South Styrian "Weinstraße" (engl. Wine Road) is also always worth a visit. For me, holidays in Austria mean a maximum of flexibility.