by Marlene Schloffer | RBI
Why do people go on holiday? And why do they choose Austria as a holiday destination? Petra Stolba, CEO of the Austrian National Tourist Office, knows that many people are looking for a purpose while getting out of the hamster wheel. In this interview she speaks about the tourism industry's contribution to Austria's GDP, why the Alps are not a striking argument for holidays in Austria and what surprises Austrians in terms of tourist surveys.
Tourism in Austria – how does the status currently look like? Are you satisfied? Which tourism indicators are particularly important and where do they stand at present?
2017 was another record year for Austrian tourism – with around 43 million arrivals and around 144.5 million overnight stays, so we are definitely satisfied. Compared to other European countries, Austria is an outstanding tourism market. The market share in comparison with the 15 EU countries which are Austria´s main competitors, is good. Austria is in 6th place behind Spain, France, Italy, Great Britain and Germany – a serious competition. This puts Austria ahead of tourist destinations such as Portugal, Greece and Sweden in terms of revenue. In a global comparison, Austria is also a well-established tourist destination: in 2016, we were ranked 11th in terms of arrivals and a look at our competitors shows that we are the only small country represented in the ranking alongside countries such as France, the USA and Spain. As far as measuring success is concerned, we are currently experiencing an interesting paradigm shift: in future not only overnight stays and arrivals are to be counted, but also qualitative indicators that measure the sustainable development of tourism. We are currently developing a new set of indicators.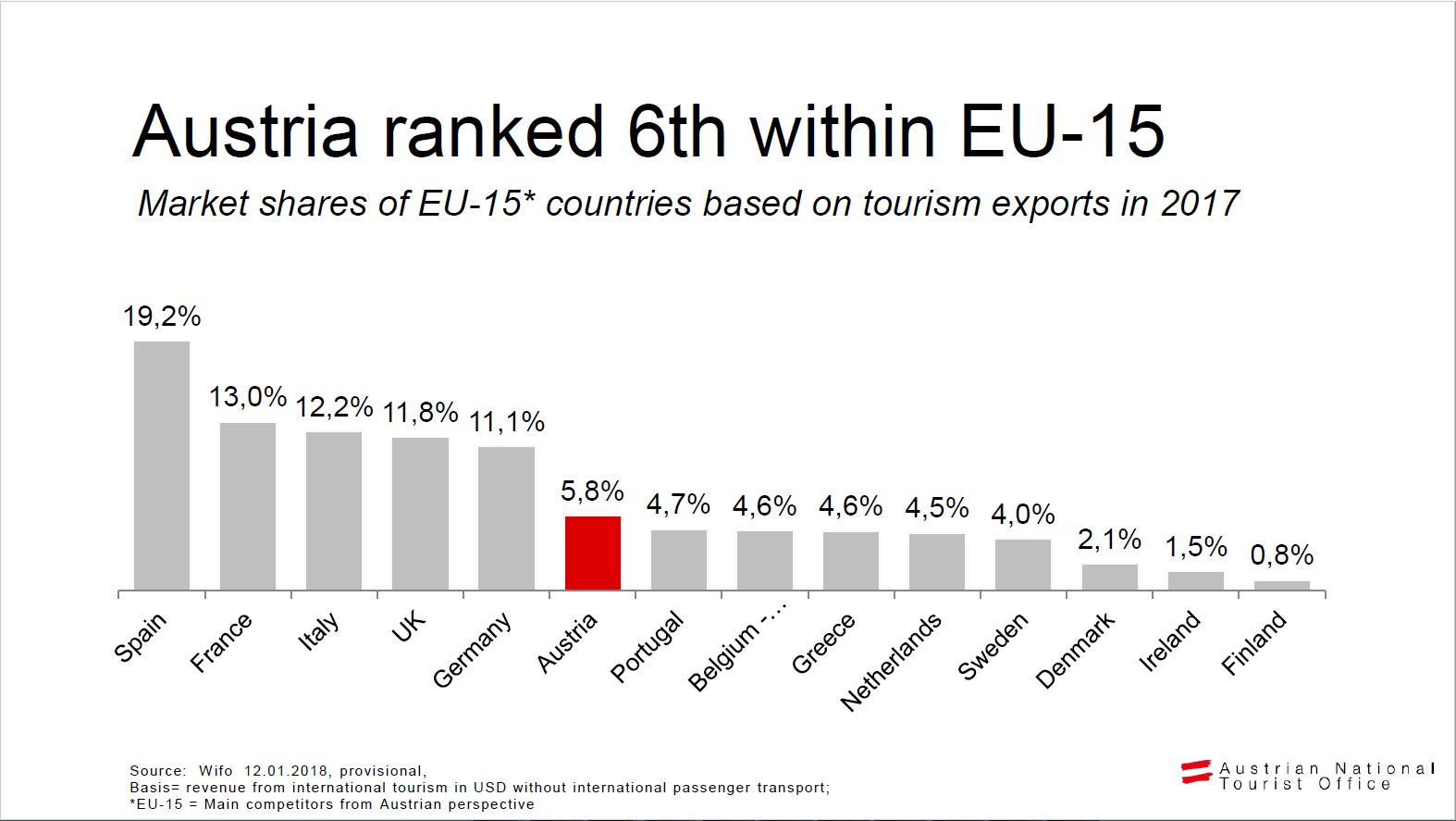 Tourism is an important economic sector. How does it contribute to Austria's GDP?
Austria is one of the countries with the highest share of foreign tourists worldwide – around three quarters of our visitors come from abroad. In comparison: In Italy, for example, the ratio is 50:50. Our ratio is good for the domestic economy, because foreign vacationers bring added value to the country, since tourism spending is consumer spending. The profits generated in the tourism sector contribute significantly to Austria's current account surplus. In 2016, the contribution to Austria's GDP was almost 9 per cent.
How has Austria developed as a tourist destination?
The development of tourism in Austria is impressive. Since 1972 the figures show a continuous growth, with the exception of two short phases. Overall, we are talking about a strong growth trend. Tourism in Austria is a success story, both in terms of arrivals and overnight stays. But competition in tourism is increasing immensely. Many new destinations are being opened up by low-cost airlines, and the competitor offer is growing accordingly. Hence we need to stay on top.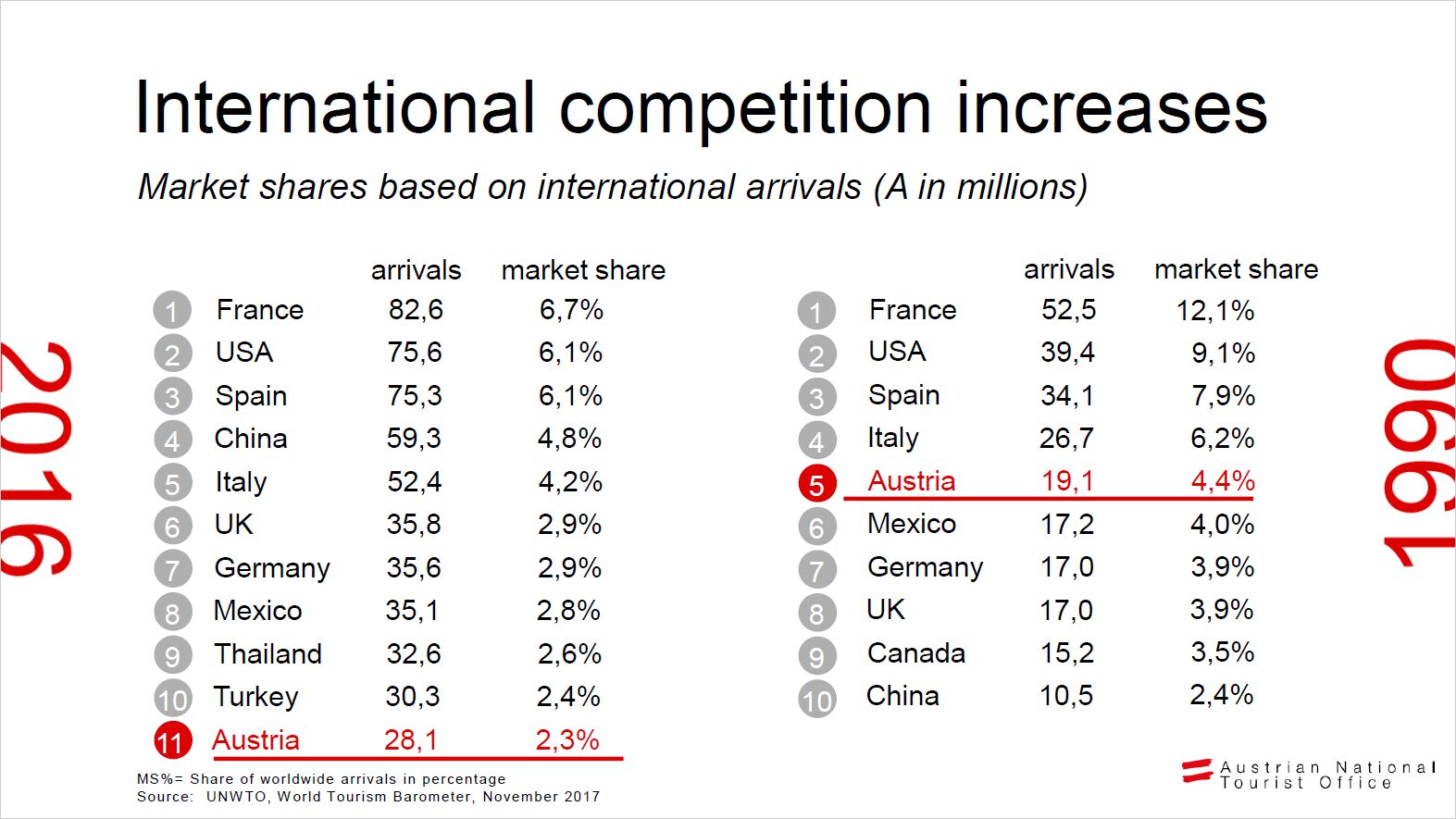 What is the mission of the Austrian National Tourist Office?
Our mission is to awaken the desire and longing to spend holidays in Austria. The Austrian National Tourist Office concentrates on those markets with the greatest potential for domestic tourism – in the three regions Western Europe, CEE and overseas. In 2018, that means 30 different markets. A total of around 200 employees are working in Vienna and its 21 representations abroad.
How can Austria as a tourist destination score well? What is particularly important for tourists coming to Austria?
In general, tourists today are looking for meaning and enrichment, according to the motto "I want something that changes me and takes me further". That has changed. In the 1970s, travel was still mainly associated with social prestige, and travelling to the most exotic and far-flung holiday destinations was the order of the day. In the 1980s, it was all about "higher, faster, further" – keyword bungee jumping. In the 1990s, the desire to do more for ourselves came along and with it the wellness trend. We have found that the human aspect is much more important than, for example, who has the biggest mountain. Also, there are eight Alpine countries, so that is not really an argument in favour of Austria. The good relationship between guest and host is certainly a USP of our market. Austria is also a country that knows how to live – whether it is about culture, nature or cuisine.
You mentioned the USP, could you please tell us some more about that? How does it distinguish Austria as a tourist destination from other holiday destinations?
We attach great importance to the personal encounter between guest and host. The Dutch, for example, appreciate this hospitality and conviviality. We believe that people make the difference. In our guest surveys we repeatedly hear that the Austrians are perceived as very hospitable, one of our top scores. This often surprises the Austrians themselves. The Austrian hotel industry is very family-oriented, which naturally has an impact on the motivation to offer guests the best service. 95 per cent of the hotels in Austria are micro-enterprises and have between 0 and 9 employees. For them, we act as an information provider: We pass on our market knowledge to them so that they can configure their products accordingly.
The 2018 "Sehnsuchtskampagne" (an image campaign based on people's desires) focuses on four markets and the desires of their respective audiences. Is this how holiday planning usually works: First there is a longing and only in the second step people decide which travel destination they want to visit?
It doesn't really matter whether people come to Austria through a desired holiday activity or because of its geographical location – at the beginning there is a longing. The longing campaigns are intended to show how a holiday in Austria can satisfy this longing. Of course, every market is different. The Czechs, for example, are very enthusiastic about adventures; so for us at the Austrian National Tourist Office it's all about showing them what the "Playground Austria" has to offer.
Stay tuned. Soon we will publish part 2 of our interview with Petra Stolba here on Discover CEE, where she talks about Austrian clichés, the boundaries between work and leisure and how to get bloggers to jump down a waterfall.