by Martin Blum, RBI |
Sustainable Finance is key to facilitating the decarbonisation of countries and organisations. But it also promotes outcomes which are stronger from a broader environmental, social or governance perspective. For example, the IMF cites estimates of USD 6 to10 trillion of additional global public and private investments needed in the next decade to mitigate climate change. The IEA estimates that 70 per cent of these investment needs will have to be funded by the private sector. In practice the bulk of sustainable finance information, advisory and capital markets focus has until recently been focused on "developed" markets. We developed RBI's sustainable finance survey to help close this information gap and shine a light on Sustainable Finance in CEE.
The survey received 340 responses across CEE banks, corporates and sovereigns and asset managers in the region as well as those who invest into it. We can draw the following seven broad thematic conclusions from the survey: 
1. The pace of change in CEE organisations' ESG commitments is extremely rapid
28 per cent of survey respondents already have measurable sustainable targets in place (such as reducing greenhouse gas emissions). A further 29 per cent of survey respondents are planning to implement measurable sustainability targets in the coming twelve months. Put differently, circa 60 per cent of survey respondents actively focus on measurable sustainability targets.
2. Change is very broad based
All types of CEE organisations and most sectors are actively developing their ESG targets and processes. From a sequencing perspective, corporates and sovereigns are ahead in terms of the proportion that already have measurable ESG targets in place.
3. Measurable sustainability targets define organisations' ESG processes
There is a clear correlation between whether an institution has a measurable target in place and their internal processes. For example, banks that already have targets are both more likely to use ESG scoring and incorporate ESG into credit risk decisions by evaluating the decision's contribution to overall ESG targets. The simple message is: if you know an organisation's measurable targets you can say something about their likely ESG processes and needs.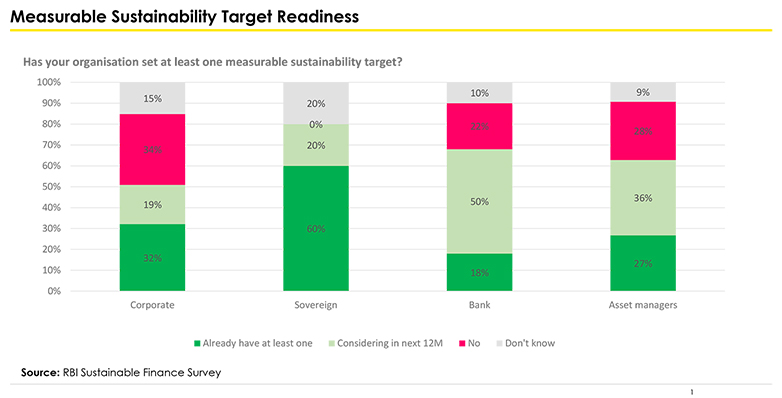 4. Data is not the only perceived obstacle to achieving measurable sustainability targets
Ability to predict key ESG indicators for the long-term, lack of a global taxonomy and technology are all cited as additional potential impediments to meeting targets. Positively, finance is not currently cited as a major obstacle, however…
5. Organisations' sustainability targets correlate with their investment and financing needs
For example, circa 50 per cent of corporates with a measurable target or considering one plan green or social investments in the coming twelve months, compared to circa one quarter for those that don't have an ESG target. Furthermore, companies with (or considering) ESG targets are twice as likely to consider ESG financing within the next twelve months than those without targets.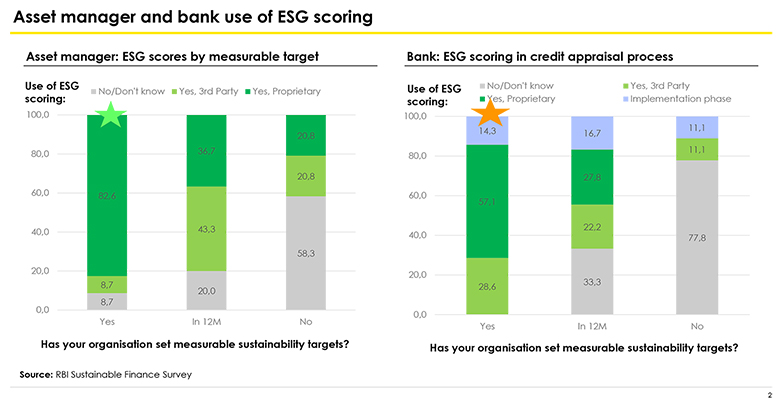 6. The impact on CEE financial markets will continue to grow
The proportion of asset managers with more than 80 per cent of their funds managed under ESG integration or impact strategies roughly doubles from 15 per cent to 30 per cent between 2020 and expectations for 2022. Mandates managed under ESG integration strategies are influenced by the type of ESG scoring used and the impact of scores on portfolio weights. Put simply, ESG fund flows will increasingly impact "regular" CEE market pricing and not just green bonds (e.g. increasing demand for countries and assets with high ESG scores and damping demand for those with lower scores).
7. "Dark green" assets are considered most difficult to source
"Dark green" assets for Emerging Market High Yield (EM-HY) credit and EM local currency bonds are considered most difficult to source by global institutional investors. This highlights the potential for CEE banks, corporates and sovereigns to meet strong demand for their green, social or sustainability-linked bonds given the breadth of local currency issuance as well as HY issuers in the region.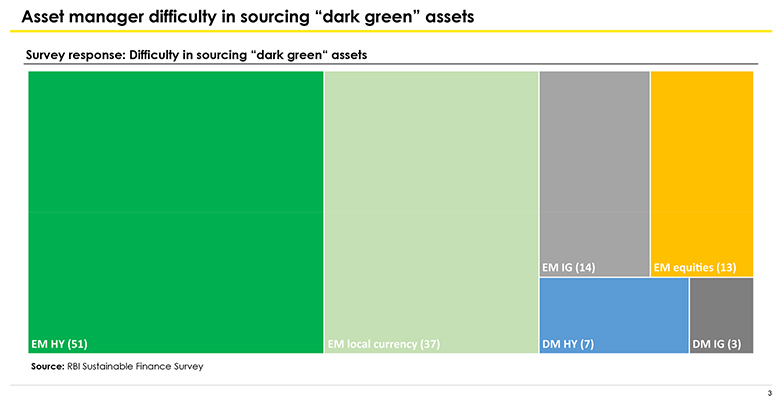 7 1/2. This leaves the 7 ½th point
The full survey details…. click here to request a copy and further information on RBI's sustainable finance offering.
Martin Blum
works at RBI's Group Capital Markets Trading and Institutional Sales department.