by Sarah Geyer, RBI |
Summer is in full swing and for many, wanderlust is strong. Unfortunately, due to the pandemic it is still not possible to travel to the farthest lands. However, that doesn't necessarily mean that you can't enjoy either of the two. We compiled some popular summer recipes from different CEE countries, so you can bring foreign cultures to your home. Enjoy!
Bulgaria – Tarator
Tarator is a cold cucumber soup served as a first course instead of a salad.
Ingredients:
2 cucumbers (about 500 g or 1 lb)
500 g plain yogurt (1 lb)
3 -4 garlic cloves
2 -3 tablespoons of crushed walnuts (optional)
1 bunch fresh dill
Oil
Salt
water (optional)
Instructions:
Cut the cucumbers into cubes and put them in a bowl. You may also grate them but it changes the look and the consistency. Beat the yogurt with a fork until it gets liquid and pour it over the cucumbers. Add the crushed garlic, the walnuts and the minced dill as well as salt and oil to taste. If needed add some water to make the soup as liquid as you like but take care not to make it too "thin". Put into the refrigerator to cool or add ice cubes. Serve cold.
(source: Tarator – Bulgarian Cold Cucumber Soup Recipe – Food.com)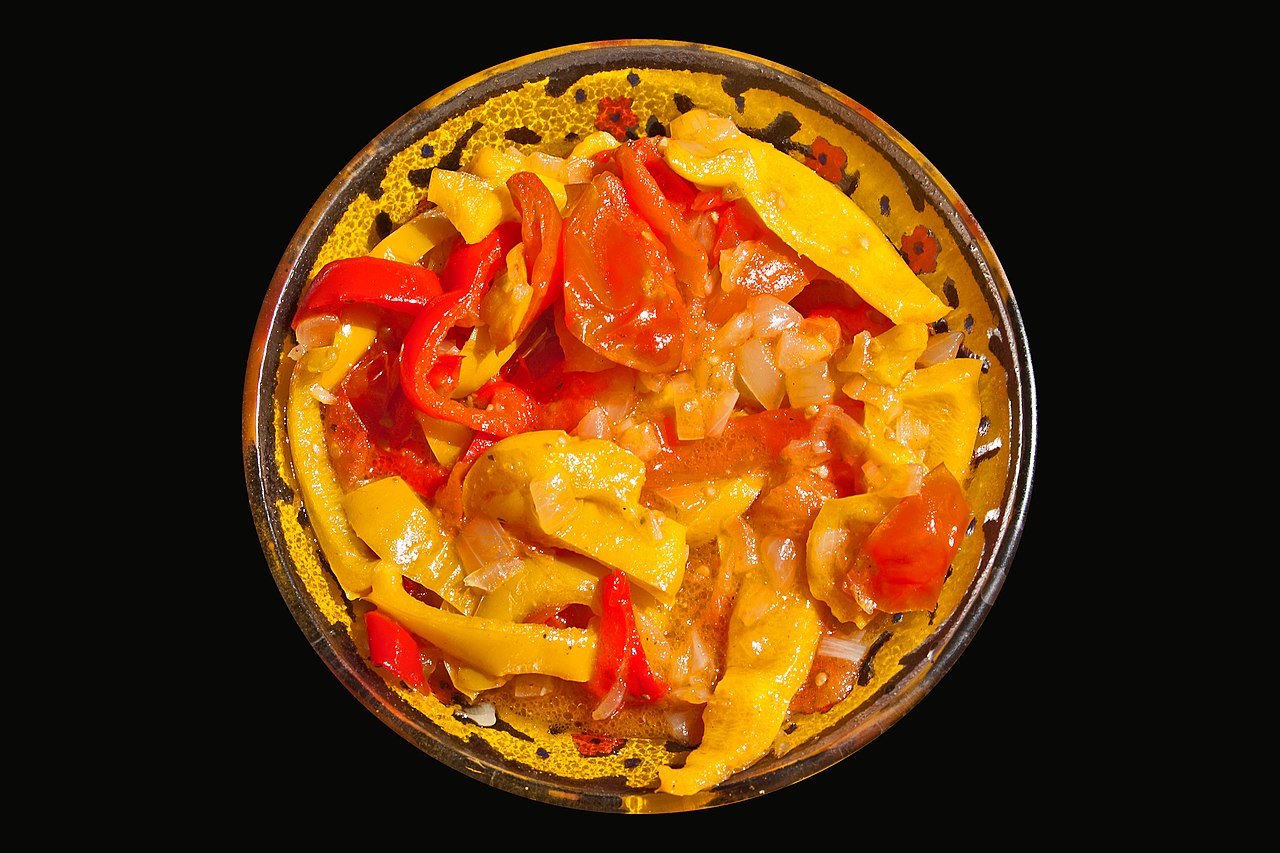 Hungary – Letcho
Letcho (in Hungarian lecsó) is a popular ratatouille-like dish made of stewed onions, tomatoes, and paprika. It can be served plain or with eggs or rice.
Time needed for preparation: 45 minutes
Ingredients for 4 people:
2-3 large minced onions
10 pieces of bell peppers, halved lengthwise and cut into half inch slices
6 tomatoes, cored and cut into ¾ inch dice
8 eggs
2 tbsp grease or olive oil
freshly ground black pepper
salt
Instructions:

Add the oil to a large skillet with the onions, stirring occasionally, until the onions have softened. Add bell pepper. Cover and simmer very slowly, stirring occasionally, until pepper is half done. Add tomatoes and continue to simmer, covered, until peppers and tomatoes are soft. Beat the eggs and add to the pot, mixing well. Simmer, covered, for 5 minutes. Season with salt and black pepper to taste. Serve immediately with fresh bread.
Tip: Depending on taste, you can add other ingredients.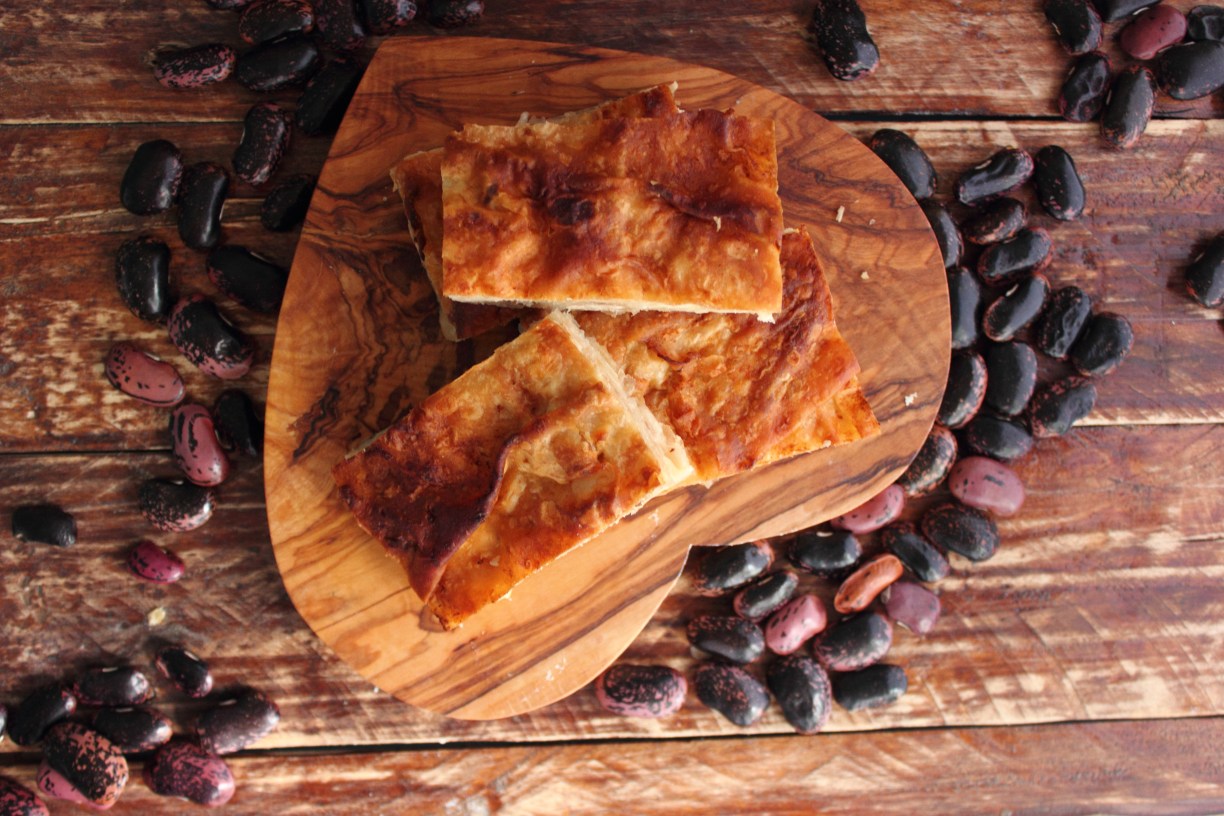 Albania – Petanik
Petanik is an Albanian traditional savory pie filled with white beans, typical of Southeast Albania. It may sound unusual, but it is very tasty and can be cooked all year long. This pie can be consumed hot or cold, depending on the season, and makes a very versatile food to bring for family gatherings or picnics, as a tasty lunchbox idea for kids or adults. You can make your own phyllo layers, or use store-bought, either way, this pie will be tasteful and delicious.
Ingredients:
3 cups dried beans (soaked overnight)
7-8 cups water (depending on the time needed for boiling beans)
5 cups from the boiling water
2 tsp. salt (more to taste)
1 pack of ready-made phyllo dough (or specifically for borek search in the ethnic food section)
1/2 cup sunflower oil
A few cubes of butter
Instructions:
Boil the beans until tender making sure to end up with 5 cups of water to use for the pie. Add salt if necessary. Drizzle some oil in a rectangle baking sheet (30cm x 40cm). Layer one pastry sheet, drizzle with some oil,3-4 tablespoon of beans and some of the liquid. Make sure to spread the beans evenly. Repeat this step until all beans are finished. Cover with the last phyllo sheet wet it all through with the bean liquid (or milk) and add the cubes of butter. Bake for about 40 minutes in 245ºC until golden brown. Remove from the oven, drizzle some water on top to create steam and cover immediately with a kitchen towel. Let it rest until softened and enjoy!
Romania – Polenta with cheese and sour crème
Traditional Romanian country-side dish, easy to cook and full of calories for the entire family. What started as a modest meal for low-income families evolved into one of the most iconic dishes in Romania and the only dish that has an acronym – go to any restaurant in Romania and ask for a MBS (MeBeSe) and every waiter will understand. 😊
Ingredients:
~ 0.5 kg corn flour
1.5 L water
Salt
a cube of butter
100 g of cheese (salty)
200 g sour cream
Instructions:
Bring water to a boil with a generous pinch of salt and a pinch of corn. When the water boils well, drizzle the corn in the boiling water through a flour strainer, little by little, and with the dominant hand, stir continuously from the moment the corn begins to add. When the polenta starts to thicken, turn on low to medium and continue to stir constantly for another 8-9 minutes. Add the butter and mix for another minute, or until the butter is completely melted and distributed. Pour the polenta on a plate and, from place to place, stick a slice of cheese in it or you could grate the cheese over the polenta. Leave the polenta covered for 5 minutes, then serve with sour cream.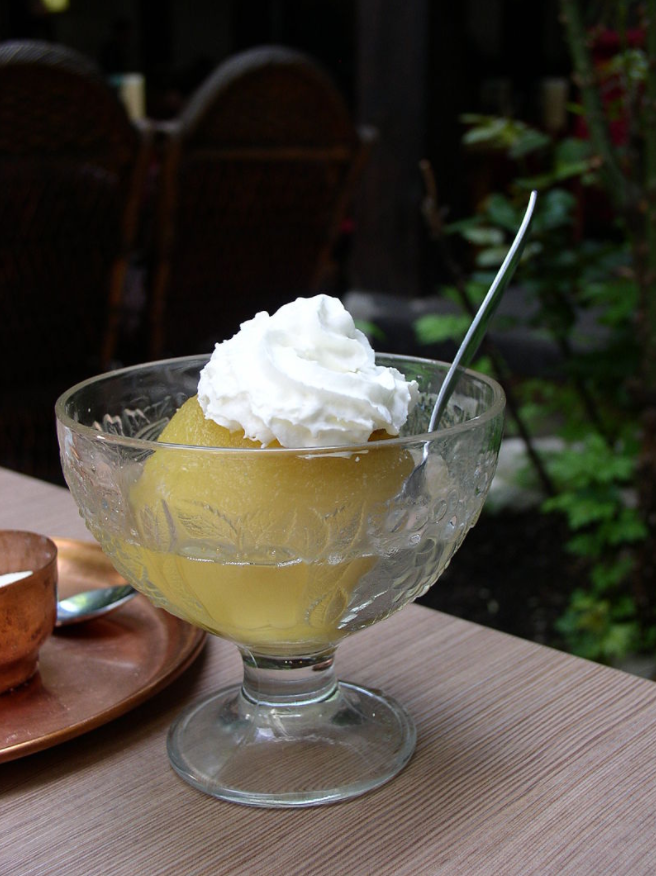 Bosnia and Herzegovina – Tufahije
Tufahije is a Bosnian dessert made of walnut-stuffed apples poured with sugar syrup. Best served chilled with a cherry on top (optional). 😊
Ingredients:
6 apples (sweet)
400ml of water
1 tsp lemon juice
1 vanilla sugar
400 g sugar
100 g ground walnuts
50 g ground hazelnuts
A pinch of lemon zest
1 tsp of powdered sugar
1 tsp milk
Whipped cream
6 cherries
Instructions:
Peel and core the apples so that they keep their shape. Put the water, lemon juice, vanilla sugar and sugar into a deep cooking pot and leave it boil until the water turns into syrup. Then, reduce the heat and put the apples inside and cook them shortly at low temperature until they become tender (but firm). Carefully take out the apples from the pot and leave them cool down. Save the syrup for later. Mix the ground walnuts, hazelnuts, powdered sugar and lemon zest with 1 tsp of milk (add small amount of syrup, if needed). Fill the cooled apples with this mixture and place them in a glass baking dish, or similar. Pour the syrup over the apples and garnish them with whipped cream and cherries (or sprinkle with ground walnuts). Serve in glass dessert cups.
Prijatno! 😊