By Ákos Murányi, Raiffeisen Bank in Hungary |
Hungary is very famous for its bath and spa culture. Visitors who want to swim, relax or take a health cure will find many suitable places here. And we are sure that once the coronavirus is not any longer a pandemic, we will go back to travelling. Therefore, let's have a look at the most famous wellness spas in the western part of the country, which are also very popular with visitors from the neighboring country Austria.
Bükfürdő
One of the most popular spa hotspots is located in Bükfürdő, just a few minutes from the Austrian-Hungarian border. The complex with 34 different pools in a large green park offers medical, wellness and adventure service centers. No matter how warm you prefer your bath water, with a wide choice from pools from 22-39 degrees Celsius, you will definitely find the right one for you. A fun fact on the side: The existence of the spa complex is actually based on an accident that happened in the 1950s. During test drillings for oil, a high water column sprouted from a depth of 1280 meters. The 58 degrees Celsius warm fountain changed the future of the area forever.
Sárvár
A very similar story took place at Sárvár, a 20 minutes drive away from Bükfürdő. In 1961 another search for oil was under way – but here, two different springs were found, one with a temperature of 48 and another with 83 degrees Celsius. After an agreement with the Austrian and the Hungarian tourist officials, the first wellness hotel was opened in 1985 under a co-operation. The wellness complex, which offers 18 different types of pools (from a huge jacuzzi to a "retro" thermal pool), is a very family friendly place full of adventures.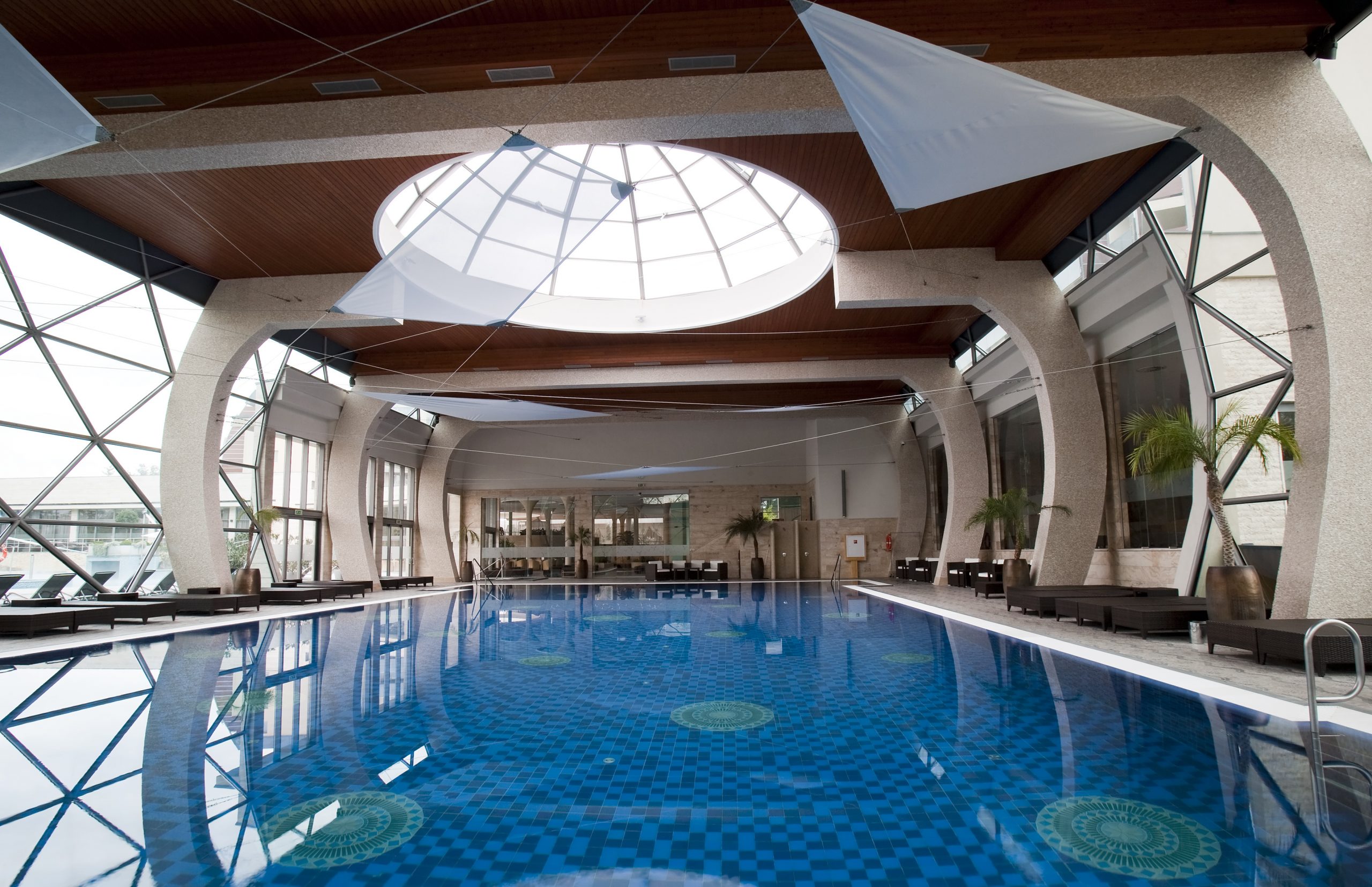 Kehidakustány
Going a bit further south, our next destination is the wellness-complex of Kehidakustány. The atmosphere here is very different from our first two hotspots, as it is located far from the main roads, in quiet surroundings, north of the Balaton (Plattensee). Here you find an escape from your hectic everyday life as well as a lot of fun: 2.400 square meters water surface, 12 pools, a 94-meter-long giant slide, outdoor kamikaze slides, hot and cold-water, thermal pools, a hot tub island, a "river ride" and many other attractions. Alternatively, if you prefer to jump into natural waters during summer, Lake Balaton is only a 20 minutes car ride away.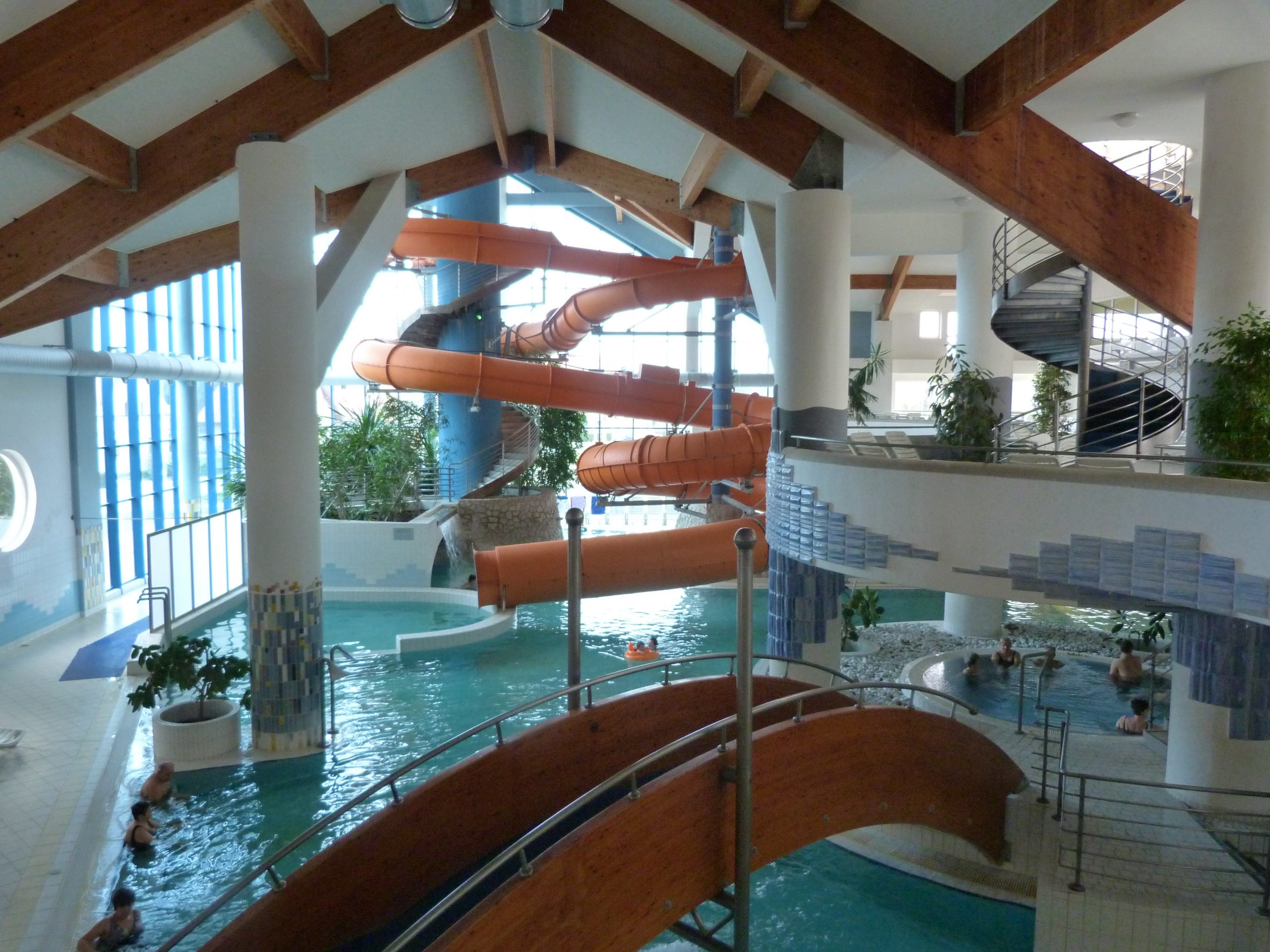 By Elekes Andor – Own work
Celldömölk
Still exploring the West, a quiet place for those who don't like it too crowded and want to experience the classic "beach feeling", Celldömölk is the place to go to. The "Volcano Bath" offers everything its bigger brothers do as well, but you will find it a lot less crowded. The water is rich in high sodium hydrogen carbonate, which is used for curing locomotory diseases. Many indoor and outdoor pools and a very cozy thermal pool are available. 
Hévíz
Our spa-trip ends with one of the most popular bath locations in Western Hungary: Hévíz, best known for its huge thermal lake located also very close to lake Balaton. The surface of the lake covers 4.4 hectares and the water is rich in carbonic acid, sulphur, calcium, magnesium and hydrogen carbonate, having many positive effects on human health. In summer, the temperature of the lake reaches 33-35 degrees Celsius, in winter still 23-25 degrees Celsius. After swimming you can enjoy the services of several high-class wellness hotels in the region.